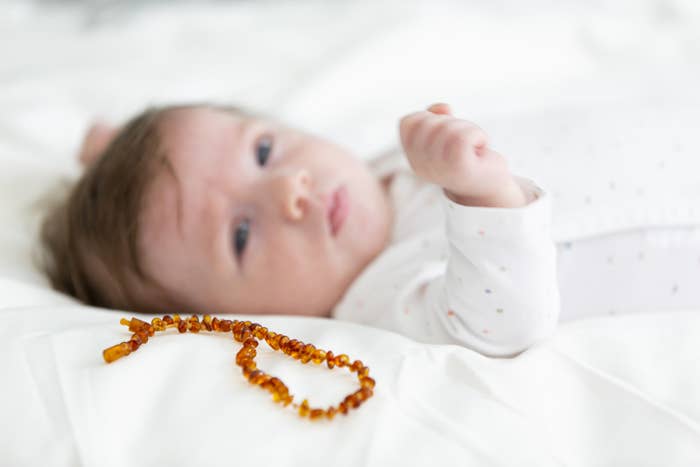 Necklaces and bracelets used to provide sensory stimulation or relieve a baby's teething pain may pose serious health hazards and can be deadly for children, the FDA said on Thursday. Following reports of injuries and one death associated with the jewelry, the agency is warning parents and caregivers to avoid giving these items to babies and toddlers.
According to the agency, a 7-month-old infant choked on wooden beads from a teething bracelet but was taken to the hospital and survived. In another case, an 18-month-old child died after being strangled by a teething necklace during a nap.
Teething jewelry includes beaded necklaces, bracelets, or anklets that can be worn by either the infant or an adult. The jewelry is made up of different material, such as amber, wood, or silicone, and is produced and sold by a huge number of manufacturers, according to the FDA. These products can be soothing and entertaining for children, which makes them a popular choice among tired parents and caregivers everywhere.
The jewelry is often used to relieve the pain from teething, or when an infant's first set of teeth grow in, which can cause gum soreness and irritability — aka a very fussy baby. It can be used to prevent children from chewing on clothes or body parts, like fingers or tongues. Teething jewelry can also provide sensory stimulation to children or adults with special needs, such as autism or attention deficit hyperactivity disorder, known as ADHD, the FDA noted.
However, the agency warned that the jewelry should not be used for either of these purposes because of the health risks, which include choking, strangulation, and injuries to the mouth.
The jewelry may have beads or small parts that can break off and become swallowed or cause cuts inside the mouth that lead to further irritation or infection. The agency noted that strangulation can occur if the teething necklace is worn around the infant's neck and becomes wrapped too tightly or catches on something, such as a crib.
Teething jewelry made out amber contains a substance called succinic acid, which can actually be released at unknown quantities into an infant's mouth and bloodstream when chewed on, the FDA warned.
It's not only teething jewelry that has come under scrutiny. Warnings have also been issued for popular teething creams and numbing gels or sprays. Over-the-counter products containing benzocaine, a local anesthetic used as a topical pain reliever, should not be given to children under 2 years old, the FDA warned in May. Local anesthetics can lead to a condition called methemoglobinemia, where the amount of oxygen carried in the blood is reduced, which can lead to death.
So what should parents and caregivers give teething children instead?
The American Academy of Pediatrics — which agrees with the FDA on the dangers of these teething products — recommends two alternatives to help soothe pain and distract babies.
The academy recommends rubbing or gently massaging the baby's irritated gums with a clean finger or using a teething ring that's made of firm rubber.
CORRECTION
The FDA received reports of injuries and one death associated with teething jewelry. A previous version of this post misstated the number of deaths.