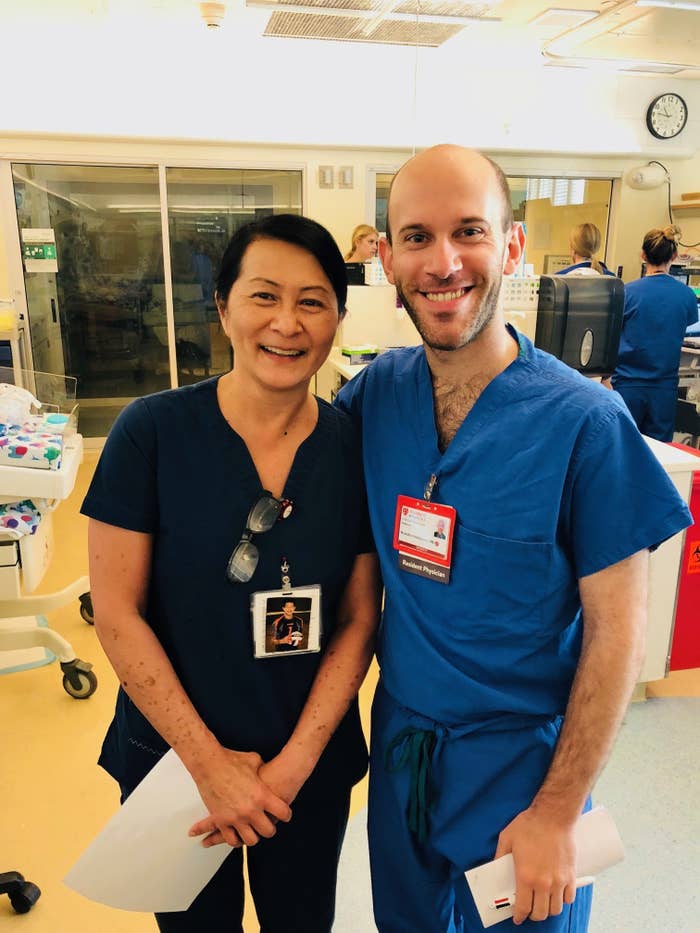 A young doctor unexpectedly reunited with the nurse who cared for him as a preemie some 30 years ago when he started working at a new job at a California hospital. The heartwarming reunion was originally shared on the hospital's Facebook page, where it went viral because, well, it will probably make your day.
Brandon Seminatore is currently a second-year pediatric resident completing a child neurology residency at Stanford University. He ended up doing a rotation at Lucile Packard Children's Hospital, the same hospital where he was born decades earlier at 29 weeks of gestation (a full-term pregnancy is about 40 weeks). He spent over a month in the neonatal intensive care unit (NICU) at the hospital.
"Growing up, I heard stories of what it was like and understood the concern my parents had for my health. For instance, there were times I would stop breathing and even turn blue," Seminatore said in a statement sent to BuzzFeed News. In the NICU, he was kept in an incubator and required a ventilator to help him breathe.
By his side, and caring for him until he was healthy enough to go home, was a young nurse named Vilma Wong. Wong came to the US at age 16 from Nicaragua, and, since getting her nursing degree, she has been working as a registered nurse in the NICU at Lucile Packard Hospital for 32 years, according to a statement from Wong, sent to BuzzFeed News.
After nearly three decades and caring for countless babies, Wong was still able to remember one preemie when a chance encounter brought them together — but this time, he was taller than she was and wearing a pair of blue scrubs.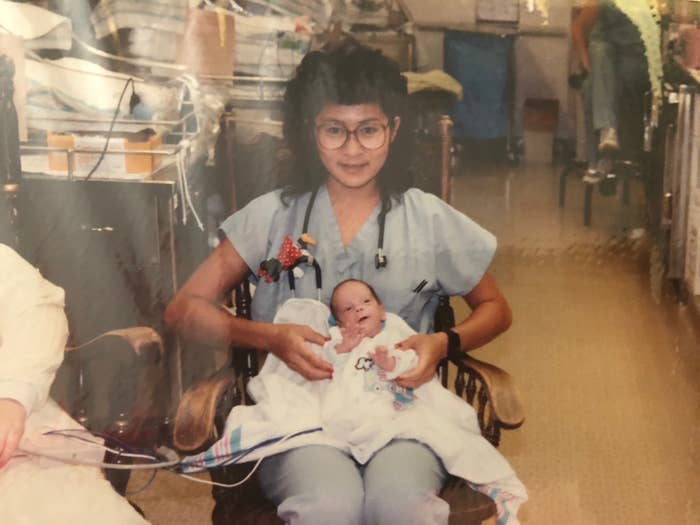 The encounter happened a few weeks ago when Wong noticed a new doctor on her team with a familiar-sounding last name. "I kept asking where he was from and he told me that he was from San Jose, California, and that, as a matter of fact, he was a premature baby born at our hospital," she said.
Wong suddenly remembered that she had been the primary nurse for a baby with the same last name, Seminatore. "To confirm, I asked him if his dad was a police officer and there was a big silence and then he asked me if I was Vilma. I said yes," Wong said.
Apparently, Seminatore's mother had told him to look for a nurse named Vilma but he assumed she was already retired. They met by chance.
"I was in shock initially but overjoyed to know that I took care of him almost 30 years ago and now he's as a pediatric resident to the same population he was part of when he was born," Wong said.
Seminatore texted his parents, who sent a picture of Wong holding him on her lap in the NICU (above).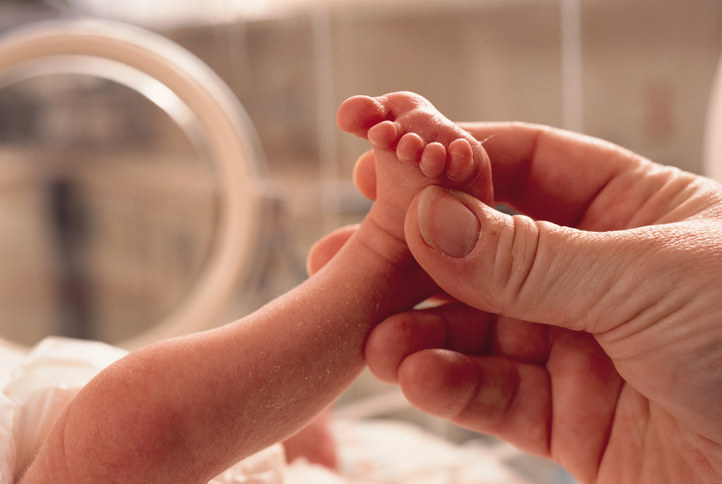 "Meeting Vilma showed me the dedication and love she has for her career. She cares deeply for her patients, to the point that she was able to remember a patient's name almost three decades later," Seminatore said.
In addition to providing hands-on care to sick and premature babies for weeks or months, NICU nurses often work with parents during what can be a scary and traumatic time.
"Although it is a very challenging profession, being a NICU nurse is also very rewarding ... I consider myself very lucky to be in a profession that I love and make a difference in somebody's life," Wong said.
Seminatore and Wong hope that the story of their reunion can lift up parents who currently have babies in the NICU and are going through a difficult time.