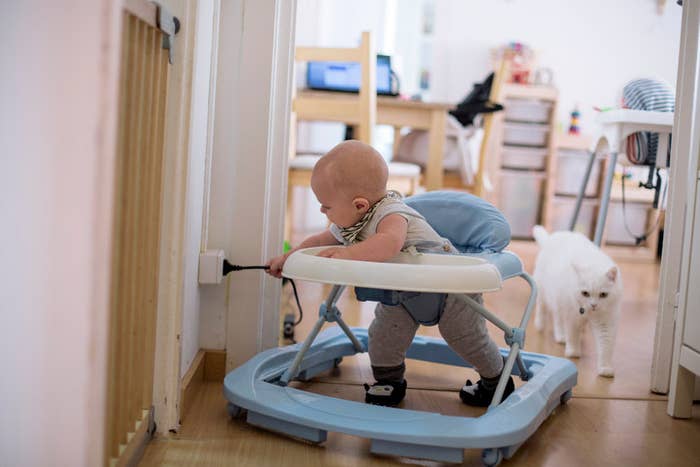 Baby walkers might seem like fun toys that can help keep a baby occupied. But for decades, thousands of babies and toddlers have ended up in the ER each year with walker-related injuries — usually from falling down stairs in them — despite recalls and safety requirements. Pediatricians say the ongoing danger is so severe, they are asking for a ban on the devices in the US.
An estimated 230,676 children under the age of 15 months visited an emergency room for baby walker-related injuries in the US between 1990 and 2014, according to a new study published in Pediatrics. The majority of children suffered head and neck injuries and nearly 75% were hurt from falling down the stairs.
Baby walkers, or infant walkers, are devices with wheels and a suspended seat with leg holes that allow babies — usually between 5 and 15 months of age — to scoot themselves around before they are able to walk on their own.
While it may be cute to watch a baby kick their chubby legs and move around a room — and give parents a break by keeping them busy — the walkers can also allow little ones to venture too far and crash into objects or tip over the edge of a staircase.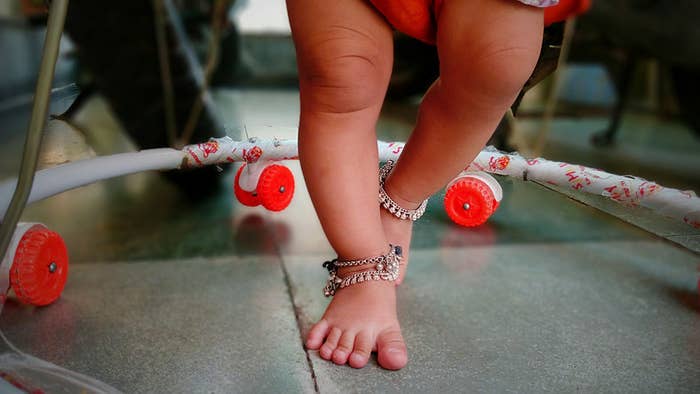 The most common diagnoses among children who went to the ER were soft-tissue injuries (such as a muscle sprain), concussions and closed head injuries, and cuts — often to the head or neck region. Some children suffered severe injuries such as skull fractures or brain trauma.
But parents shouldn't think that simply blocking off access to stairs with baby gates or living in a single-story home without stairs will eliminate the risk of injury. Researchers found that the second most common cause of injury was an infant falling out of the walker itself.
Babies can also get so-called proximity injuries, such as burns from touching a hot oven or poisoning from ingesting a household cleaner, because they are more mobile than people anticipate. "Infant walkers also give young children access to environments and objects that they might not otherwise be able to reach," the study authors wrote.
In another American Academy of Pediatrics (AAP) study on baby walker–associated injuries, researchers found that 34 children died from such injuries between 1973 and 1998.
"I imagine we have seen injuries from baby walkers since they were introduced to the market. Despite making safety modifications over the years, they remain dangerous," Dr. Katie Lockwood, attending physician at the Children's Hospital of Philadelphia, told BuzzFeed News.
During the mid-1990s, awareness of walker-related injuries increased and advocacy groups petitioned to ban the devices. Many were replaced by stationary activity centers, which allow infants to rock and bounce without actually moving around. In 1996, an earlier safety standard was revised to require that walkers be wider than a doorway and include a brake.
All of this contributed to an 85% decline in the number of baby walker–related injuries between 1990 and 2003, according to the study. While the drop in injuries during this period was substantial, thousands of kids are still getting hurt from walkers each year.
Between 2004 and 2008, eight children died due to baby walker–related injuries, according to the US Consumer Product Safety Commission (CPSC) — which issued a mandatory safety standard in 2010, after 10 baby walker recalls in the US. But outdated baby walkers are still being sold and used, and imported models do not have to meet the same safety regulations.
"Despite product warning labels, campaigns to educate parents, and the recommendation by AAP for a ban on the manufacture and sale of infant walkers, many families continue to purchase and use these devices," the study authors wrote.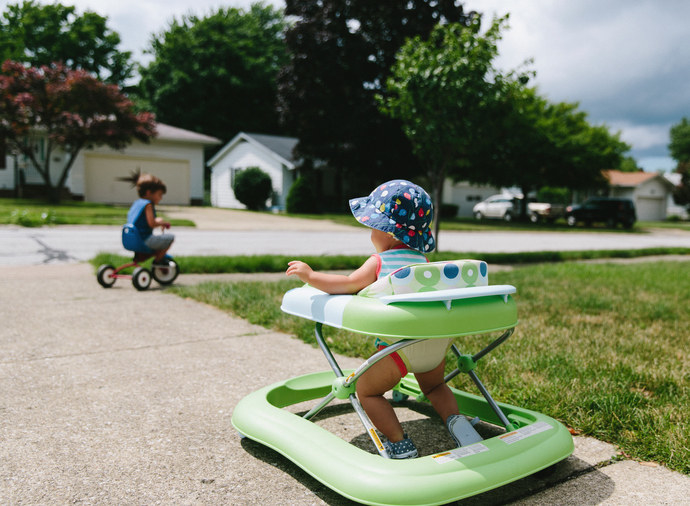 Although baby walkers are often marketed as devices to help with a child's development and promote walking, the AAP states that they "provide no substantial benefit to children" and are a "source of preventable injury." Therefore, the AAP recommends a ban on the manufacture and sale of baby walkers in the US — similar to Canada, which banned them in 2004.
"Using a walker comes with significant safety risks for your child and there are many alternative play options that promote development, while keeping your child safe ... parents should not use walkers and instead opt for an activity center that does not have wheels," Lockwood said.