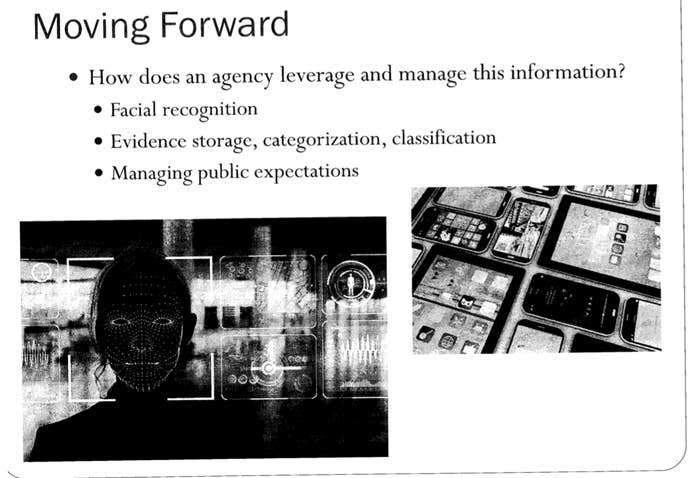 Amazon does not offer the ability to recognize faces in footage on its Ring doorbell cameras. But just one month after police in Chandler, Arizona, received 25 surveillance cameras for free from the company, the department's then–assistant chief discussed using its own facial recognition technology on Ring footage at a meeting of the International Association of Chiefs of Police, according to his slideshow obtained in a public records request.
In an April presentation titled "Leveraging Consumer Surveillance Systems," Jason Zdilla discussed various consumer surveillance devices and platforms. Examples cited in the presentation included Ring cameras and the Neighbors app.
The Chandler Police Department is one of the over 600 police departments that have signed a contract with Ring. In the contract, Chandler police "encourage" residents to use Ring products in exchange for access to the company's Law Enforcement Portal, which allows officials to request camera footage from residents without receiving a warrant first.
Zdilla signed the contract on behalf of the department as assistant chief of police in February, about two months before he made the presentation.
Now a corporate services security manager for Intel, Zdilla declined to comment.
The Chandler Police Department told BuzzFeed News that it has access to facial recognition technology through the Arizona Counter Terrorism Information Center. It said it does not currently use it.
A department representative said that the slide about facial recognition focused on when it is legal or socially acceptable to use facial recognition for analyzing consumer surveillance footage.
"This was a thought-provoking slide for each agency in attendance to consider … what are the laws, perception and community expectations for using technology," the representative said.
"Ring does not use facial recognition technology," a Ring spokesperson said. "Privacy is of the utmost importance to us, and any features we do develop will include strong privacy protections and put our customers in control."
Evan Greer, deputy director of digital rights activist group Fight for the Future, told BuzzFeed News that the organization was deeply concerned about the massive amounts of footage being privately collected and analyzed by police departments around the country.
"Amazon is making it easier than ever to create this enormous amount of footage, which creates a problem for [police]," Greer said. "We know that mass data collection doesn't really work, because you have a massive amount of data, and it's like finding a needle in a haystack. They're making the government's haystack bigger and bigger, but then they're selling the government the tools to sort through that haystack more and more quickly."
In his presentation, Zdilla seems to have promoted facial recognition as a tool that can find the needle of documentation that's useful to police in a haystack of footage collected by Ring and other consumer surveillance devices.
His presentation concluded with a slide that asked "How does an agency leverage and manage this information?" and answered: "facial recognition" and "evidence storage, categorization, classification."
Ring has been developing facial recognition software in a research and development office in Kyiv since at least 2018. The company has been close-lipped about the details of this research. However, it did tell Sen. Ed Markey, a Democrat representing Massachusetts, in a letter on Nov. 1 that a reference in its privacy notice to the gathering of "facial feature information" described "a contemplated, but unreleased feature."

But even without facial recognition technology built by Ring, police departments with its footage can use their own facial recognition technology to sift through footage.
Zdilla's presentation also touched on Blink and Arlo security cameras and a platform called Axon Citizen. The latter appears to refer to Axon Capture, an app — developed by a company that sells body cameras and Tasers — that allows users to submit photos, audio, or video directly to local police appears.
Axon said in July that it was issuing a moratorium on facial recognition in its products, citing concerns about the software's accuracy. In a statement, the company said that it did not have "any recommendations or guidelines in place for law enforcement" officers who analyze Axon footage using facial recognition tools from third-party vendors.
The El Monte, CA police department, for instance, promised witnesses free Ring cameras if they testified in burglary prosecutions.
However, Zdilla is far from the only law enforcement official working on using facial recognition technology to analyze Ring and other consumer surveillance footage.
In October, at another conference of the International Association of Chiefs of Police, he spoke at a panel called "Herding the Digital Cats: Integrated Video for Response and Investigation." The panel featured three other technologists and police officers, including Cuong Luu, Acting Director of Science & Technology at the Department of Homeland Security. It focused on how to "maximize use" of footage obtained through public and private surveillance — such as "cameras installed around and as doorbells in individual residences," according to an event itinerary.
"On the plus side, imagery sourced from government surveillance, business-operated cameras and consumer smartphones provides a wealth of visual information for police investigators to work with," IACP's official event description says. "On the negative side, this plethora of video can be difficult to manage and cross-reference — and there are also legal, technical and political concerns to be considered when forming departmental policies."