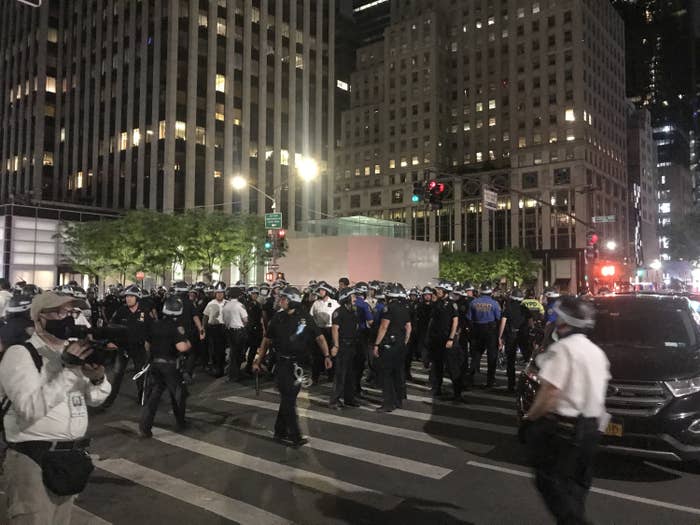 An entirely peaceful protest in Manhattan ended in chaos, panic, and violence when a mass of police officers in riot gear confronted protesters we were following near Grand Army Plaza, at the entrance to Central Park.
Since an 8 p.m. curfew went into effect on Tuesday to curb looting, there have been nightly clashes between peaceful protesters and police across the city. Looting is down, but the NYPD continues to make mass arrests for curfew violations —sometimes violently. The NYPD did not use tear gas or rubber bullets on this group of protesters, as police have used in other parts of the country. But the rapid escalation of Thursday night's protest illustrates just how quickly a peaceful march can turn into mayhem.
In the end, police shoved, hit, and arrested dozens of people. BuzzFeed reporters were caught up in the clash. As we tried to record the arrests on video, a police officer shoved one of us with a baton, despite the fact that we had identified ourselves as press. Another officer, in a white shirt, grabbed the other reporter's arms and was about to handcuff and arrest her, and only stopped after other officers intervened. All around us, batons were swinging and people were running as police rounded up marchers.
The night had begun peacefully. And for a time, it looked as though it was going to remain that way. After a week of protests, the chants were familiar.
"SAY HIS NAME"
"GEORGE FLOYD"
"NO JUSTICE"
"NO PEACE"
"WHOSE STREETS?"
"OUR STREETS"
The chants come over megaphones from organizers, from teenagers cupping their hands to their mouths, and from groups of friends holding up signs saying "Black Lives Matter."
For hours — as the protesters marched in a giant loop starting in Times Square, moving south to Herald Square, west to Chelsea, back east to Union Square, and finally north to Central Park — the event was peaceful and relaxed.
Even when the 8 p.m. curfew hit, things stayed calm. Dozens of police officers on bikes and foot trailed the group, and spirits remained high. "It's our right to peacefully protest," the crowd chanted, marching down city blocks.
MTA buses and cars beeped their support. Drivers smiled and pumped their fists. The protesters roared back in grateful appreciation. Others handed out water to keep the crowd hydrated on the hot and humid day. Up above, residents standing on their balconies cheered, clapped, and banged pots and pans to show solidarity.
"I love the fact that there's been support from everywhere, it wasn't just Black people," said Angelo La Roche, remarking on the diversity of the crowd. "It really felt amazing to have that love, and feel that vibe and energy from everyone," the 32-year-old added.
"People just want to protest," Jill, an education worker, told BuzzFeed News. "They just want to have their voices heard, and they're angry… They're killing us on camera with witnesses. We don't wanna be here! It's a pandemic!"
One police officer told BuzzFeed News that the previous nights of looting were some of the worst he's ever seen in his time on the force. But this crowd, he said, "They've been great. They're having a good time."
NYPD Intelligence Bureau officers were also monitoring the crowd, looking for outbreaks of looting or violence. One officer told BuzzFeed News that it was up to the NYPD to decide whether or not to enforce the curfew.
At several points, the group made stops near subways, for people who had been walking all day and needed to get home. Most of the crowd chose to keep marching.
Even an hour and a half after curfew, the group was still several hundred strong. Some marchers played music from a speaker and danced together as they walked.
Then, about 10 p.m., two hours past curfew, something changed.
The protesters were marching west on East 60th Street and arrived at 5th Avenue, one of the entrances to Central Park. But another large group of officers — wearing helmets, carrying batons, and equipped with riot gear — were waiting at one of the park entrances.
This second group of police seemed intent on confrontation. As the group chanted "peaceful protest," the officers fanned out across the length of the crowd and began walking toward them.
Activists at the front of the crowd encouraged everyone to keep moving. "Don't confront them," one activist said. "Don't engage."
But there was confusion, and the group split up. One section of the crowd stayed in the intersection. Another kept moving.
Without warning, police began to arrest people, among them an activist who had just moments before had been addressing the crowd.
Some demonstrators began to panic and took off running. Police chased them, grabbed several members of the group and put their hands behind their backs, sometimes pinning them to the ground.
The intersection was suddenly filled with screams, the shouting of police, and feet hitting the pavement to try to get away.
It then became clear that there was yet another group of police, marching up 5th Avenue. Essentially, these three groups of police officers herded people together on 5th Avenue between East 59th and East 60th street.
Arrests started happening in rapid succession.
Earlier this week BuzzFeed News reported that more than 11,000 people have been arrested by police across the country in the largely peaceful protests. Police have often engaged in physical attacks, using pepper spray, tear gas, and rubber bullets. And at the same time, there have been numerous attacks on the press as they try to document what's happening in the street. US Press Freedom Tracker, a coalition of press freedom groups, reported that as of Thursday evening it was investigating more than 300 press freedom incidents against journalists.
On this particular night, police used a tactic called kettling on the protesters. This involves blocking off particular streets, which eventually herds demonstrators into a particular area, where more police are waiting to surround them.
Then police picked people off and arrested them. Usually, one officer grabbed and handcuffed one person, while other officers surrounded them and shoved people with a baton if they got too close.
Protesters, who had been laughing and dancing just minutes earlier, screamed in fear.
At this point, we became separated.
As Rosalind tried to record an arrest, an officer — who appeared to be wearing a thin blue line shirt — shoved her with a baton, even as she yelled "you don't need to push me" and "I'm press."
At the same moment, just a few feet away, another officer in a white shirt grabbed both of Caroline's arms while she was recording the scene and put them behind her back, to cuff or zip-tie her arms. Caroline yelled "I'm press" and said her BuzzFeed News press badge was in her pocket. Two other officers approached, one of whom reached into her shorts pocket to look at the badge. After seeing it, he told the first officer to release her.

Just three minutes earlier, we were messaging normally with our editors about coverage plans, and there had been no indication that there would be any trouble with the police.
The NYPD did not respond to a request for comment on Friday about the arrests, the methods police used to enforce the curfew, and the officer wearing a thin blue line shirt.
On Friday, New York City Mayor Bill de Blasio said, "I watched with my own eyes for days now, no use of force in peaceful protests that I was seeing with my own very eyes right there." While that may be true what de Blasio has personally seen, it certainly doesn't reflect how peaceful protests out of his sight have unfolded.
It's unclear how many protesters were arrested at Grand Army Plaza on June 4, but there were reports of other peaceful demonstrators being targeted and arrested in Brooklyn and the Bronx that same night.
In other parts of the city, police targeted essential workers. One, a DoorDash delivery cyclist, was arrested by a group of officers while delivering food in Central Park West. Food delivery apps are continuing to accept orders after curfew in New York City because de Blasio said that food delivery workers are essential, and should not be arrested. But police aren't following this direction.
As white journalists employed by a news outlet, we did not face the same level of risk in confrontations with police as Black and brown people, organizers and activists, and freelance journalists. Having a press badge was a determining factor in the police's decision to not arrest Caroline. But it did not spare Rosalind from being shoved by police. Recognition is arbitrary.
At the end of the night, the street became a giant stew of police that far outnumbered the peaceful crowd. Soon, there were no more protesters at all.