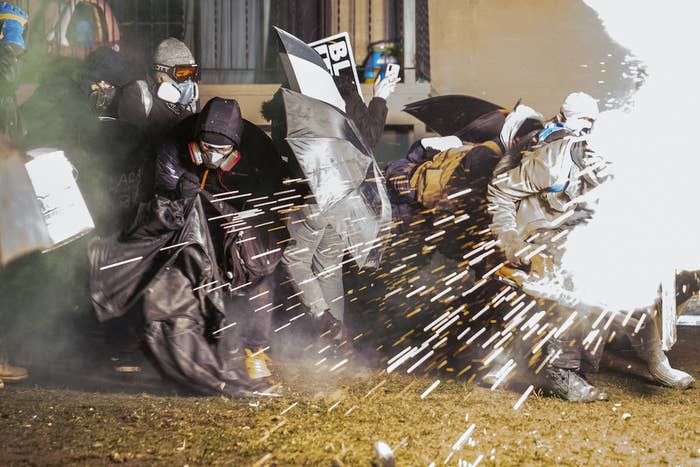 BROOKLYN CENTER, Minnesota — A third night of protests erupted in Minnesota Tuesday after the Brooklyn Center cop who fatally shot 20-year-old Daunte Wright during a traffic stop resigned, as did the police chief.
After police called the gathering "unlawful" and gave orders to disperse, hundreds of demonstrators stood their ground at the Brooklyn Center police precinct, which was surrounded by National Guard members and fencing.
Not long afterward, clashes ensued, echoing prior nights in which authorities used tear gas and other projectiles to disperse crowds. Dozens of people have also been arrested during the demonstrations, many of them peaceful.
Earlier on Tuesday, hundreds of people gathered for the second day of vigils to honor Wright, who was killed Sunday when, police say, a 26-year veteran of the department accidentally shot him with her gun instead of her Taser during a traffic stop.
"It could've been me, it could've been my little brother over here, it could've been one of my friends," 16-year-old Brooklyn Center resident Blejay Gboweay said. "We're out here marching with everybody else, bringing unity, and trying to be involved."
Brooklyn Center resident Princess Marie Quia, 15, said "knowing that someone died right on your street is hard to live with."
"They took another Black life for what reason?" she said prior to the curfew. "How are we supposed to live and grow up in this place knowing that next time that might be me on the floor?"
The officer who killed Wright, Kim Potter, and the Brooklyn Center police chief, Tim Gannon, submitted their resignations on Tuesday, but tensions remained high as night fell and the curfew expired.
Police said officers pulled Wright over Sunday afternoon for an expired registration tag on his car, and claim that when they ran his name through their system, found he had a warrant out for his arrest. He had missed a court appearance for two misdemeanor charges: carrying a handgun without a permit and running from police last June, according to court documents obtained by BuzzFeed News.
But as officers attempted to arrest Wright, he tried to break free and get back in his car. Body camera footage shows Potter warning Wright she would tase him, but then she fatally shot him.
"They could have gave him a ticket for that. But when it's Black people in America, they engage in the most use of force, and it ends up with deadly consequences," Benjamin Crump, an attorney representing Wright's family, said at a news conference.
Earlier in the day in an interview with Good Morning America, Wright's father, Aubrey Wright, said he "can't accept" the excuse that the fatal shooting of his son was a mistake.
Regardless of Potter's intent, people in the greater Minneapolis area want her, and police departments generally, to be held accountable for taking the lives of Black people. At a memorial gathering on Tuesday, speakers and organizers expressed frustration that a year after George Floyd was killed by police, Wright was killed, and their community continues to hurt.
The Minnesota Department of Public Safety's Bureau of Criminal Apprehension is investigating the shooting, while the neighboring Washington County district attorney's office will be making decisions about whether to file any charges.
In the meantime, the greater Minneapolis area waits for real change. A 20-year-old who gave her name as Maddie told a memorial gathering on Tuesday that she lives eight blocks from where Floyd was killed by former Minneapolis police officer Derek Chauvin, who is currently on trial for murder.
"I hate how much of a routine this has become. ... We post about it and then we move on," she said. "I hope we find a way to build off of this momentum and make some real change happen."