U.S. Special Operations Chief Wants More Women, Minorities In The Ranks
Adm. William McRaven, head of U.S. Special Operations Command and architect of the Osama Bin Laden raid, is spearheading an effort to get more women and minorities into America's elite combat units.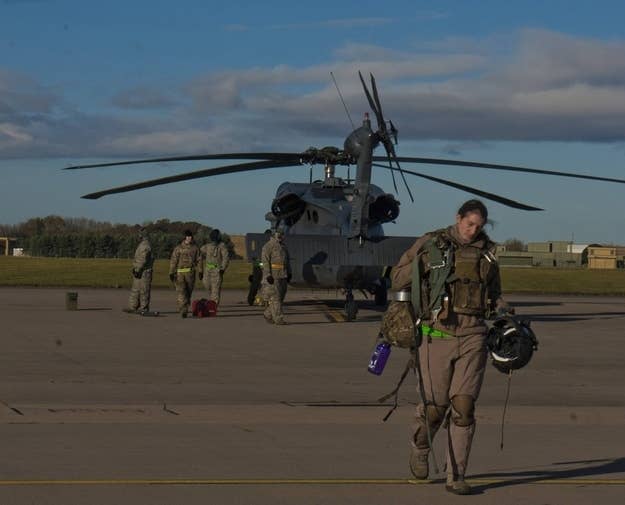 WASHINGTON — Adm. William McRaven, head of U.S. Special Operations Command and architect of the May 2011 military raid that killed Osama Bin Laden, is spearheading an effort to get more women and minorities into the ranks.
Women make up just 8% of the total U.S. special operations community, across all the military branches, McRaven said Tuesday during a national security symposium focusing on the future of U.S. special operations post-Afghanistan and Iraq.
"I think we need to grow that number," the four-star general told an audience of current and former special operations and military officials from the Pentagon and the service branches.
McRaven told BuzzFeed after the conference that he was unsure what the expanded number would grow to. But he did note the current ratio of men to women in within the ranks of U.S. special operations forces is putting the teams at a disadvantage.
"Inherently, I know I need more females" on the teams, he said.
Female soldiers and officers have already risen through the intelligence and personnel fields within Special Operations Command and the services. But the small percentage of female troops in the command have yet to break into the operational combat units that handle the most dangerous missions.
Last April, Defense Secretary Chuck Hagel approved a plan to allow female service members into the Navy SEALS, Army Rangers, and other elite specialized combat units from 2016.
The Pentagon must first draw up "gender-neutral" training and operations standards for infantry, special operations, and other combat units. Pentagon officials said at the time they were due to be turned in by September 2015.
Those training and operations standards will put physical and combat fitness requirements for men and women candidates on equal footing.
Women combatants have already played a key role on the battlefield, fighting alongside American regular and special forces units in some of the most dangerous regions in Afghanistan. The all-female units, known as Female Engagement Teams, played a key role in American and allied-led operations to train and equip U.S.-backed local militias in Afghanistan. "We saw the great work that they did" while working alongside American special forces and traditional military units in Afghanistan, McRaven said.
He said he was working within the command to establish a new career path for female members of U.S. special operations forces, patterned closely after the Female Engagement Teams. There currently is no specific career path, or "military occupational specialty" as its known within the Armed Services, at Special Operations Command for female service members to serve in front line units.
Aside from pushing to add more women into the ranks of special operations units, McRaven is also pressing to increase the number of minorities within the command.
As U.S. special forces shift focus from Afghanistan and the Middle East to regions in Africa, Latin Americ,a and Asia, getting more soldiers, sailors, airmen, and Marines with backgrounds in those areas into the special operations teams will be key to the command's future operations.
On Tuesday, McRaven noted that as U.S. special operations units take a larger role in western Africa. He said "I would like to have some African nationals" such as first or second generation U.S. soldiers whose families may have emigrated from places such as Mali, Somalia, or other hot spots on the continent or across the globe.
The four-star general made clear the rigorous training standards and requirements that are the hallmark of U.S. special operations units would not be sacrificed in the name of diversity within the teams. He said he "didn't care" what the gender or ethnic background was for potential candidates to U.S. special operations teams, as long as those service members were able to make the cut.
"We [must] maintain those standards," McRaven said.
The Navy's Basic Underwater Demolition/SEAL training program at the Naval Special Warfare Training Center in Coronado, Calif., is seen as one of the most intense training programs in the U.S. military. Roughly 70% of SEAL candidates fail to complete the program. The Army's Ranger School at Fort Benning, Ga., is just as grueling, and is seen as the main entryway into Army Special Forces.