U.K. Defense Chief Doubts Russian Pledge To Not Invade East Ukraine
As Russian forces continue to amass along the country's western border with Ukraine, Washington and its allies are increasingly pessimistic that Moscow will keep its pledge not to move into the eastern European country.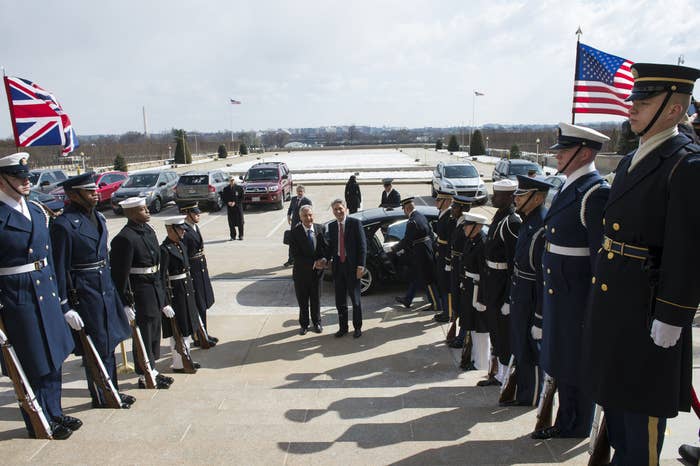 WASHINGTON — U.S. and British defense leaders are doubtful Moscow will hold to its promise to keep Russian forces out of Ukraine, despite repeated claims by the country's defense chief that military leaders have no plans to invade the country.
Russian Defense Minister Sergei Shoigu personally assured Defense Secretary Chuck Hagel last Thursday that his forces would remain on the Russian side of the Ukrainian border.
"In my conversations with Minister Shoigu ... he told me that they had no intention of crossing the border into Ukraine," Hagel said during a briefing at the Pentagon on Wednesday.
"But the reality is, they continue to build up their forces," along the border near eastern Ukraine, he said, adding that Moscow "needs to make sure that they stay committed to what Minister Shoigu told me."
But Russian President Vladimir Putin's decision to keep his plans for Ukraine and the region limited to a small group of advisers in the Kremlin has made any promises made by Shoigu or those outside that circle "a moot point," British defense chief Philip Hammond said Wednesday during a visit to Washington.
"All the evidence suggests that the Russian agenda is being very much run by President Putin personally, and other Russian players — including Minister Shoigu — may express views, but it's a moot point," Hammond said during the press briefing with Hagel.
"We cannot know ... to what extent all of those people are really inside [Putin's] inner circle" and whether Shoigu's pledge to remain out of Ukraine reflects the Russian military strategy for the region, he said.
Russia's incursion into and eventual annexation of Crimea essentially blindsided American and allied military and intelligence officials. Hammond said a referendum held in Crimea earlier this month was essentially held "at the point of a bayonet" and will incur "further consequences" from NATO and its allies.
The Obama administration has already issued a series of harsh economic sanctions against Russia and continues to mull possible military aid to Ukrainian forces. On Wednesday, Hammond noted that London was also considering further military support options for allied countries in the region.