"Troubling Gaps" In Pentagon Security Led To Navy Yard Massacre, Hagel Says
Months after a deadly mass shooting at the Navy's headquarters in Washington D.C., Pentagon leaders are still trying to close the "troubling gaps" in current security measures that led to the massacre.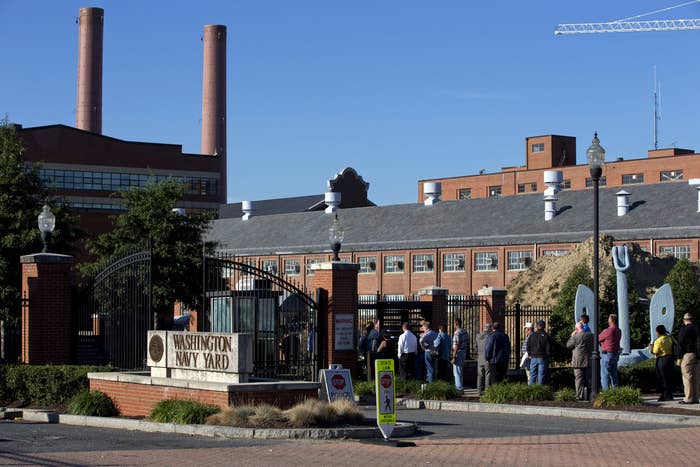 WASHINGTON — Last September, former Navy petty officer and military IT contractor Aaron Alexis walked into a secure building at the Navy's Washington, D.C., headquarters, armed with a shotgun.
Using his DOD-issued building pass, Alexis strode into Building 197 at the Navy Yard in southeast D.C. and opened fire. In the end, Alexis and 12 people, both military and civilian employees at the Navy installation, lay dead.
Fast-forward six months and following three separate investigations by the Navy, Pentagon, and an independent panel, and the Defense Department is still coping with "troubling gaps" in the Defense Department's approach in base security and — more importantly — who is granted access to those secure facilities, Defense Secretary Chuck Hagel said Tuesday.
"The reviews identified troubling gaps in DOD's ability to detect, prevent and respond to instances where someone working for us ... decides to inflict harm on this institution and its people," Hagel said.
At the time of the shooting, Alexis held a secret security clearance which was required for his job as an information technology contractor at Naval Sea Systems Command at the Navy Yard. That security clearance allowed him access to the secure facility at the Navy Yard where the killings took place.
As a result, the Pentagon plans to draw down the total number of military and civilian personnel with a secret clearance by 10%. Department officials will also conduct "automated reviews" of all individuals holding a secret or higher security clearance.
Those reviews will be carried out by a new insider threat management office run by the Pentagon's intelligence directorate, Hagel announced Tuesday at the Pentagon.
Hagel said he was due to receive plans for the new insider threat office by June. Currently over 2.5 million civilian and military personnel hold security clearances at the secret level or higher.
Finally, Defense Department leaders are working on plans to have all background and security clearance investigations for DoD employees and contractors handled by the Pentagon. These measures "may not have prevented this attack, but may prevent a future one," Adm. Adam Richardson, the Navy officer who headed up the service's investigation into the shootings, said.
The changes announced Tuesday were driven by the failure of Navy and Pentagon to pick up on Alexis' previous criminal history or signs of mental illness while vetting the former sailor for a secret-level security clearance.
Before enlisting in the Navy 2007, Alexis shot out the tires of a vehicle as part of a personal dispute in Seattle, according to findings from the Pentagon's initial inquiry into the shootings last September.
While officials from the Office of Personnel and Management (OPM) — the federal office DoD uses to conduct background and security clearance investigations — interviewed him on the details of his arrest in Seattle, OPM investigators failed to inform the Navy that a firearm was involved in the incident.
As a result, Navy officials did not object to Alexis being granted secret clearance upon his enlistment into the service. The violent nature of the Seattle arrest, if disclosed, could have raised serious red flags on whether Alexis should have been granted a security clearance.
Other red flags were missed since since the contracting firm that hired Alexis failed to submit information that could have tipped off Navy or Pentagon officials to Alexis' mental instability, Principal Deputy Under Secretary of Defense for Intelligence Marcel Lettre said Tuesday.
"Those [reporting] requirements were not met" by the contracting firm or Hewlett-Packard, the technology giant that Alexis' firm was working for, Lettre said. "It was impossible for the Navy to act" prior to the shootings without that information.
But despite the reams of pending policy changes, in the end, the "responsibility lies ... with Aaron Alexis," Richardson said.