Senators Air Intelligence Concerns As Obama's Top Pick To Lead NSA Heads For Confirmation
Vice Adm. Michael Rogers declines to answer a question about whether the NSA has carried out warrantless searches on the communications of American citizens.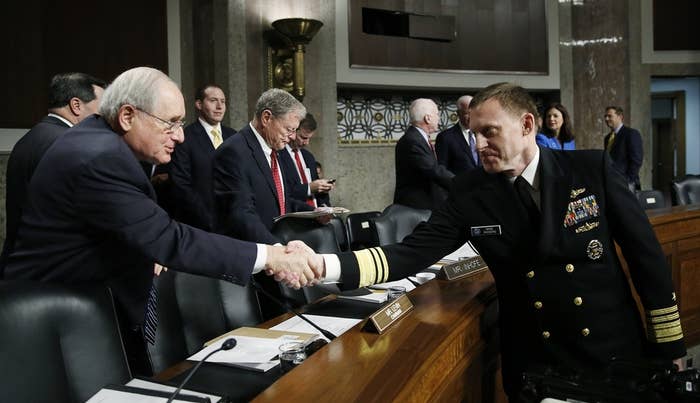 WASHINGTON — The top military officer tapped by the White House to lead the National Security Agency is facing a potentially rocky road toward Senate confirmation, as congressional frustration with U.S. intelligence is quickly reaching a boiling point over new claims that the CIA interfered with Senate-led oversight efforts.
At a confirmation hearing Tuesday for Vice Adm. Michael Rogers, Sen. Mike Udall took a thinly veiled shot at the nominee, indicating he may block Rogers' nomination until he gets an answer on whether the NSA specifically targeted U.S. citizens in its surveillance programs.
Udall, along with Sen. Ron Wyden, have repeatedly hammered current NSA chief Gen. Keith Alexander and Director of National Intelligence James Clapper about whether the NSA conducted warrantless searches on the phone calls and emails of American citizens.
Clapper and Alexander have refused to answer or ducked the question in previous appearances before House and Senate intelligence panels.
Alexander "said we don't hold data on U.S citizens. I consider that one of the most false statements that's been made about American surveillance," Wyden told BuzzFeed shortly after Rogers' confirmation hearing before the Senate Armed Services Committee, which began on Tuesday.
If confirmed, Rogers would be promoted to a four-star admiral and take the helm of both the NSA and the U.S. military's Cyber Command, the Pentagon's main cyberwarfare outfit. Senate confirmation is required for the Cyber Command, but not the NSA, post, though senators grilled him on both.
Udall asked point blank whether the NSA had carried out warrantless searches on communications of American citizens, as revealed by NSA whistleblower Edward Snowden. Rogers declined to answer the question, telling Udall he was "not in a position to be able to answer that as the nominee," but added he would offer a response once he was confirmed.
In response, Udall told Rogers he would need to "commit to answering the question" before the Senate defense committee could proceed with the confirmation. "I'm going to continue asking that question ... to rebuild the confidence, as you've pointed out, that the public has" lost in the NSA and U.S. intelligence, he said.
Wyden said he was "anxious to talk about" the domestic side of the NSA's surveillance operations once Rogers' nomination comes to the Senate floor.
When asked if he or other lawmakers could possibly block the Rogers nomination once it reaches the full Senate, Wyden replied: "I am certainly anxious for him to address a number of key issues," specifically the NSA's mission focusing on Americans. Rogers is widely expected to be confirmed, however, even as congresspeople use his confirmation as the latest means of raising concerns over domestic spying.
Senate Republicans flocked to Rogers' defense on Tuesday. Sen. John McCain told BuzzFeed he does not see the Rogers' nomination failing to clear the Senate defense panel or the full chamber. When asked whether Udall's comments during Tuesday's hearing would have an impact on the confirmation, McCain said, "He has the problem [with the nominee], I don't."
But the NSA's domestic operations may not be the only flashpoint around Rogers' nomination and other pending White House picks for high-level intelligence positions.
On Tuesday, Sen. Dianne Feinstein, head of the Senate intelligence committee, lambasted the CIA for the agency's reported interference in the panel's oversight of 9/11-era detainee interrogation operations.
"I have grave concerns that the CIA's search may well have violated the separation of powers principles embodied in the United States Constitution," Feinstein said, adding she has requested a formal apology from the agency "and a recognition that this CIA search of computers used by its oversight committee was inappropriate. I have received neither," the California Democrat said.
Agency officials reportedly hacked into internal Senate servers in a attempt to find an internal CIA review of those interrogations, according to Feinstein.
In a statement to NBC on Tuesday, Snowden slammed Feinstein for her chastising of the CIA, when the lawmaker never raised similar concerns over NSA operations.
"It's clear the CIA was trying to play 'keep away' with documents relevant to an investigation by their overseers in Congress ... but it's equally if not more concerning... where an elected official does not care at all that the rights of millions of ordinary citizens are violated by our spies, but suddenly it's a scandal when a politician finds out the same thing happens to them," he said.
With tensions rising on Capitol Hill over Langley's involvement in the Senate's review of CIA detainee operations, lawmakers could use the Rogers' confirmation as a vehicle to convey their anger and distrust to the intelligence community.
"I think we need to have a larger conversation" on the NSA's surveillance programs, as well as a larger discussion on congressional oversight of the intelligence community, Sen. Martin Heinrich said Tuesday.
"I think we are all still trying to look at Senator Feinstein's statement" regarding the California Democrat's allegations against the CIA and understand how it could possibly impact Rogers' nomination once it reaches the Senate floor, Sen. Jack Reed, the No. 2 Democrat on the Senate defense committee, told BuzzFeed.
"I think [Rogers] is aware of all those issues and he will deal with them when he is confirmed," Reed added.
But when asked whether growing furor over the CIA's involvement with Feinstein's committee could blow back on the Rogers' nomination, Sen. Jim Inhofe replied, "I just don't know."