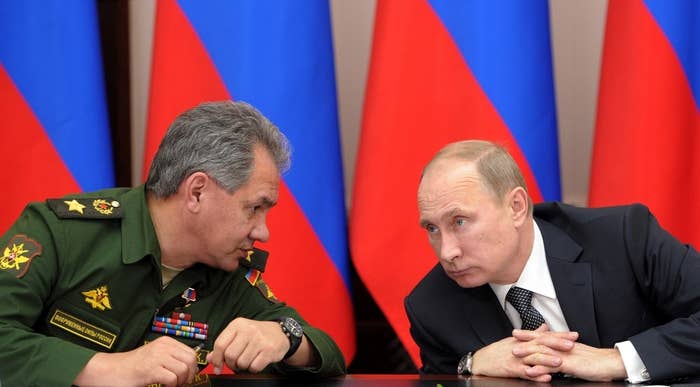 WASHINGTON — Russian military leaders gave the Pentagon early warning that Moscow would be moving thousands of troops toward the country's volatile border with Ukraine as part of a massive military exercise in the region, a defense department spokesman said Wednesday.
Defense Secretary Chuck Hagel and other top-level U.S. defense leaders were notified of the operation before Russian troops moved out early Wednesday, Defense Department spokesman Lt. Col. Robert Firman told BuzzFeed. Moscow's efforts to notify Washington undercut claims the operation was a knee-jerk reaction to ongoing political unrest in Ukraine.
"Obviously we are looking very close at it," Firman said regarding the Russian troop movements, which Moscow claims are part of a military readiness drill focused on burgeoning security issues in the central and western part of the country.
Moscow has been "very transparent so far" regarding the recent Russian troop movements, Firman said.
Pentagon leaders are getting "good information from the Russians about what they are sharing" on the ongoing military exercises, he said, adding that U.S. military officials have not picked up any information on any covert or clandestine operations being carried out as part of the drill.
Washington and Moscow have routinely run joint training missions and exercises, along with robust information-sharing operations, to assist each country's counterterrorism capabilities, according to the Pentagon.
Both countries wrapped up the Vigilant Eagle exercise last December, which featured a scenario in which American and Russian forces worked together to take down a commercial airliner hijacked by terrorists.
But the defense department was not ready to decide whether to change current military-to-military ties between the two nations as a result of the ongoing military drills along the Russian-Ukrainian border, according to Firman.
Russian President Vladimir Putin ordered thousands of troops to areas near the Ukranian border as part of the massive exercise, which is expected to last until March 3, according to reports.
Moscow has also ordered improved security measures at Russia's Black Sea Fleet headquarters, located on the Crimean peninsula in Ukraine, as part of the ongoing military exercises, Russian Defense Minister Sergei Shoigu announced Wednesday.
Observers in the region claim the Russian military movements so close to the Ukrainian border are a clear show of force by Putin directed at anti-government factions in the country.
Weeks of violent clashes between anti-government protesters and Ukrainian police in Kiev and elsewhere in the country have left more than 80 people dead and many more wounded. The country's Russian-backed leader, Viktor Yanukovych, fled the capital earlier this week amid the ongoing violence, and parliamentary speaker Olexander Turchynov was named acting president.
Yanukovych's ouster and subsequent military response by Moscow has sparked concern among administration officials and European allies.
"We urge outside actors in the region to respect Ukraine's sovereignty and territorial integrity," Deputy White House Press Secretary Josh Earnest said Wednesday.
Declining to mention Russia by name, administration officials are pressing all regional powers to adhere to "their political commitments to transparency about military activities," Earnest told reporters during a briefing aboard Air Force One.
State Department spokeswoman Jen Psaki said Wednesday that any military action by Russia or others in the region "would be a detrimental step to Ukraine and that would be a mistake."
NATO military leaders echoed those comments in a statement released Wednesday.
"In a democracy, it is imperative that ... armed forces do not intervene in the political process," the alliance's defense chiefs said.
"We underscore the need to strengthen democratic control over the defence and security sector, with effective parliamentary oversight and the robust involvement of civil society," they added.
Hagel is currently meeting with top NATO leaders as part of the organization's regular ministerial at the alliance's headquarters in Brussels.