Pentagon "Exploring" Expanded Military Support To NATO Allies Near Ukraine
The White House and Pentagon are considering ramping up military support to NATO allies in Eastern Europe as fears continue that Russia will push its forces further into Ukraine.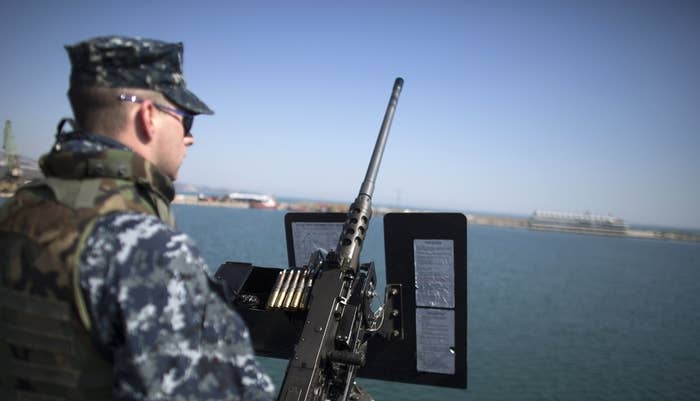 WASHINGTON — Pentagon leaders are considering ramping up military support to NATO allies in Eastern Europe as Russia threatens to push its forces further into Ukraine, a Pentagon spokesman said on Wednesday.
Defense Department leaders are "exploring" options for military support, Pentagon spokesman Col. Steve Warren told reporters. "We are not at the planning stage yet."
Warren's comments come after NATO Secretary General Anders Fogh Rasmussen met with Defense Secretary Chuck Hagel on Tuesday. The NATO chief is in Washington to meet with top administration officials to discuss the ongoing crisis in Ukraine.
On Tuesday, Vice President Joe Biden suggested that American ground troops could begin rotating into the Baltic region, to conduct a series of military exercises with those partner nations.
While on a diplomatic visit to Lithuania, Biden said upcoming U.S. military drills could focus on large-scale ground and naval operations. Washington has already sent several U.S. warplanes and 300 American troops into Poland to conduct joint military exercises in the country.
A U.S. guided-missile destroyer, the USS Truxtun, was also sent into the Black Sea earlier this month for planned military exercises in the region, according to the Pentagon.
During a speech at the Brookings Institute on Wednesday afternoon, Rasmussen indicated that NATO was also ready to move forward with military support in the region.
The NATO chief said he "envisions further steps" taken by NATO allies, including the United States, the United Kingdom and others, to boost military capabilities of alliance members in eastern Europe.
Like Washington, Rasmussen said he sees this ramp-up taking the form of increased joint exercises and combined security missions in the Baltics and elsewhere. The alliance chief also noted these efforts "will be a NATO [led] mission," akin to previous coalition missions in Libya and elsewhere.
Aside from expanding U.S. military cooperation in Eastern Europe, the Pentagon and State Department are weighing a request from Kiev for weapons, ammunition, and other equipment, according to Warren.
Previous reports claimed the Pentagon had denied the emergency request, during Ukrainian Prime Minister Arseny Yatsenyuk's meeting with President Obama last week.
However, Warren noted that U.S. diplomats and military leaders are still working to "decide on the next steps" of whether to approve the entire request or limited portions of military aid to Ukraine.
He declined to comment on what specific weapons and equipment were included in the Ukrainian request, but said it was comprised of a "broad range of equipment you would expect in this kind of situation."
For their part, Rasmussen said NATO leaders will weigh in on whether to provide their own military support to Ukraine at the alliance's next ministerial meeting in April.
Without going into details as to what that NATO military support package could include, Rasmussen said he was "confident it will happen."
NATO's mission "of utmost importance" in eastern Europe now "is to provide a clear alternative" to Russian military aggression, Rasmussen said, warning Moscow's move into Crimea is the first step of "a long-term Russian strategy" for Ukraine and the region.
That said, "we see [military] force as the last, not the first, resort," he added.
The Pentagon and White House have shied away from military options to address Russian military aggression in Crimea and Ukraine.
Recently, the Obama administration levied sanctions against top Russian officials in response to the crisis in Ukraine.