Pentagon Cuts All Military Ties With Russia
The Pentagon has indefinitely suspended all military ties with Russia over the country's recent military action in Ukraine, significantly upping the stakes in the growing standoff between Washington and Moscow.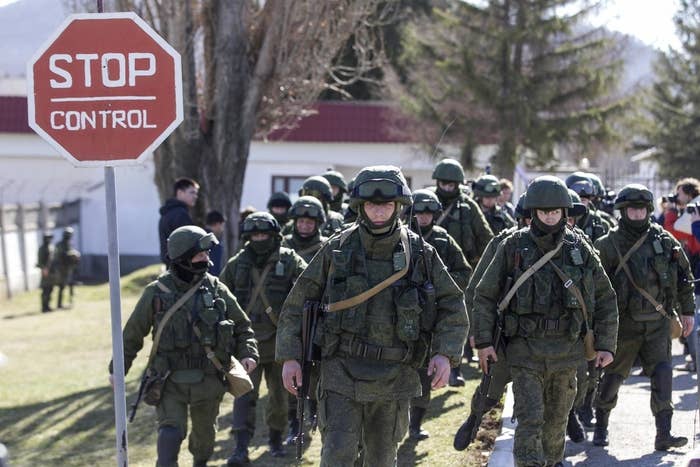 WASHINGTON — Pentagon leaders have indefinitely suspended all military ties with Russia in response to Moscow's armed push into Crimea.
"In light of recent events in Ukraine, put on hold all military-to-military engagements between the United States and Russia," Pentagon Press Secretary Rear Adm. John Kirby said in a statement issued Monday.
As a result all planned joint U.S.-Russian exercises, high-level meetings between Pentagon leaders and their counterparts in Moscow, and regional security conferences between both countries have been cancelled.
"We call on Russia to de-escalate the crisis in Ukraine and for Russian forces in Crimea to return to their bases," Kirby stated.
The decision was made late Monday night after President Barack Obama met with key members of his national security staff for over two hours at the White House regarding the ongoing crisis in eastern Europe.
During the meeting, Obama and top national security advisers "discussed what steps we can take with our international partners to further isolate Russia and reinforce that the Russians still have an opportunity to take immediate steps to de-escalate the situation," according to a National Security Council official.
That said, Kirby dismissed claims that the decision to cut military ties with Moscow is the first step toward possible U.S. military action against Russian forces in Crimea or elsewhere.
"There has been no change to our military posture in Europe or the Mediterranean," he said.
However, he did note American warships stationed in the region will "continue to conduct routine, previously planned operations and exercises" with NATO forces and other allies.
Administration officials have repeatedly pushed back against suggestions that Washington is eyeing military options to quell the growing unrest in Crimea and Ukraine since Russian forces pushed into the country.
But Defense Secretary Chuck Hagel indicated on Sunday the Pentagon was prepared to draft possible options to counter Russian military movements in Crimea, should the situation expand further into Ukraine.
Those potential options likely would focus on intelligence support missions to back up either Ukrainian or allied troops in the region, according to former top military and intelligence officials.
That said, administration officials have not formally requested Pentagon leaders begin drafting up such options, a senior defense official told BuzzFeed.
Roughly 6,000 troops have assumed virtually full control of Crimea, an autonomous province in Ukraine, since those forces crossed into the province Saturday. Moscow claimed it was part of an effort to protect the country's Black Sea Fleet headquarters and military installations located there.
The Ukrainian military has been on high alert since Russian forces swept across the border into Crimea. On Monday, top NATO commanders held what is known as an Article 4 meeting at the request of Polish military leaders, to discuss the larger threat Russia's incursion could pose to alliance members neighboring Russia and Ukraine.
Based on the alliance's charter, an Article 4 is only called when a partner nation feels its "territorial integrity, political independence or security" is being threatened by an outside country.