Hagel Says Russian Defense Minister Assured Him Kremlin Has No Plans To Cross Into East Ukraine
Defense Secretary Chuck Hagel said he has received assurances that Moscow has no plans to move its forces deeper into Ukraine, despite its massive military buildup along the country's eastern border.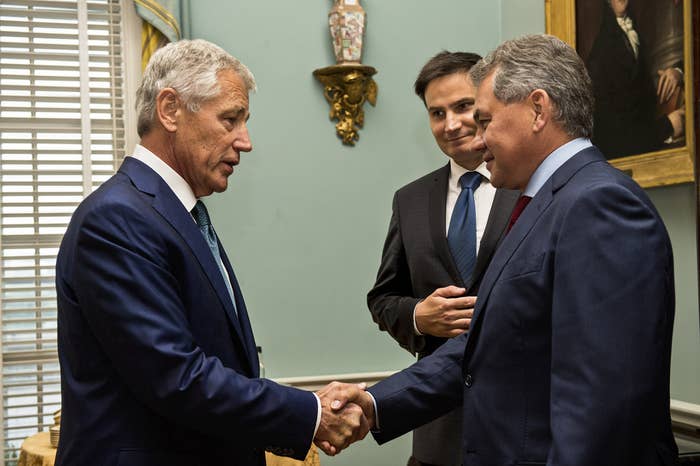 WASHINGTON — Russia's top defense official has assured Defense Secretary Chuck Hagel that the country's massive military buildup along the eastern border of Ukraine was not a precursor to an invasion of the east of the country.
Hagel and Russian Defense Minister Sergey Shoigu discussed ongoing tensions along the Ukrainian border for nearly an hour, Pentagon spokesman Adm. John Kirby told reporters at the Pentagon Thursday.
During the conversation, which "at times was direct," Hagel sought clear guarantees from his Russian counterpart that any military action by Moscow's forces would not lead to an incursion into Ukrainian territory, Kirby said.
In response, Shoigu said any Russian movements along the Ukrainian border would be restricted to the military exercises ordered by Moscow in the region. He also guaranteed Russian troops would not cross the border into eastern Ukraine and refrain from taking "aggressive action" in Crimea and elsewhere.
When asked for Hagel's response to Shoigu's pledge, Kirby said: "The expectation is he will live up to those words."
"It was a very candid discussion on both counts," he added.
That said, Shoigu declined to provide Hagel with an end date for the Russian military exercises along the border, telling the Pentagon chief there is "no firm timetable" for the end of those drills, according to Kirby.
Shoigu also declined to provide Hagel with current troop numbers on the growing number of Russian military units amassing along the Ukrainian border.
That expansion of troop numbers, combined with Russia's aggressive military action in Crimea, prompted defense department leaders to initiate Thursday's call.
Kirby dismissed notions the call was driven by concern inside the Pentagon that Russia was preparing to move deeper into Ukraine.
"There was no preconceived notion one way or another" that prompted Thursday's discussion, Kirby said. Hagel, he added, "simply wanted to know what [Russia was] doing."
The call came on the same day the White House announces the harshest round of economic and political sanctions, targeting top political leaders within Russian President Vladimir Putin's inner circle.
Along with the new round of sanctions, the White House and Pentagon are continuing to weigh possible military assistance to Ukraine.
Defense Department officials said Wednesday the Pentagon was reviewing an emergency request for military aid by Kiev, in the wake of Russia's annexation of Crimea.
Recent reports claim the Ukrainian request called for shipments of weapons, ammunition, and other military equipment to protect the country's borders from further Russian incursions.
But the military support package being mulled by the Pentagon and White House consists mainly of nonlethal aid, some of which is already being provided to Ukrainian forces.
"There are certain types of nonlethal support ... that we are providing, and that's something that we'll continue to review, going forward," a senior administration official said Thursday.
That said, the Obama administration remains adamant that "further escalating the conflict ... through the introduction of, you know, U.S. military forces in the Ukraine is not something that anybody is suggesting," the official told reporters on Thursday.