Can The Pentagon Fix Its Sexual Assault Prevention Problem?
While the Defense Department is again reeling from accusations of sexual assault by service members assigned to prevent such crimes, the Pentagon is still on the fence over changing how it screens individuals for those jobs.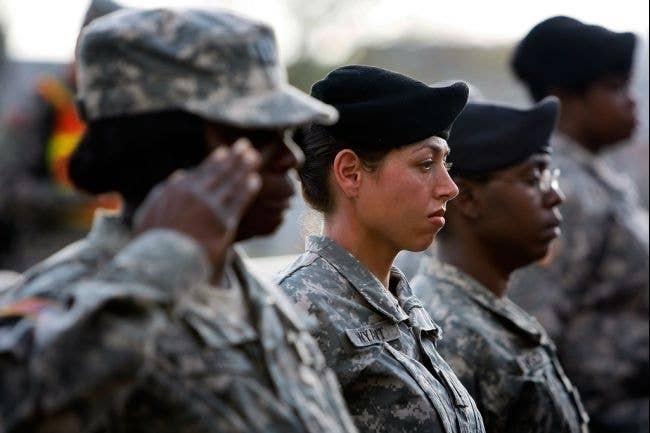 WASHINGTON — Pentagon leaders are still debating whether to change how they vet service members assigned to sexual assault prevention units, despite repeated allegations of sexual assault by high-ranking officers assigned to clamp down on those very crimes within the armed forces.
On Thursday, Army leaders suspended military attorney Lt. Col. Joseph Morse — the Army's top attorney responsible for sexual assault cases — on allegations he assaulted a female colleague in 2011.
At the time of his suspension, Morse had under his command a team of 12 Army attorneys, specifically tasked with cracking down on sexual assault cases within the service.
An Army spokesperson confirmed to BuzzFeed that Morse had been suspended from duty, pending the results of the ongoing Army investigation into the allegations.
The spokesperson declined to comment on the specifics of that service inquiry into Morse's actions, first reported by Stars and Stripes.
"If true, this case is yet another disheartening example of the hollow pledges of 'zero tolerance' we have heard for more than 20 years," Nancy Parrish, president of Protect our Defenders, said in a statement to BuzzFeed on the allegations facing Morse.
"When the military has those at top of the chain who are in charge of fighting sexual assault accused of sexual misconduct at a conference on sexual assault it should be clear to every level-headed human being the status quo must be changed," wrote Parrish, whose organization has spearheaded efforts to reform oversight of sexual assault within the U.S. military's ranks.
But Morse's case is not the first of a high-ranking military officer, specifically tasked to curb sexual assault in the military, being accused of such crimes.
Last May, Lt. Col. Jeff Krusinski, the lieutenant colonel in charge of the Air Force's sexual assault prevention and response branch, was charged with sexual battery in Northern Virginia after he inappropriately touched a woman while drunk outside a bar.
Nearly a week after Krusinski was arrested, Army investigators launched an inquiry into claims of solicitation of prostitution and sexual abuse by a non-commissioned officer assigned to the sexual assault prevention unit at Fort Hood, Texas.
On Thursday, Sen. Kelly Ayotte (R-N.H.) suggested the Morse case was a clear example the military needed to review how it picks members for the prevention units.
Ayotte told Buzzfeed there is always a need to make sure that people who are in any fashion dealing with victims "have the proper background and training."
But she stopped short of calling for congressional action to force department leaders to change those standards.
Despite the Morse case and others, Pentagon officials are standing by the current standards and practices to screen candidates for positions within the services' sexual assault prevention units.
All military officers and service members being vetted for positions within the military's sexual assault prevention units, either as counselors or other support staff, are subjected to a separate "formal screening process," Pentagon spokeswoman Lt.Col. Cathy Wilkinson told BuzzFeed on Thursday.
That process, however, focuses mainly on "professional certification" qualifications, such as education level and other management attributes that would make a candidate qualified to be part of or command a sexual assault prevention unit, she said.
Candidates are also screened for previous allegations or arrests for sexual assault or abuse, according to Wilkinson. High-ranking officers are additionally subjected to a security clearance investigation, outside of the vetting process for sexual assault prevention units, she added.
After the Krusinski incident, Defense Secretary Chuck Hagel called for an immediate review of all service personnel assigned to "positions of trust," such as sexual abuse counselors and others associated with prevention units.
While the Army dismissed nearly 600 soldiers and officers as part of that review, the Army spokesperson said there remain no plans to formally change how service members are picked to serve on the prevention units.
But that move simply does not go far enough, according to Lauren Gray, spokeswoman for the Service Women's Action Network.
"The Army dismissed nearly 600 soldiers from positions of trust due to previous criminal offenses, including sex offenses," Gray said Thursday. "How does the military expect to prevent sexual assaults when these crimes are also being committed by the people in charge?"
But for all the screenings and investigations conducted by top military brass on the service members entrusted to serve on assault prevention units, "if you don't find anything, you don't find anything," Wilkinson said.