As Withdrawal Looms, Afghan Veterans Wonder Whether Their Sacrifice Mattered
As Washington continues to weigh a complete troop pullout from Afghanistan next year, America's newest generation of veterans of the longest war in U.S. history are left wondering whether it was worth it. "It would be hard for me to justify all we did over there."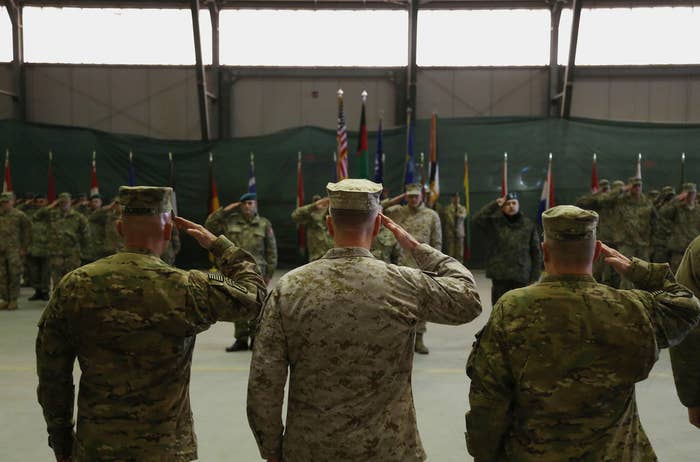 WASHINGTON — In May 2009, Air Force 1st Lt. Roslyn Schulte was traveling in a U.S. convoy in Afghanistan, moving from the country's capitol of Kabul to Bagram Airfield, the massive U.S. airbase 45 minutes northwest of the city.
The relatively short trip from the Kabul-based Camp Eggers should have been an uneventful one for Schulte, an intelligence officer with the 8th Intelligence Squadron, and the group of U.S soldiers heading to Bagram.
And it was, until the convoy was hit by a roadside bomb and the 25-year-old was killed.
Five years later, Afghan veteran and former Air Force Capt. Joshua Carroll remembers clearly when he got the news of his friend's death, while stationed at the squadron's headquarters at Hickam Air Force Base in Hawaii.
"She didn't die without a reason," Caroll, now a law student at Catholic University in Washington, D.C., said in an interview with BuzzFeed. "She believed in the cause."
Carroll, who ended up being deployed to Bagram in 2011, said the war is and always will be "inextricably connected to her. They are not separate things."
"It [was] personal," Carroll said of his time in country. "It [was] not just another place I deployed to, it [was] not just another tour of duty."
Nearly 13 years after U.S. forces first entered Afghanistan, the White House and Pentagon are weighing a possible complete withdrawal from the country next year, spurring the question from veterans like Carroll and others who spoke to BuzzFeed: If that plan goes forward, will it all have been worth it?
More than 2,200 U.S. service members have been killed in action during the Afghan war, with thousands more suffering from physical and mental scars from what has officially become the longest war in U.S. history.
But after all those years, all those multiple tours of duty, all the wounded and dead and the billions spent by the U.S. to fight in Afghanistan, the country's future and America's possible role in that future remains uncertain as ever.
That said, a number of veterans who spoke to BuzzFeed all said they felt that if the White House's so-called "zero option" — or complete withdrawal of U.S. forces from the country — is enacted, their war will end up having been for nothing.
"It would be hard for me to justify all we did over there," if a zero option went into place, Carroll said.
"And to just leave, it kind of gets under your skin ... I want to say it had meaning," he said, recalling Schulte's death, before trailing off.
Sitting at a Starbucks on the campus of George Washington University, former Marine Corps Staff Sgt. Steven Rossa, now a 29-year-old international relations student, recalled the time he convinced his parents he should enlist in the Marine Corps.
"I joined because of 9/11, and so had everyone else," said Rossa, who was 17 years old when he enlisted in the Corps.
As a staff sergeant with 3rd Light Armored Reconnaissance Battalion, Rossa served a tour in Iraq before being deployed to the volatile Helmand River province in southern Afghanistan in 2011. Conducting combat operations in what is known as the spiritual heartland of the Taliban, Rossa and his fellow Marines were unwavering in what their mission was and what they had signed up to do.
"We were hurting the people who hurt us," he said of his time in Afghanistan. But with a full withdrawal now on the table, the question of whether U.S. forces made a positive difference in the country continues to nag veterans of the wars in Iraq and Afghanistan.
"We [ask] that in our minds, even if we don't talk about it among ourselves," Rossa said.
A number of Afghan veterans "are feeling a lot like the Vietnam vets felt like," in terms of the sacrifices made by American soldiers, sailors, airmen and Marines in Afghanistan, only to possibly have U.S. and allied forces abandon the country, Rossa said.
"That's when it hits you, did I waste my time?" he added.
American and allied commanders, however, continue to push the idea that Afghanistan has made incredible progress since U.S. forces first arrived in 2001.
The success of Saturday's presidential election, which is the first free election held in Afghanistan, is being touted as the latest proof the country is on the right track. But continued frustration within Washington in its dealings with outgoing Afghan President Hamid Karzai, combined with the administration's inability to reach a postwar deal with the country's leadership — laying the terms for a U.S. military presence in Afghanistan after 2014 — have made the zero option a real consideration for the White House.
Still, doubts persist in Washington about whether the country's political situation will be stable enough to have a postwar deal in place by 2014. Increased violence in Kabul and elsewhere in the country ahead of the elections have further fueled fears of Afghanistan's bleak future with no American military presence.
"I'm being hopeful... but I've stepped back and [accepted] it," Army Reservist and former Staff Sgt. Nazly Confesor said, on the possibility of Afghanistan falling apart, should U.S. forces completely withdraw from the country.
"I would feel powerless, in a way. I would feel angry," said Confesor, who was deployed to southern Afghanistan as a military photographer. "There was a lot of positivity there."
"It is what it is," she added.
"It's frustrating," former Army Spc. Marco Reininger said, looking back on his service in Afghanistan in 2008 and again in 2011 as a civilian contractor, in light of the full withdrawal being contemplated by the White House. "It leaves you feeling empty... like a job not well done," he said.
"I lost a lot of friends there ... [but] do I think my friends who died there died in vain? No," he said. "We tried to do the best we could."
The political turmoil and escalating violence in Afghanistan harkens back to the situation facing American military commanders in Iraq, where the White House opted for a complete troop withdrawal from the country.
Now Iraq's security forces find themselves locked in a bitter and bloody battle with a resurgent al-Qaeda, ceding control of key cities like Fallujah and others to the terrorist group.
Rossa said he feels that if the Obama administration goes with a zero option in Afghanistan, the devastating results seen in Iraq will simply be repeated.
The Iraqi security forces "were god awful ... [but] it wasn't their fault," Rossa said. While those forces improved over time, like the Afghan forces being trained by the U.S. and its allies, they simply fell apart after the American withdrawal and sectarian violence engulfed the country.
"We leave and that is exactly what [will] happen" in Afghanistan, he said. "They can't do [it] on their own," he added.
But pressure created by a possible full U.S. withdrawal, could be the "wake up call" the country needs to lock down its political and security situation, Reininger said.
"You have to know when to fold [sometimes], you have to cut your losses at some point," he said, arguing that U.S. and allied military planners squandered a "golden opportunity" in the early days of the Afghan war, with a strategy that "very quickly lost the faith of the Afghans."
Since then, American and allied commanders have been "playing catch up" in an attempt to bring the war to a close by next year, he said.
In the end, "America isn't going to get a helluva return on investment on this [war]... I don't think it will prove to have been worth it," Reininger said.
That said, if he had to do it all over again, Reininger said he would still volunteer to go. "It sounds morbid, but it's true," he said. The war, he said, "changed me as a person," for better and worse.
Confesor said she would like to return to the country, as either a U.S. official or as part of a non-governmental organization, focusing on women's rights.
While attached to Australian units stationed in southern Afghanistan, Confesor recalled the amazed looks she got from the Afghan children, particularly the girls, in the villages they patrolled day after day.
"I'd like to think I made a difference in some little girl's head," she said of that experience, challenging them "to do what they want to do," not what is forced upon them by Afghan society.
These kinds of small victories achieved by Confesor, Rossa, Reininger, Carroll, Schulte, and all U.S. service members who fought in Afghanistan for more than a decade may be all Washington and its allies can hope for, as the longest war in U.S. history hurdles toward its end.
"They will keep going, they won't complain," Rossa said of the roughly 30,000 American troops still stationed in country.
"But where is the light toward the end of the tunnel?" he said.