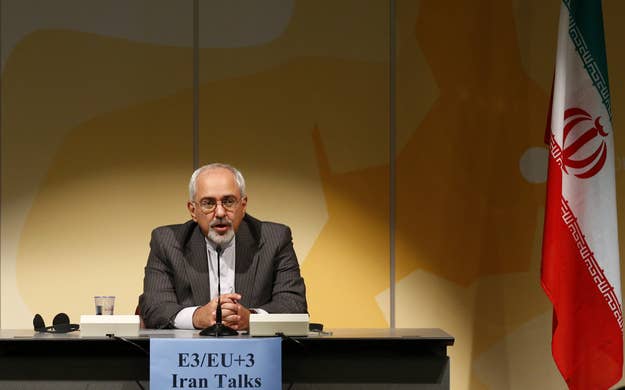 Top western and Iranian officials walked away on Saturday from talks in Geneva aimed at freezing Tehran's nuclear program after France stepped in to scupper a deal that appeared to be close.
Pre-empting other key negotiators, including Iranian foreign minister Mohamed Zarif, the EU's foreign policy chief Catherine Ashton, and U.S. Secretary of State John Kerry, French Foreign Minister Laurent Fabius told reporters that no deal had been reached.
"We are hoping for a deal, but for the moment there are still issues that have not been resolved," he told French radio. France had argued that the proposed deal, details of which have not been made public, did not do enough to ensure Iran would freeze its nuclear activities, particularly at the Arak reactor. Fabius earlier told France's Inter Radio he was weary not to be part of a "con game."
Foreign ministers from the P5+1 (the five permanent UN Security Council members plus Germany) had cloistered themselves away in Geneva in a bid to reach a deal that would see some sanctions on Iran lifted in exchange for proof that Iran was not developing nuclear weapons. Hopes that a deal were close increased on Friday when Kerry unexpectedly flew to the Swiss capital
Speaking at a joint press conference with Ashton, Zarif declined to say if he was disappointed. "Obviously the six countries may have differences of views, but we are working together, and hopefully we will be able to reach an agreement when we meet again."
Negotiators are due to meet again in Geneva for three days of talks starting Nov 20.
Despite the lack of a deal, the nearly round the clock talks in Geneva showed wide-reaching commitment to achieving a deal. They were comprised the most public engagement seen between Iranian and western diplomats since Iran's 1979 revolution.
Iranian hardliners and many sympathetic to a deal heaped scorn on France for disrupting the weekend's talks. Iranian state television said France was acting as "Israel's representative at the talks."
Trita Parsi, president of the National Iranian American Council and a leading Washington voice in favor of improved relations with Iran, vented in a series of tweets.