Taxpayer Dollars At Work: Libertarian Candidate Poised To Qualify For Matching Funds
Under a complex federal program, Gary Johnson could receive as much as $21,025,000 in from the FEC for his campaign.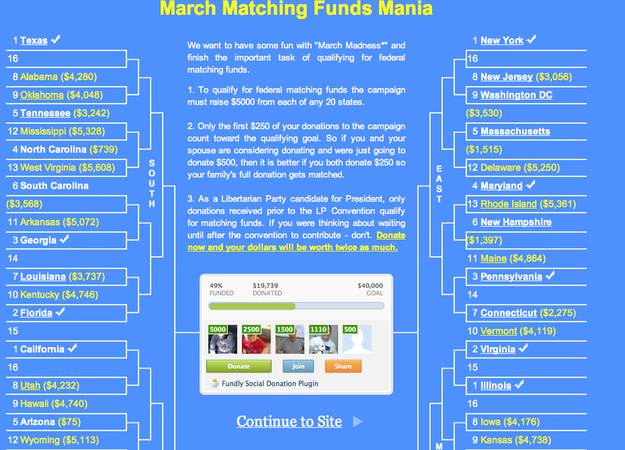 Libertarian presidential candidate Gary Johnson's campaign says he is nearly on track to meet legal requirements to receive matching funds from the federal government.
Candidates are required to raise $5,000 in $250 chunks in 20 state; Johnson's campaign — aimed first and foremost against a government role in American life —says he has met that criterion in 14 states. Buddy Roemer, now seeing the Americans Elect nomination, was certified for primary season matching funds on February 2, while Jill Stein, seeking the Green Party nomination, says she's passed the bar in three states, according to Richard Winger's Ballot Access News.
The program requires candidates to abide by a spending limit in excess of $50 million, and in return offers them access to as much as $21,025,000 in matching funds for the primary, with higher figures for the general election. And while Johnson and Roemer are unlikely to crack eight figures, the program has proved a financial windfall in the past to other minor candidates patient, willing, and crafty enough to meet the system's complex requirements.
Johnson has a hand in this process from a veteran of this particular corner of politics: The flamboyant Republican operative Roger Stone, who legendarily helped the Rev. Al Sharpton qualify for $100,000 in matching funds in 2004. Sharpton was later forced to repay the money, after an FEC audit found he'd broken rules in contributing to his own campaign.
Stone said he's "only helping" Johnson reach the fundraising goals and is "a volunteer at this time."
The program is underwritten by a voluntary checkoff on tax returns, and is part of a post-Watergate effort to clean up American politics.