Stay At Home Motherhood Isn't A Luxury, Census Data Shows
Some have suggested Americans won't identify with Ann Romney because stay-at-home motherhood is increasingly an upper-class luxury. The numbers don't back up that anecdotal impression.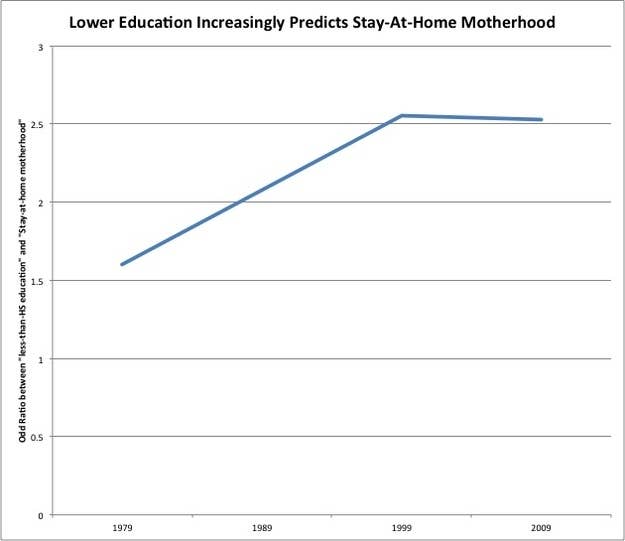 With the presidential election campaign turning today into a battle over stay-at-home-motherhood, some have suggested that the Romney campaign's aggressive defense of Ann Romney's stay-at-home motherhood could backfire. There's been a great deal of talk about the "opt-out revolution" among professional women who stay home, even as working class parents have been forced by men's stagnant wages to work more and more jobs and hours.
The data, though, don't support the impression that staying at home is a luxury. A detailed 2010 study by two Census Bureau sociologist, in fact, found the opposite: While stay-at-home motherhood has become less common over time, the women who stay at home are increasingly those whose low education means they can't earn enough money to making working outside the home worthwhile.
"The main effect showed that compared with 1969, women with less than a high school degres were more likely o be a state-at-home mother than women with a high school degree," the study's authors, Rose Kreider and Diana Elliott, wrote, a trend that "accentuated in later decades."
"Women with less than a high school degree were even more likely than those with a high school degree to be a stay-at-home mother in later decades than in 1969," they wrote. "As women gained more education and were able to get better jobs, they did so, and the opportunity cost of staying out of the labor force grew for those with more education. So those with the least education now the most likely to stay out of the labor roces as stat-at home mothers."
That's probably not Ann Romney's story: Her husband could certainly afford day care, and her education would have allowed her, if she wanted, to work outside the home and pay for it.
"People think stay-at-home moms are the rich folks," Romney supporter Penny Nancy said on a conference call with reporters today. The Romney campaign is betting that perception is wrong, and the statistics back them up.