Santorum Writes Barack Obama, Millions Of Protestants, Out Of Christianity
Excommunication didn't used to be in a Senator's purview.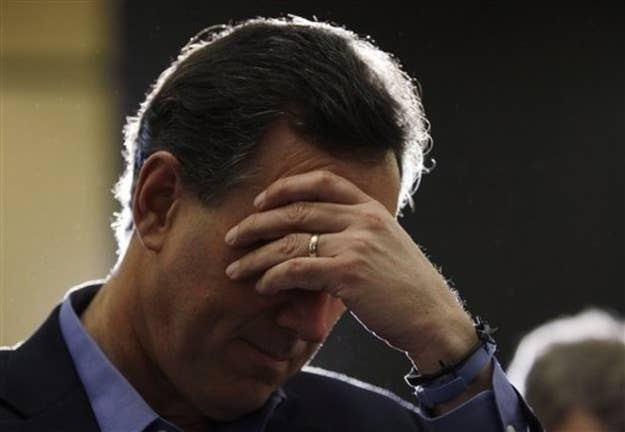 Rick Santorum's recent comment that Barack Obama ascribes to "some phony theology. Not a theology based on the Bible" raised eyebrows this weekend, but its real impact may be in reviving a far more aggressive statement Santorum made four years ago.
Here's the quote, dredged up from a 2008 speech at a Catholic college:
We all know that this country was founded on a Judeo-Christian ethic but the Judeo-Christian ethic was a Protestant Judeo-Christian ethic, sure the Catholics had some influence, but this was a Protestant country and the Protestant ethic, mainstream, mainline Protestantism, and of course we look at the shape of mainline Protestantism in this country and it is in shambles, it is gone from the world of Christianity as I see it.
The mainline denominations include the Episcopal, Presbyterian, Lutheran, and Methodist churches, some of whose leaders stand well to the political left; but whose credentials as Christian aren't generally considered in doubt.
Santorum suggested today that he's a reluctant culture warrior. This may also be a difficult slice of the culture war to win.
John Schroeder, a politically conservative Presbyterian, reacts on the Article VI Blog:
I am the first to acknowledge the decline of denominational Protestantism in the nation, but this quote, and his remarks in total, fail to acknowledge the rise of Evangelicalism in the void created by that decline – and so quite, quite wrongly blames denominational Protestantism for our cultural decline. Simple logic dictates that rising Evangelicalism must have had as much to do with it as declining denominational Protestantism....

There are two things evident in these remarks. First is a certain political fluidity. Why did Santorum disregard the role of Evangelicals? Could political expediency be part of that?

...Secondly, we don't need to start pointing fingers at other religious groups – PERIOD!

...Worse yet, his truly intolerant comments concerning Obama pretty well disqualify him from holding office. It is simply not the president's job to be judging whose theology is correct and whose is not.
Santorum poked a hornet's nest here. He may win, at least among Republicans, the argument over whose faith is purest, but how many see that as a politician's role?