Rubio Makes Peace With Univision
His first interview with the Spanish-language network since a bitter battle last summer.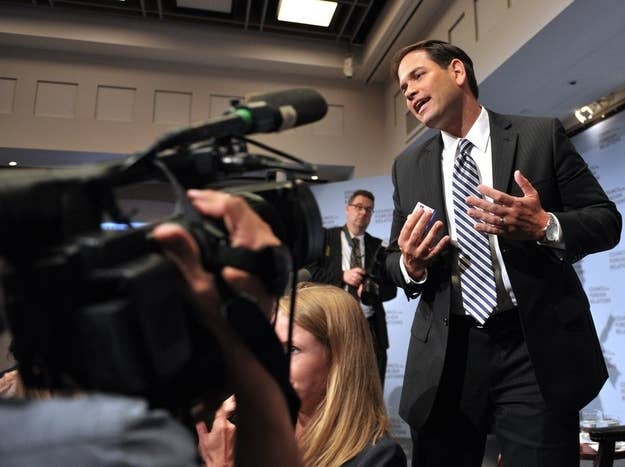 Senator Marco Rubio appears to have made peace with the giant Spanish television network Univision, a year after a bitter feud over coverage of drug charges against Rubio's brother-in-law.
A Capitol Hill source noticed Rubio walking the Senate halls today with anchor Jorge Ramos for, a source told BuzzFeed, an interview to promote his memoir. The book, American Son, is due out Tuesday in both English and Spanish, part of high-profile media campaign around the book.
The Ramos interview will add a touch of intrigue to the roll-out: Univision was badly bruised by the coverage of Rubio, which prompted Republican presidential candidates to drop out of a planned Spanish-language debate, and produced an embarrassing Miami Herald report alleging — based in part on claims from Rubio's office — that Univision had offered to soften the piece in exchange for an interview, something Univision denied.
Rubio hasn't appeared on Univision's news programs since. But the detente with Rubio also dials down the tension between the GOP and a key outlet for reaching Hispanic voters as the election approaches.