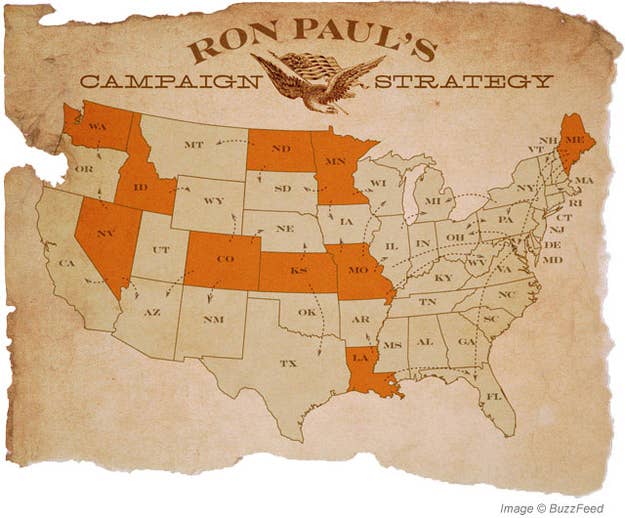 Ron Paul -- poised to finish strong in the Iowa caucuses – has begun to implement a quiet, complex plan to force a long battle with Mitt Romney for delegates to the Republican National Convention in August. His advantages: Experience, organization, and the legacy of the 2010 Tea Party revival, which convinced Republicans that anti-government figures like Paul just aren't as weird as they'd thought.
Paul is following the roadmap set by Barack Obama's 2008 strategy: Start early, learn the rules, and use superior organization and devoted young supporters to dominate the arcane but crucial party procedures in states your rivals are ignoring -- states where caucuses and conventions that elect the delegates who will ultimately choose the Republican candidate. The plan begins in places like Minnetonka, Minnesota, a Minneapolis suburb where Paul has based his state headquarters, and where staffers have already begun running "mock-auses" -- practice runs for Minnesota's February 7 caucuses.
Paul's rivals dismiss his chances. "Ron Paul's not going to be our nominee," Mitt Romney said flatly in December. But Paul's organization is girding for the long haul, and while the 76-year old Texan is vanishingly unlikely to be the nominee -- primaries in big states like New York and California could shut him out -- observers in the caucus states say they expect Paul to win, and perhaps sweep, dozens of delegates from unexpected corners of the map. Those delegates, in turn, will give him at least a prominent position at the Republican National Convention, and a plausible shot at emerging as a kingmaker if a strong mainstream challenger to Romney emerges.
"We're doing what's been done most of the time in history -- we're going to fight for our candidate to the very end," said Jared Hendrix, Ron Paul's North Dakota state director (and the only North Dakota State Director for any campaign) in an interview from Paul's local headquarters in an old insurance office in downtown Bismarck. "For the last 30 years we haven't had many contentious conventions but if you go back to 1976, Gerald Ford and Ronald Reagan – there was a battle at the convention for delegates."
Paul has, says his campaign chairman Jesse Benton, "offices, staff and strong organization" in ten caucus states besides Iowa: Colorado, Washington, Maine, Idaho, Minnesota, Nevada, Kansas, Louisiana, Missouri and North Dakota. (Alaska and Hawaii are also a caucus states and prime Paul territory.)
Those states together will award 419 of the 2,286 delegates who will choose a nominee in Tampa in August. They operate under complex, individual rules that favor the prepared. In Idaho, for instance, voters will gather in 44 county caucuses, each of which delivers a vote weighted by its size. Those caucuses will conduct run-offs until there are only two candidates left, and if any candidate gets over 60% in a caucus, he gets 100% of its vote. Any candidate winning more than 50% of the state's weighted vote wins all 32 of Idaho's delegates -- more than will be awarded to all the candidates in Iowa combined.
"It's just baffling that the other candidates aren't paying attention to Idaho," said Rod Beck, a conservative state party official who helped design the caucus system. "We have more delegates in Idaho than they do in Iowa or New Hampshire."
The process begins in Iowa tomorrow, where Paul stood in a statistical tie with Mitt Romney in the last Des Moines Register poll, with 22% of likely caucus-goers supporting him. Those numbers reveal a new, broader popularity; they're backed by a deep organization inside, a kind of model of what Paul has done in other caucus states.
"Ron Paul has quietly built a strong presence on the Republican State Central Committee, [where his supporters] now comprise a full 1/3 of the Republican statewide committee," said Tim Albrecht, the spokesman for Governor Terry Branstad. "Ron Paul's supporters are ardent and passionate, and they are the ones who will stay long after the vote to insure they pack the county, district and state conventions, eyeing a floor fight in Florida."
In Iowa, Paul's devoted cadres are up against activists supporting other Republicans. In the next ten caucuses, they're virtually all alone.
Even Romney's campaign, which has the support of local officials in most of the states where Paul is organizing, has barely scratched the surface of the caucuses. A Minnesota Republican operative, Ben Golnik, said a lawyer with the Romney campaign had recently called to ask him the rules.
Paul's campaign, meanwhile, is already practicing procedures and planning to run slates of delegates at the most local levels -- a move "which is pretty unheard of," Golnik said. "They are uber-organized."
(Paul's state-based aides are also under instructions to refer reporters to his national spokesman, and aides in Minnesota and other local offices didn't respond to BuzzFeed's interview requests.)
Paul has some experience in this sort of drawn-out organizational fight. His supporters waged a long and widely-ignored struggle for delegates in 2008, though he wound up taking just 35 to the convention. They fought pitched battles with regular Republicans. One particularly bitter scene in Jackson County Missouri, for instance, drove the local chairman to storm out in frustration as Paul's young supporters simply seized control.
"The Ron Paul people had a takeover during the caucus -- it was not a very pleasant experience," said Shirley Simmons, the new Jackson County Republican chairwoman. "It really kind of caught us off guard and we weren't prepared for that -- I think people are taking it a little more seriously this time."
The Paul takeovers are, in fact, something of a joke to a GOP establishment that simply can't take the wiry septuagenarian -- with his florid gestures, support for drug legalization, and opposition to aid for Israel -- seriously.
"They'll roll in 50 college guys with bad haircuts and Ayn Rand back tats, win the vote for 'Dr. Paul,' and go home," grumbled a Florida Republican consultant, Rick Wilson.
But Wilson's disdain isn't as widely shared as it used to be. Paul's position is far stronger in 2012 because the Republican Party has moved in his direction. His libertarian, anti-government purity has struck a chord, and the Tea Party brought many of his supporters and ideas into the party's mainstream. He, meanwhile, has taken a step in the direction of traditional Republican politics by hiring a pair of veteran party consultants and by focusing on his opposition to abortion rights.
So where local parties fought the Paul-ites tooth and nail in 2008, some now say they'll welcome his supporters.
"They're less volcanic, less scary to the establishment," said Matthew Gagnon, a veteran Maine Republican operative. "Paul is more acceptable as a candidate than he was in 2008, and they are as a group perhaps more likely to pull a surprise in the caucus."
"One of my running mates is a Paul supporter and there's nobody in the world that works harder and she doesn't just work for him – she does a lot of the heavy lifting in my district," said Karen Karls, an Republican member of the Idaho House of Rpresentatives, a state where Paul's campaign is focused on validating the candidate with the endorsements of local elected officials. "I know some people maybe think the Paul supporters are sitting in the weeds taking pot shots at us, but seriously a lot of the people that probably would support him would be very likely to get involved long term, and that's really what a political party needs."
In Nevada, an early state where Paul is popular, his backers played astute party politics last year, helping to elect the state's chairwoman, Amy Tarkanian -- and thereby insuring that this time they wouldn't be treated as an alien, invading force, as they were in 2008.
Ron Paul will almost certainly not be his party's nominee. But he will almost certainly force Mitt Romney or another frontrunner to battle him for delegates, and to engage a candidate to his right. Paul could even, in a long and close race, wind up a kingmaker. It's a scenario most in the party eye warily.
"I would probably put a moderate sum of money on Romney winning the caucus, with Paul making a very impressive showing that turns Romney's sideburns a little whiter than they already are," said Maine's Gagnon. "But if we wake up the day after the caucus and Ron Paul has won it, I wouldn't exactly be shocked."