Romney Backs An Independent Palestine
Echoes of George W. Bush, and criticism of withdrawal from Iraq. "Our friends and allies across the globe do not want less American leadership. They want more."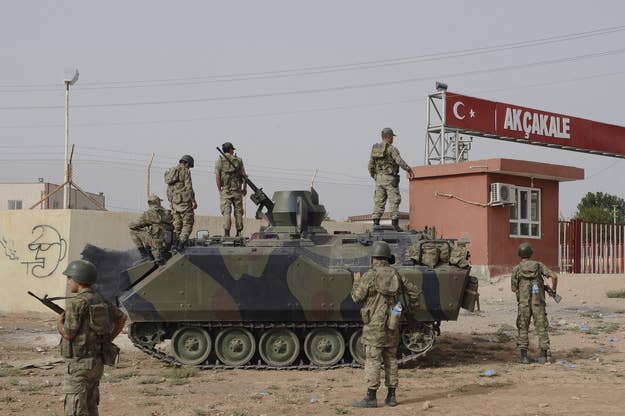 In a speech in Virginia today, Mitt Romney repeated a promise to project a kind of strength and moral clarity that echoed some of the foreign policy of George W. Bush, and moved away from the pessimism about Middle East peace that he had projected at a private fundraiser in May.
He also promised a deeper American commitment in Syria — short of sending American troops — that would dispense with Obama Administration fears that heavy weapons could fall into the hands of terrorists. And he criticized the speed of the U.S. withdrawal from Iraq.
"Our friends and allies across the globe do not want less American leadership," Romney said, according to prepared remarks. "They want more—more of our moral support, more of our security cooperation, more of our trade, and more of our assistance in building free societies and thriving economies. So many people across the world still look to America as the best hope of humankind. So many people still have faith in America. We must show them that we still have faith in ourselves—that we have the will and the wisdom to revive our stagnant economy, to roll back our unsustainable debt, to reform our government, to reverse the catastrophic cuts now threatening our national defense, to renew the sources of our great power, and to lead the course of human events."
Romney offered some more specifics in two key Middle East theaters:
In Egypt, I will use our influence—including clear conditions on our aid—to urge the new government to represent all Egyptians, to build democratic institutions, and to maintain its peace treaty with Israel. And we must persuade our friends and allies to place similar stipulations on their aid.

In Syria, I will work with our partners to identify and organize those members of the opposition who share our values and ensure they obtain the arms they need to defeat Assad's tanks, helicopters, and fighter jets. Iran is sending arms to Assad because they know his downfall would be a strategic defeat for them. We should be working no less vigorously with our international partners to support the many Syrians who would deliver that defeat to Iran—rather than sitting on the sidelines. It is essential that we develop influence with those forces in Syria that will one day lead a country that sits at the heart of the Middle East.
And Romney offered his clearest endorsement yet of what has been, at least in theory, the longstanding American policy toward Israel and Palestine:
"I will recommit America to the goal of a democratic, prosperous Palestinian state living side by side in peace and security with the Jewish state of Israel. On this vital issue, the President has failed, and what should be a negotiation process has devolved into a series of heated disputes at the United Nations. In this old conflict, as in every challenge we face in the Middle East, only a new President will bring the chance to begin anew," he said.
In another relatively rare nod toward George W. Bush's foreign policy, Romney criticized President Obama's withdrawal of American troops from Iraq.
"America's ability to influence events for the better in Iraq has been undermined by the abrupt withdrawal of our entire troop presence," he said.