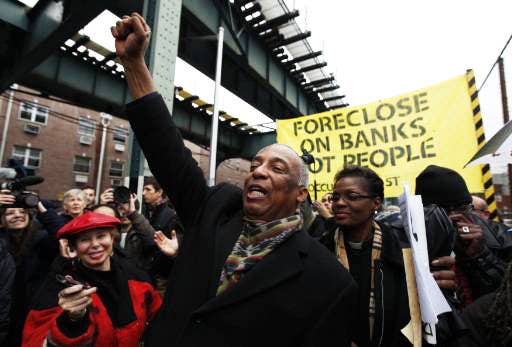 BROOKLYN, N.Y. — Powerful public workers' unions are throwing their weight — in public and behind the scenes — behind a Brooklyn Congressional candidate who has allied himself with despots like Muammar Qaddafi and Robert Mugabe, while calling Israel "the biggest terrorist in the world."
The candidate, New York City Councilman Charles Barron, has made occasional appearances on the national stage — primarily Fox News — for his explosive statements about white people (he'd like to slap one, "for my mental health"), Jews (Black people are the real "Semites") and foreign policy. But Barron, a self-described "revolutionary Pan-Africanist" who donned a red Nehru jacket with gold braid to receive the brutal Zimbabwean dictator at City Hall in 2002, has also been a steadfast ally of New York civil servants, many of them African-American and living in his East New York and Brownsville district.
Two major city public worker unions, District Councils 37 and 1707 of the giant American Federation of State, County, and Municipal Employees, have already endorsed Barron against Assemblyman Hakeem Jeffries, a relatively moderate legislator who has championed charter schools, a union bugaboo.
And BuzzFeed has learned that their powerful federal parent union, known as AFSCME, is planning to dive into the race on Barron's behalf. Another key New York State public workers union, the Civil Service Employees Association, meanwhile, blocked an AFL-CIO effort to endorse Barron's rival.
"We respect the voice of our members," AFSCME spokesman Chris Policano told BuzzFeed. "With the unanimous endorsement of the three affiliates, there will be money spent in this race."
The third AFSCME affiliate, CSEA, says it has not in fact technically endorsed Barron, and its president, Danny Donohue, is currently locked in a bitter campaign to lead AFSCME against its current chief, Lee Saunders.
But CSEA also played a key role in helping Barron, giving a requisite sign-off on the parent union's spending, its political director, Fran Turner, confirmed Monday, and blocking a labor move against Barron.
Turner also confirmed that she put a stop to an AFL-CIO effort to throw grudging labor support behind Jeffries, though Turner said the move reflected merely a process concern, not her support for the controversial Barron.
"They were trying to move an endorsement for Hakeem and there was controversy over it, and they didn't want to discuss it at the table – they wanted to do it with a paper ballot," Turner said. "My objection at the AFL was not about the endorsement – it was about process."
"I don't really know the guy – I know that he has a very good relationship with a lto of working peole in the city, because they are of color," added Turner, who said that CSEA, whose members are largely outside New York City, typically defers to its downstate sisters on endorsements in the five boroughs. "I didn't know a lot about his comments, though I knew he was a bit out there."
The other major public workers' union, the United Federation of Teachers, has balanced its distaste for Barron's ideology and its dislike of Jeffries' support for experiments in education, and stayed neutral.
"His outrageous comments have prevented them from going all the way to an endorsement," said another New York labor leader. "But they're not helping any one defeat him."
Barron has gradually gathered steam to leave behind his gadfly status in the June 26 Democratic primary, picking up both labor support and that of the retiring incumbent, Rep. Ed Towns, though he is expected to be vastly outspent by Jeffries. Jewish leaders, in particular, have reacted with alarm to his rise, and a press conference yesterday united conservative Democrats like Assemblyman Dov Hikind and liberals like Upper West Side Rep. Jerrold Nadler with former Mayor Ed Koch to denounce Barron. City Councilman David Greenfield denounced Barron as "a hate-monger and an anti-semite," while Nadler cited Barron's "dangerous and abhorrent rhetoric that makes him unfit to serve in Congress."
But the two big city public workers unions, DC 37 and DC 1707, are firmly in Barron's camp, as he has been with them on issues centered on funding for public workers' jobs, notably a recent fight over city plans to shift money away from unionized day care jobs.
"He's always been there when we asked him to be there," said DC 1707 political action director G.L. Tyler, who said his statements on issues outside New York City government are "not our concern."
"People have accused him of being outrageous in the past, but the reality is he's a solid councilman, if you go to his district he's well liked, and he's done thing swith the little money he's gotten from the cc to help build housing and businesses from the area," Tyler said. "The remarks that councilman barron has made in relation to children and child care in New York City have never been outrageous, but on point."