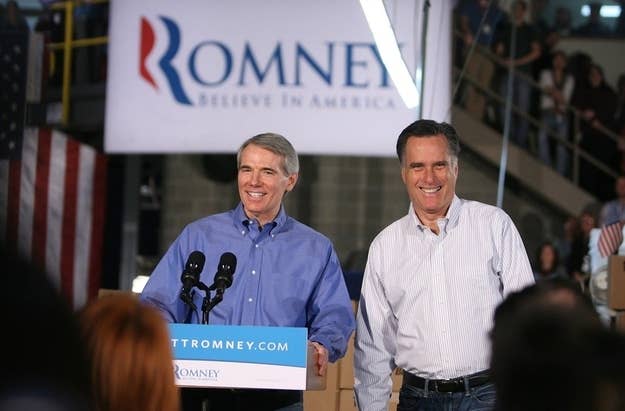 Senator Rob Portman, a frontrunner for the Republican Vice Presidential nomination, offered a forceful defense of Mitt Romney's economic record today, arguing that Romney was simply engaged in free market capitalism.
Romney has come under attack today from Democrats for investments his firm, Bain Capital, made in the steel industry, in which Bain made money despite a company's ultimate failure.
"That is capitalism. There aren't different kinds of capitalism," Portman said at a lunch hosted by Bloomberg View in Manhattan. There's the free market."
Romney "can show where his efforts net created 100,000 jobs. That's pretty good," Portman said, citing a hotly disputed figure that appears to have been calculated based on successful Bain investments, not a net job tally.
And Portman — sparring with Bloomberg advisor and former Obama aide Steve Rattner — noted that the steel industry's fall had little to do with Bain.
"There are some businesses that weren't in very good shape when bain got involved with them," he said.
"They were trying to make a profit," he said of bain. "Sometimes it worked sometimes it didn't."
"Net it did work though – he did create a lot of jobs," Portman said of Romney.
He also offered Romney some political advice: To make the case for faster exploitation of the oil shale that has been discovered in his native Ohio as well as Pennsylvania.
Portman also gently dodged questions about the Vice Presidential nomination process, saying he will decline to answer questions about whether he'd provided vetting materials to the Romney campaign.
"I think I'm better suited to stay where I am in the Senate," he said. "The folks in Ohio expect me to stick around and do my job."
Asked about whether Romney could benefit from the aide of a Capitol Hill insider, he joked: "I think Vice President Thune will do a great job telling him how the process works."
"Vice Presidents have to go to funerals in Mozambique," he said. "They have to apologize for what they say."
Portman also took a jab at Senate candidate Elizabeth Warren and the running controversy over her having claimed Native American ancestry. Asked about an anonymous Romney aide's description of him as a "boring white guy," Portman joked, "I am white. My Native American background notwithstanding."
"I hope that I'm viewed as someone who gets things done, focuses on results," he said. "That's my goal in life, not to be exciting or boring, just to get the job done."