Ohio Primary Turns Into A Warning To Republicans
Voters' eyes glaze at Mitt and Rick. The insiders, meanwhile, are busy spending money, robocalling, gay-baiting in a brutal civil war over party offices.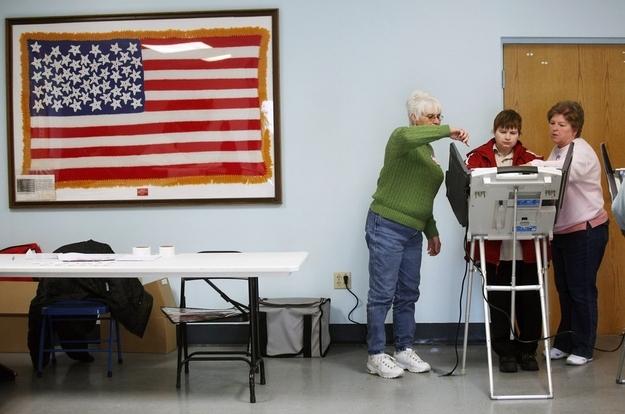 COLUMBUS, Ohio — The results of the battle for Ohio aren't yet in, but there's already a loser: The Republican Party.
Quick campaign swings by candidates Rick Santorum and Mitt Romney revealed a party less divided than just unmotivated, a sense confirmed by statistic shared with BuzzFeed Monday by the Secretary of State's office, whose informal tally suggests that about half as many voters cast early and absentee ballots in this heated Republican primary as did in the 2008 Democratic primary.
The statistics in some key areas, like here in Franklin County, offer a microcosm: In 2008, 6,776 people turned up to vote early in person; 2,712 did this year; and more than three times many voted by mail in 2008 as today.
The Republican malaise comes from within and without: The core of the bitterly divided state GOP, whose operatives are more focused today on throttling one another than on electing a president; and the campaigns, which have failed to ignite voters' imaginations.
And as Romney's hand, here and nationally, strengthens, Santorum's supporters' appeals have taken on an air of desperation.
"We cannot have a candidate who doesn't connect to people," Ohio Attorney General Mike DeWine, who backs Santorum, warned of Romney Tuesday.
Those two factors seemed, however, to converge for some of the few thousand Republicans, all told, who showed up to one of the short series of campaign events this week, people like Arch Grieve, 52, a former clerk of court from Xenia who spoke to BuzzFeed as he waited for Santorum to speak in Miamisburg Monday.
Grieve worked the phones for George W. Bush in 2004; he would again for Santorum
"It's the difference between someone who's the lesser of two evils, and someone who inspires you enough to work," he said of the choice between Romney and Santorum.
Grieve served since 1988 as a member of the Ohio State Republican Party Central Committee, but he quit that this year too — for a different reason. The party has been split between Chairman Kevin DeWine (a cousin of the Attorney General) and Gov. John Kasich, and both were spending money and energy Tuesday with ferocious campaigns for the obscure party offices.
"I was tired of spending most of my time fighting internally," said Greive.
Other Santorum supporters were even less enthused about Romney.
"I won't even vote for him," said Landen Gerlinger, 18, who'd brought his parents to Santorum's stop at the Dayton Christian School.
Some Republican leaders in Columbus put the blame for the lack of interest in the primary squarely on the candidates, and in particular the frontrunner, though they are loath to criticize him publicly.
"Barring a shocking turn of events, turnout in Ohio tonight will be abysmal, and that's not a function or a fault of the state GOP operation," said a top Ohio GOP operative. "It's an indictment against the lackluster GOP primary field, particularly Romney."
"While he's nearing the nomination, he hasn't done it by inspiring and leading — he's done by decimating and surviving," the Republican said.
In the capital Tuesday, the focus seems firmly on the infighting. Governor John Kasich has spent campaign funds on robocalls, television ads, and mailings, pressing for the election of an ally to the party body, as well as on television and mailings. DeWine's side has responded with a barrage of mailings.
In an interview at his downtown headquarters, the chairman declined to discuss the unusual infighting.
"I just don't talk about it publicly," he said. "It's not healthy, it's not useful."
It is, however, what everyone else in town is talking about, at times in angry and intensely personal tones.
"Have we lost our conservative moral compass?" demanded state committeewoman Sandy Calvert, a DeWine ally, in an email circulated Monday and targeting Franklin County GOP Chairman Doug Preisse, who is among those leading Kasich's campaign to retake the party. "The pink elephant is now firmly planted in the middle of [the Ohio Republican Party] and a message has been sent. There is no more guessing as to the length the Governor would go to control ORP."
The "pink elephant" line appeared to be a jab at Preisse, who is openly gay. During an interview Tuesday, he noted that he'd chosen to wear a pink shirt whose message, he said, was "fuck them."
"People are concerned that this battle is it going to imperil out ability to win in the fall," he acknowledged, but he said the concerns are overstated. "It doesn't matter what kind of black eyes we are giving each other in this inside baseball. They'll have well worn off by the convention."
DeWine, the leader of the internal opposition, concurred at least on that point, and he predicted a unified party in November.
"There is a fire and a desire at the grassroots of the party to do their job and make sure Obama is not reelected," he said.
That fire is, so far, hard to detect. And for Democrats, the combination of a Republican Party meltdown and a bitter, uninspiring, primary is almost too good to be true.
"No one's really excited about any of the candidates on the Republican side of the aisle," gloated Democratic Party Chairman Chris Redfern. "Meanwhile, they're spend resources. Instead of supporting the Republican nominee, [Kasich] is doing 33 robocalls for the most obscure ballot position you can find."
Mitt Romney was gone from the state by Tuesday morning, though his campaign staged what it described as a "sign-waving event" downtown at 7:15 a.m. Santorum, meanwhile, was preparing for an election-night rally in Steubenville, in the state's industrial east, a place that would be his heartland but for his organization failings: He did not manage to field a slate of delegates in the district, and any votes for him there will be wasted.