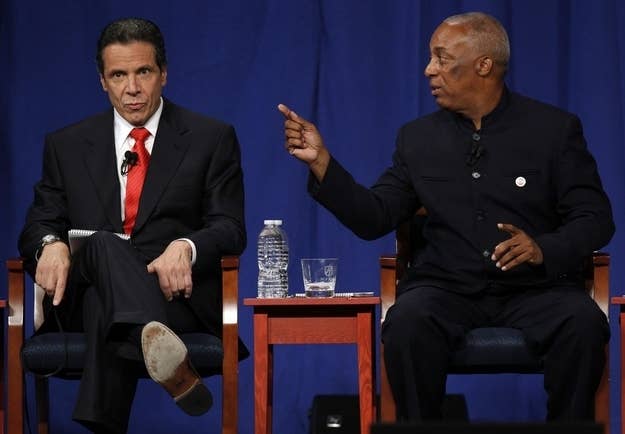 Senior Democrats in Washington, D.C. signaled Thursday their strong preference for the moderate Democrat in a hotly connected Brooklyn congressional race that could send the controversial, self-described "Revolutionary Pan-Africanist" Charles Barron to Capitol Hill.
"The New York delegation had long been the envy of other states. Loaded with national figures. But it's fallen into a period of decline," warned a senior Democrat closely watching the race, and eager to send a message to local officials. "This primary outcome might represent hope for the future or painfully make clear that the caucus has utterly lost its way.
"Jeffries shouts star potential. Barron is a reckless clown who would sow division and embarrass the body. There's only one desirable outcome here."
A second senior Democrat, who is close to the White House, noted that the Administration had quietly sent its own message: Jeffries, a lawyer who has drawn union opposition for his support for charter schools, was invited to a fundraiser for President Obama at the Waldorf Astoria in New York City two weeks ago, to have his photograph taken with Obama and Clinton — a valuable piece of campaign literature in a heavily African-American district.
Obama does not endorse candidates for open seats Democratic primaries, but the president "wished him luck on the race," the first Democratic official confirmed.
Barron, a veteran New York City Council member best known for his sharp criticism of Israel — "the world's greatest terrorist" — and support for dictators Robert Mugabe and Muammar Qaddafi, has emerged as a serious challenger for the seat in part because of his support from public sector unions, of whose issues he's been a longstanding champion.
But Washington Democrats worry that, should he win the Democratic Party primary later this month, he could emerge as a serious, flamboyant distraction for a party uninterested in highlighting its most radical voices on the topic of race.
UPDATE: An earlier version of this article said Obama does not endorse in Democratic primaries. He sometimes endorses Democratic incumbents, upon their formal request.