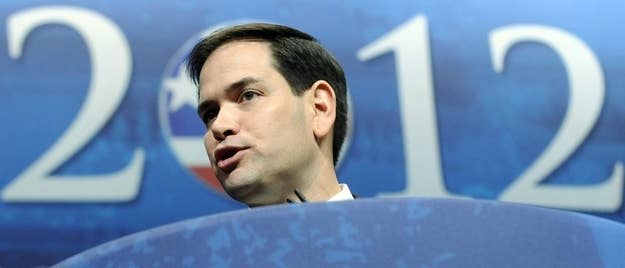 Majority Leader Harry Reid's suggestion that the job of Florida Senator Marco Rubio is to represent Hispanics nationally raised some eyebrows this morning.
"In Nevada, [ambassadorial nominee Mari Carmen Aponteis seen by the Puerto Rican community, the Hispanic community, as really somebody who is an up-and-rising star. … I just think it's a mistake for someone who is supposedly representing Hispanic issues to do what [Rubio] has done," Reid told POLITICO's Glenn Thrush.
BuzzFeed asked Rubio spokesman Alex Conant what he made of the implication that Rubio "is supposedly representing Hispanic issues."
"Senator Rubio represents Florida," he replied.
A conservative Hispanic group sharply criticized Reid's comment.
The comment was a "blatant attempt at racial identity politics is offensive and condescending to all Latinos," said the executive director of the Latino Partnership for Conservative principles, former Bush Administration official Alfonso Aguilar, in a statement.
UPDATE: In an email, Reid spokesman Jose Parra didn't back down: "From supporting Arizona's law legalizing the racial profiling of Latinos, to opposing the DREAM Act, to attacking Justice Sonia Sotomayor and voting against Ambassador Aponte twice, Sen. Rubio's record speaks for itself."