Is Rick Santorum Really A Union Stooge?
The candidate is under attack from the right for allegedly favoring unions. Pennsylvania labor leaders can't believe it.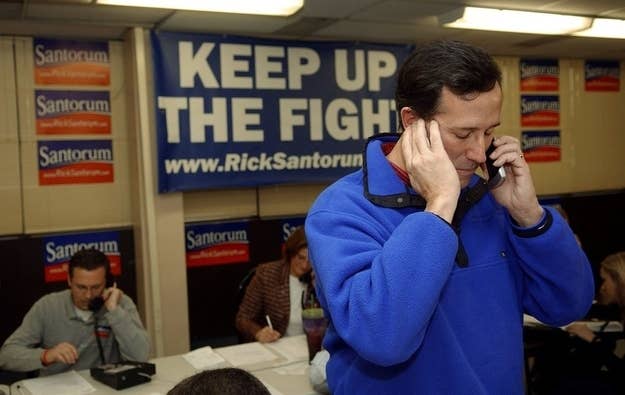 Rick Santorum's Republican rivals think they've found a soft spot in the former Senator's conservative armor: He's been too friendly (that is, at all friendly) to labor unions that are sworn GOP enemies.
But Pennsylvania labor leaders who spoke to BuzzFeed today expressed shock and incredulity at the attack line.
"Boy that is stupid," said Bill George, who was president of the state's AFL-CIO during Santorum's tenure, and helped defeat him in 2006. "He was one of the most anti-union senators we ever had."
Republican critics note that Santorum opposed the North American Free Trade Agreement. RedState's Erick Erickson wrote recently that he voted against a national "right-to-work" law that prevents unions from enlisting whole companies, en masse, into their ranks and makes large-scale organizing impossible -- though he has favored state-level laws, including in New Hampshire. And he voted for legislation aimed at preventing employers from firing striking employees.
Patrick Semmens, of the anti-union National Right to Work, emails:
Rick Santorums' position on Right to Work should be deeply troubling to the 80 percent of Americans who believe workers should not be forced to pay dues or fees to a union just to get or keep a job. Not only has he refused to answer the National Right to Work Committee's Presidential Survey, but while in the Senate he joined with Democrats to filibuster the National Right to Work Act. Siding with Big Labor in favor of union boss forced dues powers should be particularly troubling to the people of South Carolina, who've spent the last year fighting off attacks by the Obama Labor Board on the state's popular Right to Work law and the jobs it has helped create.
An Iowa Republican told BuzzFeed earlier this week that National Right to Work had paid for robocalls attacking the candidate; but Semmens denied they came from the committee.[UPDATED]
But Pennsylvania union figures expressed incredulity at the idea that Santorum -- a longtime foe -- was being attacked for alleged labor allegiances.
"I don't know of any people in the labor movement – and I've been around a long time – that's ever supported Rick Santorum. Ever," said Allegheny County Labor Council President Jack Shea.
"Rick Santorum is no friend of labor. Never has been," said Marty Mack, a labor political operative in the state. "If the choice becomes Rick Santorum and Barack Obama, there will not be a single labor union in the country that would support Rick Santorum."
None could recall when Santorum was ever with them on a close vote; the votes he's now being attacked for, they said, were on bills that were either set to pass easily or that would go nowhere.
The one exception is trade, where Santorum did break for his party to oppose some free trade measures, including NAFTA.
"He was ok on trade – but not because of the unions," said George, the former AFL-CIO president. "It was because of U.S. Steel and Bethlehem Steel. He never voted because of labor."
George, who -- like the other labor leaders -- has an unconcealed loathing for Santorum, continued that he was worried that Santorum is "too religious."
"You want to talk about somebody who would open the door to the Pope because of his faithfulness to Catholicism, that's Rick Santorum," George said.