In Ohio, Romney's Supporters Fill A Bar, Mostly
A dispatch from the election night festivities at Jimmy V's in Columbus.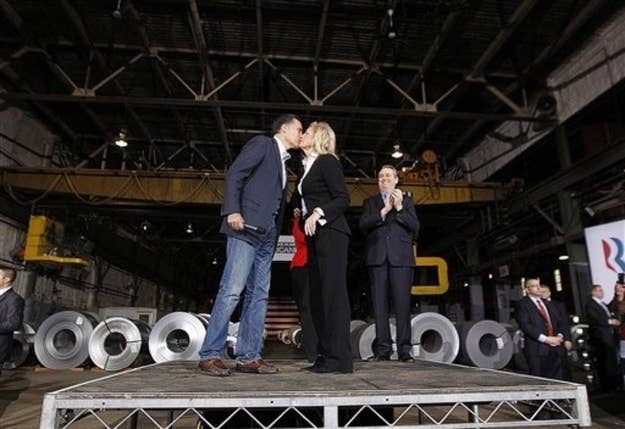 COLUMBUS, OH — The first elected official to arrive at Jimmy V Grill & Pub for Mitt Romney's victory party Tuesday night was State Senator Bill Seitz, a gregarious, mustachioed Republican from the Cincinnati suburbs, who promptly confided in a reporter that he'd voted for Newt Gingrich.
"A majority of Ohioans and nationally are a little disaffected with Romney, and waiting for someone to emerge like Sir Galahad from the mist," he opined, surrounded by Romney signs. "But I'm a realist."
Seitz, whose American flag tie also had elephants on it, wasn't actually there for the party. He said headed to Jimmy V's for dinner to with a lobbyist. The Romney party, organized only the night before, was a bonus.
Four other Ohio elected officials eventually turned up the unpretentious Germantown bar and grill, where the cheerful, workmanlike atmosphere felt a bit more like the gathering of a midsized law office than a presidential candidate's victory party in a crucial state. Some attendees were nonplused. "I expected it to be a little bigger," said a young lawyer, "But I guess it'll be like this for a while."
Bob Beatty, a tax preparer and IT consultant who has been stumping for Republicans since Nixon and is a devoted Romney fan, sipped a glass of wine and offered that "there's not a great amount of enthusiasm."
"It's sort of like, 'We're not really sold on Romney but we think he's the best candidate and the best guy to beat Obama,'" he said.
The party's organizer and star was State Auditor Dave Yost, a tall man in a flannel shirt who disputed a reporter's estimate that only 30 people had turned out to Jimmy V's, and put the figure closer to 70.
"People in Ohio took a while to warm up" to Romney, he said. "Every place he goes the crowds are larger and more enthusiastic."
Romney's highest-ranking local supporter, Senator Rob Portman, was back in Washington for votes, but a half-dozen of his staffers occupied a corner, watching the vote come in on open laptops as other supporters checked in on the rolling vote totals. The early results gave Santorum a lead, and there was grumbling at Jimmy V's about "the Jesus counties."
Then areas in and around Cleveland and Cincinnati began to report, and the balance tilted back toward Romney. His local supporters cheered up, and started to hone their talking points.
"Rick needs to decide if he cares about the country or himself," said one.