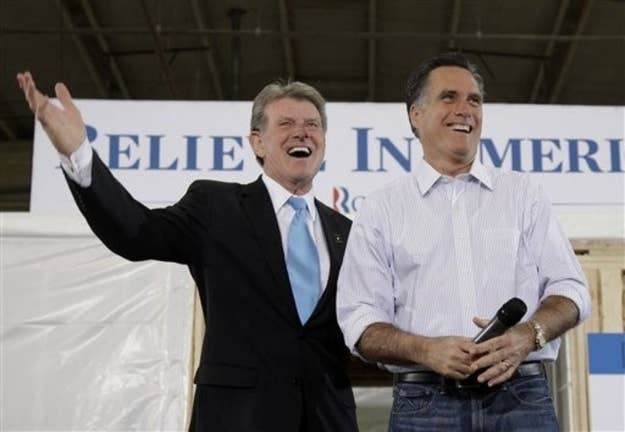 Rick Santorum's rise, and the abrupt return of the sexual politics of abortion, contraception, and women's roles last seen in the 1970s, are proving particularly unwelcome in statehouses around the country, where Republican governors are looking on with apprehension to an autumn of defending Rick Santorum's views.
Santorum's nomination remains unlikely, but no longer impossible, and he could also battle his way to the second slot on the ticket. And while the GOP governors may not be enthused by Mitt Romney, they and their aides made clear in interviews over the last few days that Rick Santorum is a particularly unappealing prospect in the states.
"What everybody fears is being asked on a daily basis what they think of his comment as the nominee of the party on contraception or prenatal testing or Satan," said Steve Schmidt, who managed John McCain's 2008 campaign. "Republican governors … are just dreading it," he said.
Santorum has blamed the press for focusing on his views on social issues, and has sporadically sought to refocus his campaign on the economy. But he's had little success in that attempt — he drew headlines Sunday for saying John F. Kennedy's views on the separation of church and state made him want to "throw up." And the governors' preferences have played out in endorsements. Ten have backed Romney, including Michigan's Rick Snyder and Arizona's Jan Brewer. Two, Texas Gov. Rick Perry and Nathan Deal of his native Georgia, back Newt Gingrich. None has endorsed Santorum, not even in the conservative South.
"Besides the ones who have endorsed Romney, I think the others might prefer Romney off the record for down-the-ballot purposes," said an official who works closely with a number of GOP governors, and who pointed in particular to Republican candidates running for those seats in Washington and North Carolina.
The governors apprehension also reflects a shift in recent years away from using battles over marriage and family as local political wedges, and the rise — particularly in the West — of a libertarian conservatism that sees little benefit even in conservative Washington initiatives like the Federal Marriage amendment.
"We don't believe that the federal government has the right to legislate conscience, and all of those issues that are being talked about is the legislation of conscience," Idaho Governor Butch Otter, who has endorsed Romney, told BuzzFeed when asked about Santorum's views.
Otter, a conservative Republican, said he opposes the federal marriage measures Santorum has championed, and which Romney also backs.
"All the federal government should do is stay out of the states' business," he said. "I don't ever recall the President of the United States issuing a marriage license."
Most Republican governors aren't on the ballot this fall, saving them the difficulty of running with a national Republican ticket, always a challenge in Democratic-leaning states in the Northeast and Midwest. The most prominent of the Northeastern moderates, Chris Christie, has emerged however as a particularly vocal critic of Santorum's and the spokesman for a wing of the party that views his ascent as an unqualified disaster.
Christie accused Santorum over the weekend of "naked opportunism" in his attacks on Romney, and last week insisted that Santorum's four-year-old comments that Satan is engaged in the U.S. culture wars were "relevant" to the campaign.
An actual Santorum nomination will offer a choice to every Republican official: Campaign with and for the nominee, or avoid him.
"People would do the minimum requirement, but would want to limit their exposure," predicted Schmidt.
Another Republican official close to the state parties suggested that Santorum won't be the only one with a problem rallying local officials.
"Governors are team players and they will largely step up and do what they can do defeat the president because a lot of them really despise Obama's policies," the official said. "But I think for many of them irrespective of who the nominee is, they're not going to be enthusiastic."