Goldman Sachs Report Suggests Supreme Court Will Uphold Health Care Law
In a research note distributed to clients, the investment bank cites an "informal poll of Constitutional law experts." A decision to uphold the law would be good for the markets, reduce uncertainty, they say.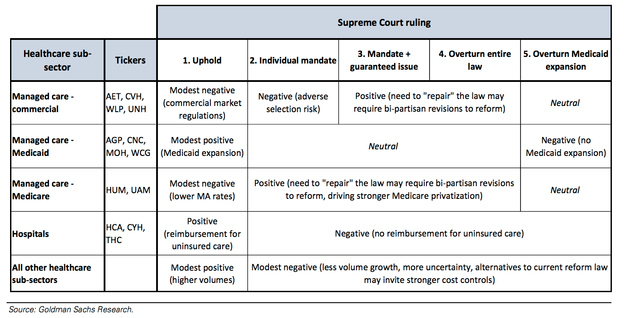 In the research note, the investment bank's analysts break out the fallout from various decisions.
From the note:
While the oral arguments next week may give insight into where the Court is leaning, we continue to expect the final ruling by the end of the Court term in June. Among the possible outcomes, a recent informal poll of constitutional law experts suggests a Court decision to uphold the ACA is the most likely, which appears to be consistent with market consensus (e.g., over 70% of the more than 200 institutional investors we polled on this question at our one-day Healthcare CEO summit on January 5). However, if the Court rules against the ACA, we think the most likely outcome would
be a decision to strike down the individual mandate and also excise the related provisions requiring insurers to provide coverage to all applicants regardless of health status (no exclusions for "pre-existing" conditions).
The analysts also argue that a decision to uphold the law would actually be good for an industry that has fought elements of it:
We would expect a neutral-to-positive reaction for healthcare stocks on a decision to uphold, as we think it would reduce perceived uncertainty over the future of health reform (though still subject to November election outcomes). Among sub-sectors, hospital stocks could see the most upside on a ruling to uphold given the prospect of lower rates of uncompensated care (even though partly offset by lower Medicare rates). Conversely, we think healthcare stocks would trade lower on any ruling other than
"uphold," with hospital stocks having the most downside. However, we see managed care stocks trading up on a Court ruling to strike down the individual mandate, provided the "guaranteed issue" provisions were excised as well.