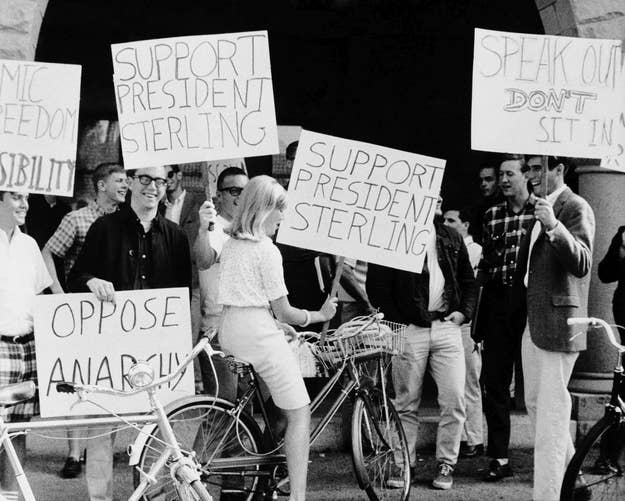 The date was May 20, 1966. A group of students had taken over the office of Stanford President Wallace Sterling, protesting against the institution of a test that was among the first steps toward the Vietnam-era draft.
Carey Coulter, a conservative and anti-Communist student who had spent time as a civilian in Vietnam, was outraged and organized a counter-protest.
"We were there to get an education and these people holding the Administration hostage was antithetical to that," he recalled to BuzzFeed in his first interview about the day.
As the roughly 150 counter-protesters held signs and chatted with passing students, a tall, neatly-dressed 19-year old Coulter had never seen before approached him.
"He walked up to me and said that he had some experience with the press, and that he would handle the press for me if I wanted him to," Coulter recalled. "I said fine, because I was busy running the demonstration."
Romney spoke to reporters and photographers, and wound up with his and Coulter's names in an Associated Press photo caption that circulated with the picture above, in which Romney holds a sign at the far right.
"He just saw the demonstration, was sympathetic to it obviously, and came up," Coulter said. He added that Romney hadn't made the sign he's carrying in the photograph.
Romney hadn't organized the protest, and wasn't part of Coulter's later efforts to beat back a growing student anti-war movement.
"I don't recall ever seeing him again," Coulter said of Romney, who spent just a year at Stanford and enrolled after his mission in France at Brigham Young University.
Romney's moment at a '60s protest was reported in some newspapers the next day with a mention that the son of Michigan Governor George Romney -- who would later turn against the Vietnam War -- had been spotted at the event. The photo was also mentioned by the Boston Globe in 2008, with a partial image of the event clipped from a newspaper front page. The paper wrote in its definitive series on the former governor that, "Among the long hair and ragged clothes of his classmates, Romney stood out both for his smart appearance and his ardent support of the war."
Romney did not, however, serve in Vietnam. As a Mormon missionary, he was considere "'a minister of religion'' by the church and was exempt from the draft.
The 1966 photograph was provided to BuzzFeed by the Associated Press, which unearthed the image in its library.