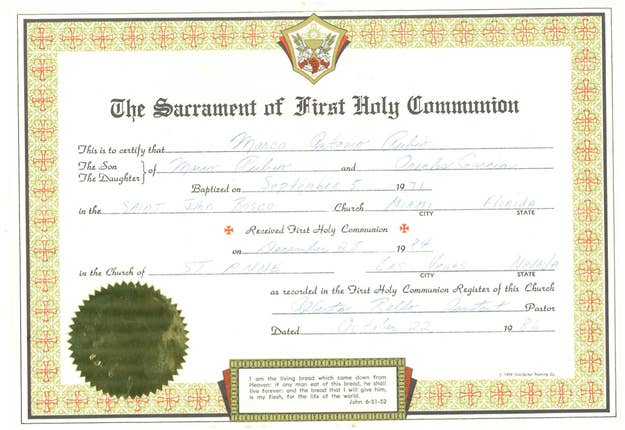 Senator Marco Rubio's staff is disputing a section of a new biography that suggests that Rubio, as a boy, was a Mormon until the family returned to Miami.
A Rubio spokesman sends over a document to back up the Senator's recollection, is that he returned to the Catholic Church while his family still lived in Las Vegas. The document shows Rubio was baptized into the Catholic Church as a baby in 1971, and given first communion at age 13 in December of 1984.
"The author incorrectly claims that Senator Rubio returned to the Catholic Church after the family moved to Miami and suggests the 'exact date of their return is in dispute'," spokesman Alex Conant said in an email of the new book, Manuel Roig Franza's "The Rise of Marco Rubio." "In fact, Marco entered preparation courses for communion in 1983 and it is a documentable fact that he received his first communion in Las Vegas on Christmas Day 1984 before the family returned to Miami the next year."
BuzzFeed's reporting suggested there was some ambiguity about the transition, and it's not unknown for families to participate in more than one church for a time. But the document firmly establishes that Rubio was a practicing Catholic as a young teenager.