DNC Still Won't Call It "Bank Of America Stadium"
Democrats first tried referring to the site of this year's convention in Charlotte as "Panther's Stadium. In the latest email, it's just "the stadium."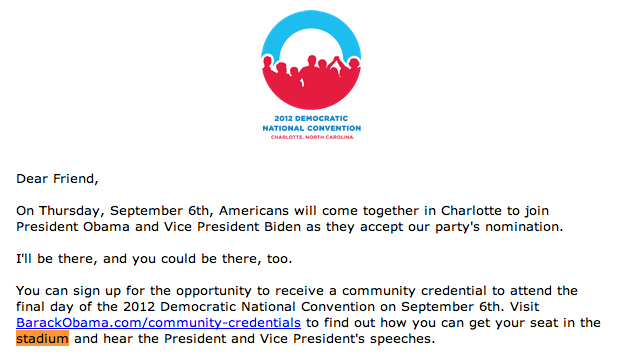 The Full Email
---------- Forwarded message ----------
From: Antonio Villaraigosa, DemConvention.com
Date: Thu, Aug 9, 2012 at 11:04 AM
Subject: See you in Charlotte
Having trouble viewing this email? Click here
Dear Friend,
On Thursday, September 6th, Americans will come together in Charlotte to join President Obama and Vice President Biden as they accept our party's nomination.
I'll be there, and you could be there, too.
You can sign up for the opportunity to receive a community credential to attend the final day of the 2012 Democratic National Convention on September 6th. Visit BarackObama.com/community-credentials to find out how you can get your seat in the stadium and hear the President and Vice President's speeches.
You can be there to witness Barack Obama's last convention speech as a candidate for president. Eight years ago he gave the keynote address that propelled him onto the national stage. Four years ago he gave a historic acceptance speech in front of thousands of Americans. Now, it's your chance to make history at the convention in Charlotte.
You can hear President Obama lay out his vision for an economy built to last: if you work hard and act responsibly, you should be able to find and keep a good job with decent wages and good benefits, retire securely and leave your kids a little better off than you were.
The President is fighting for a balanced plan to get Americans back to work today, put our fiscal house in order responsibly, and make the fundamental investments in education and training, research and development, and home-grown American energy that will strengthen our economy for the long run.
This movement has always been about grassroots supporters raising their voices to support the values we share - expanding opportunities for all and strengthening the middle class. Sign up for your chance to stand with President Obama and Vice President Biden for this moment in history.
Sincerely,
Antonio Villaraigosa
2012 Democratic National Convention Chair