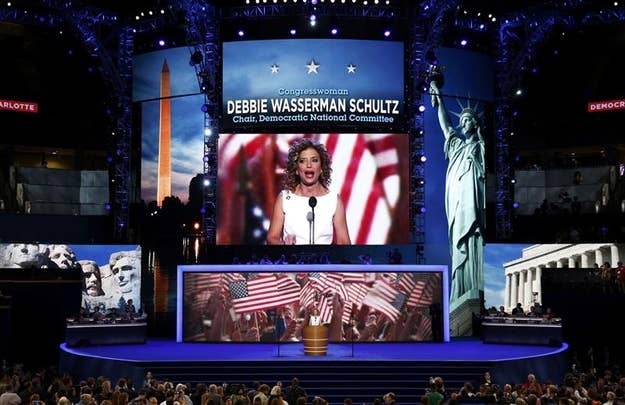 After appearing at an event yesterday with President Obama in West Palm Beach, outspoken DNC chairwoman Debbie Wasserman Schultz sent out a fundraising plea suggesting she'd been the victim of sexist insults from her Republican foes.
"I've been the butt of quite a few right-wing applause lines in this election," she emailed her supporters today. "'Not a lady." Pictures of me with a dog collar Photoshopped into them. Getting directly attacked from the podium at the Republican convention."
Representative Schultz — or DWS as she's known — s a political force in her home state and in the national Democratic party, though she's occasionally annoyed Chicago by straying from their message.
She's also become a favorite target of the conservative media — a subject she addressed earlier this year in an interview with BuzzFeed.
If you're a woman in politics, she said at the time "you need skin thicker than an alligator."
The latest fundraising email is subject lined: "Gator skin."
She's currently running for re-election in a congressional race that has seen a few very personal attacks against her.
The email below:
Dear [SUPPORTER],

I've been the butt of quite a few right-wing applause lines in this election... "Not a lady." Pictures of me with a dog collar Photoshopped into them. Getting directly attacked from the podium at the Republican convention.

If I had a dime for every time a Republican called me some outlandish name... I wouldn't need to worry about fundraising. Fortunately, I've got gator skin. And even more importantly, I've got you.

Click here to help me fight back -- we need to raise $50,000 by the end of the month!

In Charlotte, I had the honor of speaking to the Convention on Thursday night. The energy was absolutely AMAZING. Everyone there and everyone who watched the speeches on TV feels a greater sense of commitment to win because our nation's future depends on it.

And I hope you will help me bring that same level of commitment to our race in order to protect middle class families in South Florida.

There's an incredibly important FEC deadline coming up at the end of the month, and I need your help to raise the $50,000 we need before the deadline hits. Can you contribute $10 or more?

The other side doesn't like strong Democratic leaders like me. I'm not afraid to call them out for pushing radical policies that hurt women and families, or their plan to end Medicare as we know it, or their determination to return to the same policies that got us into the worst economic crisis since the Great Depression.

To put it simply, I will not be deterred. We have a case to make and I have constituents to serve.

But I must have the resources to get our message out and I need your help to reach our goal.

This FEC deadline is the biggest we've faced so far. Help us reach our $50,000 goal with a contribution of $10 -- or whatever you can manage -- today.

There's less than 60 days left until the polls close in South Florida... less than two months to reach the nearly 200,000 new people throughout the district.

I know we can do this.

Thank you for everything you do.



Debbie