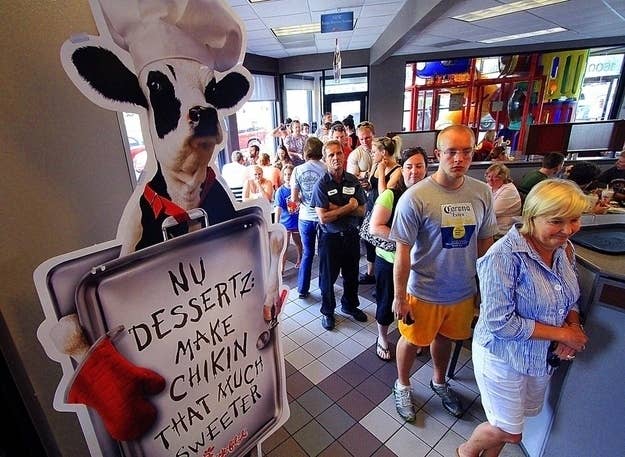 A Chicago advocacy group says that the restaurant Chick-fil-A has promised to back away from funding socially conservative groups that have pressed to limit marriage to one man and one woman.
The apparent decision by the chain's WinShape Foundation would mark a retreat from the summer's culture war pitting advocates of marriage equality against conservative claims that the chain was under assault for simple free speech. The comments came, the group The Civil Rights Agenda said, in correspondence with a Chicago alderman who had opposed the chain's expansion to the city.
"The WinShape Foundations is now taking a much closer look at the organizations it considers helping, and in that process will remain true to its stated philosophy of not supporting organizations with political agendas," the chain is said to have written in a letter to Alderman Proco Moreno. The Chicago group added in a press release: "In meetings the company executives clarified that they will no longer give to anti-gay organizations, such as Focus on the Family and the National Organization for Marriage."
The company did not contest the report in a statement from spokesman Steve Robinson emailed to BuzzFeed on Wednesday — though it also would not confirm the new report.
"We have no agenda, policy or position against anyone. We have a 65-year history of providing hospitality for all people and, as a dedicated family business, serving and valuing everyone regardless of their beliefs or opinions," he said in a general press statement emailed to BuzzFeed by another Chick-fil-A spokesman, Jerry Johnston, who said the company's press statement is not new. "The genuine, historical intent of our WinShape Foundation and corporate giving has been to support youth, family and educational programs."
The company also re-iterated an earlier statement promising to respect LGBT customers.
"The Chick-fil-A culture and service tradition in our restaurants is to treat every person with honor, dignity and respect – regardless of their belief, race, creed, sexual orientation or gender," the company said in a July attempt to tamp down protests.
An advocate for marriage equality and LGBT rights welcomed the move.
"With some of the groups that they were donating to being classified as hate groups, and others actively trying to halt the movement toward full civil rights for LGBT people, Chick-fil-A has taken a big step forward," Civil Rights Agenda executive director Anthony Martinez said in a statement.
UPDATE: National Organization for Marriage President Brian Brown suggests this isn't much of a concession: "WinShape never gave to us," he said in an email.