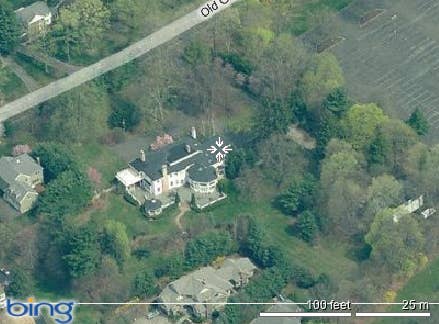 Joe Biden spoke tonight to a pricey fundraiser at the home of Philip Sellinger, a prominent New Jersey Democratic lawyer, and his wife Barbara.
"Sunnymede," the pool report notes, "is large, painted white and old. It stands out as particularly big in a mostly middle to upper-middle-class neighborhood, on Old Glen Rd. just off busy Madison Avenue."
But place has a past, something that Biden, an enthusiast of history and of distressed real estate, would appreciate:
As the New York Times reported in 1998:
On Old Glen Road in this lush and lolling hamlet, things have never been quite the same since Judith Kelly Dempsey moved into the 20-room Georgian Colonial on an estate known as Sunnymede in 1991. Until recently, the main complaint of neighbors was that she had sold off some of the property for new houses. Now, they are facing a more sensational development: The police say Mrs. Dempsey had turned her mansion into an all-hours bordello called An Afternoon Delight. At first, residents said they did not know what to think of the car traffic and other activities at Sunnymede. Some thought Mrs. Dempsey might have held frequent dinner parties. Others thought the cars constantly entering and leaving her driveway were construction workers doing renovations to the house.
The Daily News described Dempsey as a former Playboy bunny whose employees catered to "a stream of corporate execs."
"For a while, I thought it was a bed and breakfast," said neighbor, Robert Garrison, told the News. "I guess it was a bed, but no breakfast."
The house, built in 1897, was purchased for $1.2 million in 1999, according to public records.
Biden used the venue for his signature hyperbolic rhetoric.
"You can go back 500 years. You cannot find a more audacious plan. Never knowing for certain. We never had more than a 48% probability that he was there," he said of Obama's raid on Osama Bin Laden. "I give you my word as a Biden I'm more optimistic about the United States chances in the world today than when I got elected 40 years ago as a 29-year-old kid."