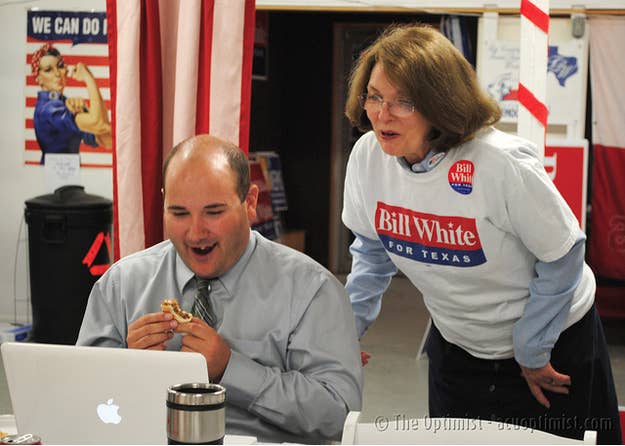 CHARLOTTE, NC — When Austan Goolsbee served as the chairman of President Barack Obama's Council of Economic Advisors, he emerged as the White House's most articulate economic spokesman, an animated Texan who had honed his talking skills as the 1987 national extemporaneous speaking champion.
Goolsbee, now back in the academy, remains a frequent Obama surrogate, with no official role. His mother Linda, however, is in Charlotte in her official capacity: She was elected a convention delegate from Abilene, a West Texas metropolis routinely ranked among America's five most conservative cities.
Goolsbee, after only mild hesitation, turned over his mother's cellphone number to a reporter, and Linda Goolsbee told BuzzFeed her son had gotten her involved in politics.
"Austan is very inspiring to have as a relative," she said. ("She's never done anything like this," Austan said.)
Mrs. Goolsbee, 70, was born in Abilene but spent much of her life in California, where her son went to high school. She worked in sales and marketing at the telephone company originally known as Pacific Bell, and retired back to Abilene with her husband.
Since her son joined the Obama campaign as an economic advisor, Linda Goolsbee has become active in the small-scale Democratic politics of West Texas, and now serves as president of the Democratic Women of the Big Country.
"There's not a lot of overt things you can do," she said. "We mobilize our small troops" for phone banks and other campaign activities.
Local Democrats are headed next week for the West Texas Fair and Rodeo, where they traditionally have a booth.
"We get people walking by and saying, 'Oh! There are Democrats in Abilene?'" she said.
Those there are, she said, are "what we call Prairie dog democrats: They stay underground, they come out occasionally to check out the landscape, then they go back underground and keep tunneling."
Linda Goolsbee said she's enjoying the convention, though she and Austan also got drenched in a rainstorm after a dinner at the home of former White House chief of staff Erskine Bowles.
She's enjoyed, she said, speeches by Nancy Pelosi and others to the Women's Caucus, and thrilled to Tuesday night's program.
"Michelle just lights the moon," she said.