Survivors of the Florida school shooting and others marched Wednesday to the state's capitol to rally for new gun regulations.

A week after a gunman killed 17 people in Parkland, Florida, students from Marjory Stoneman Douglas High School arrived in Tallahassee Tuesday night to push for a change in gun laws with the message "Never Again."
By Wednesday morning, dozens of people — including high school students, college students, and others in support of gun law restrictions — marched in the streets of Tallahassee.

The march began with a passionate speech from Tallahassee Mayor Andrew Gillum, who told the crowd, "I believe that we will win."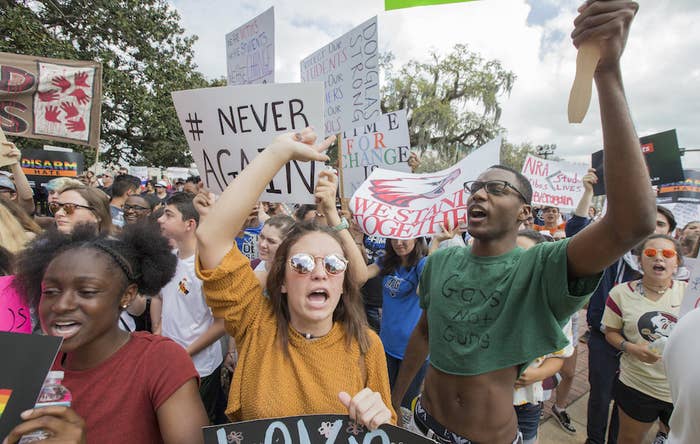 "You're speaking for those 17 lives that were unnecessarily and avoidably snuffed out," he said. "You're speaking for the kids and the generation of tomorrow so that they don't have to take the very same march that you're taking today."
Hundreds of people then marched toward the State Capitol, chanting, "Hey hey, ho ho, assault rifles have got to go," and "vote them out," among other slogans.
Florence Yared, a student who survived the Florida shooting, called on lawmakers to protect children over protecting guns.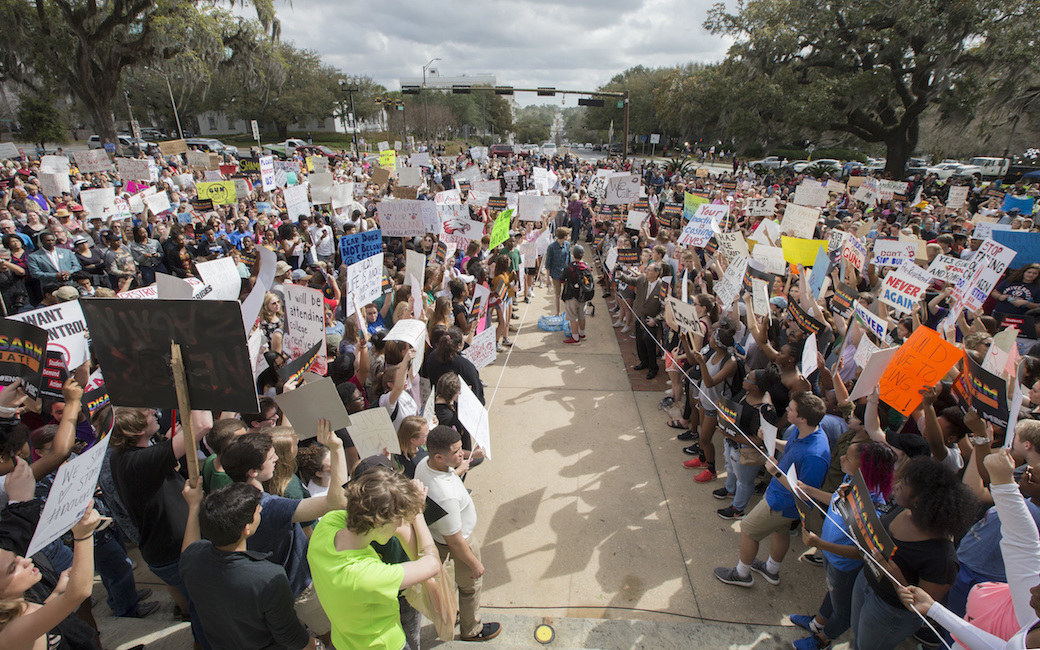 "If we had stricter gun control measures in Florida, 17 families will be having dinner tonight together instead of mourning the loss of their loved ones," she said. "Your children might become victims too. If you do not take action, now, we, the future leaders of America, will."
Mark Kelly, the husband of former US Rep. Gabrielle Giffords, addressed the crowd and encouraged everyone — especially the young people in the crowd — to stay engaged and vote.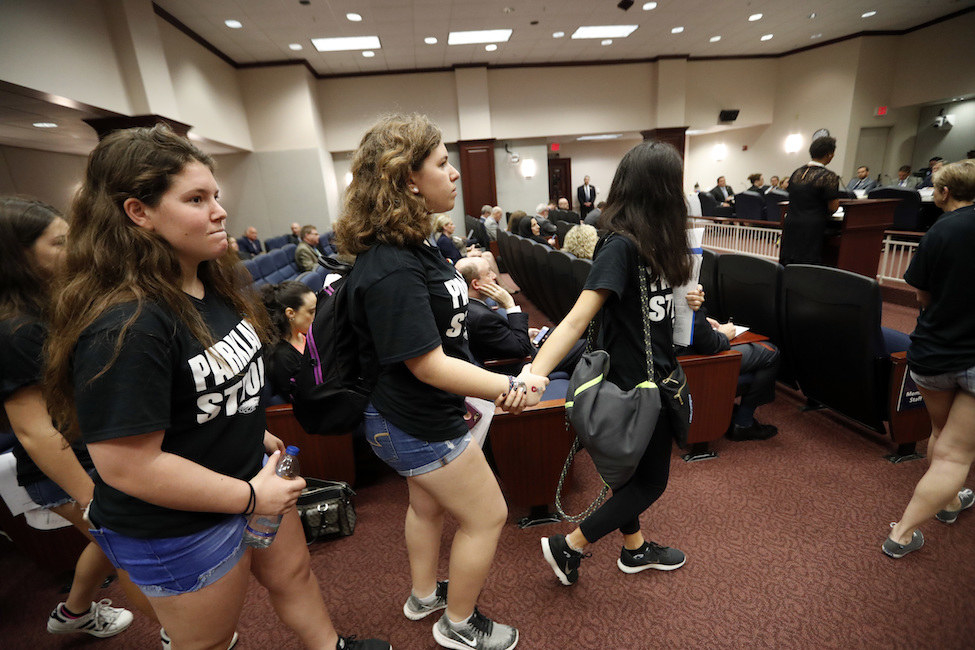 "You woke the country up," he said. "Now the goal is to keep them awake."
Quoting Martin Luther King Jr., Kelly reminded the audience that "the arch of the moral universe is long but it bends towards justice."
Brandon Wolf, a survivor of the Pulse nightclub shooting in Orlando, also spoke to the crowd, calling out lawmakers for their inaction after the Sandy Hook and the Pulse shootings. Wolf said he begged for action on national television but was met with silence and apathy.
"After first graders were gunned down at Sandy Hook, what did you do? Not a damn thing," he said. "... After 49 people including my two brothers were murdered at Pulse, what did you do? Not a damn thing. You plugged your ears and turned your eyes and hoped that we would stop talking. And now we're here again. Seventeen people are dead. Fourteen of them are children."
Kris Brown, the copresident of the Brady Campaign to Prevent Gun Violence, said the world has had "enough of gun violence in this country."

"America, take a look," Brown said. "Our future stands here today."
Following the speeches, Wolf, the Pulse nightclub shooting survivor, praised the teenagers of Marjory Stoneman Douglas High School, calling them an "inspiration" and urging the world to not underestimate them.
"They're remarkable; they're nothing like you've ever seen," Wolf told BuzzFeed News. "They have what it takes to make real change in this country. I'm so excited to see what they're capable of."
By 2 p.m., several students began boarding buses back to South Florida, saying they felt inspired by the day's event.
"I also feel very inspired and motivated," one girl, Tyrah, told BuzzFeed News. "I'm not old enough to vote but to go to rallies like this, I'm amped up right now."

Reporting by Andrew Kimmel in Tallahassee and Mary Ann Georgantopoulos in New York.