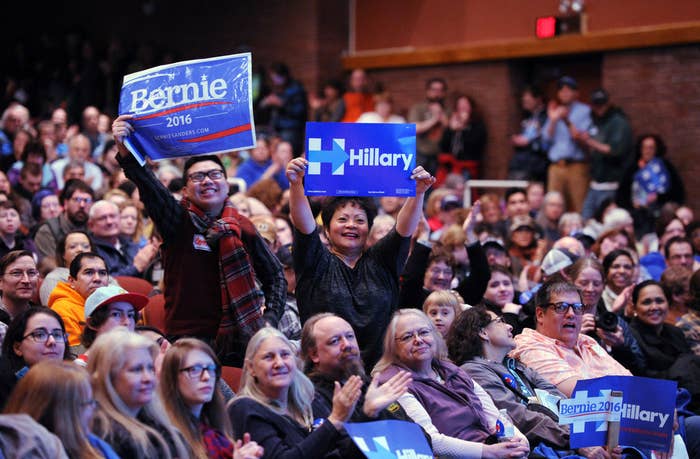 Here's what went down:
Bernie Sanders scored major victories at Democratic caucuses in Washington, Alaska, and Hawaii on Saturday.
The Vermont senator said his wins showed massive momentum that would take him to the White House.
Sanders's victories were expected, as he had previously performed well in white, liberal states with caucuses.
Washington was the biggest prize, with the highest number of delegates — the people who actually pick the nominee at the convention in July.
Hillary Clinton has a solid lead against Bernie Sanders in the delegate count — but Sanders has won a good number of states in the Midwest and West, making the argument that he is still competitive.
Clinton is coming off a major address on the threat of ISIS, and said this week after the Brussels attacks that "the Europeans have to be much more aligned with our techniques for surveillance."
Sanders said this week that President Obama is "probably both" a member of the establishment and not.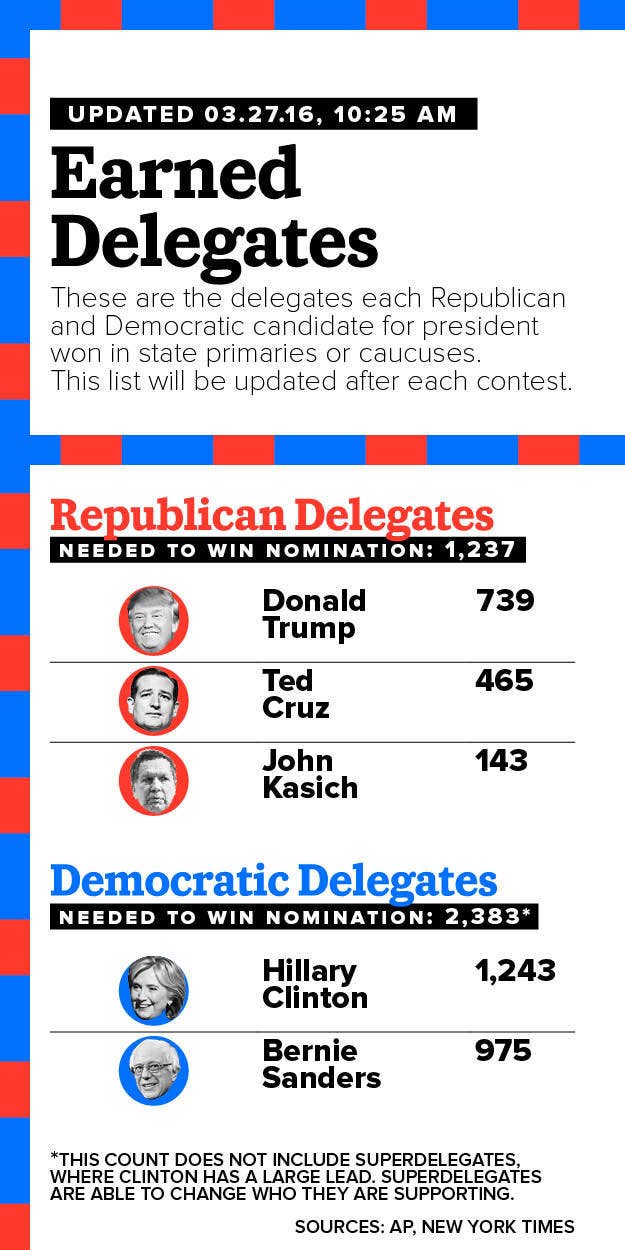 Sanders wins Hawaii caucus, completing Saturday clean sweep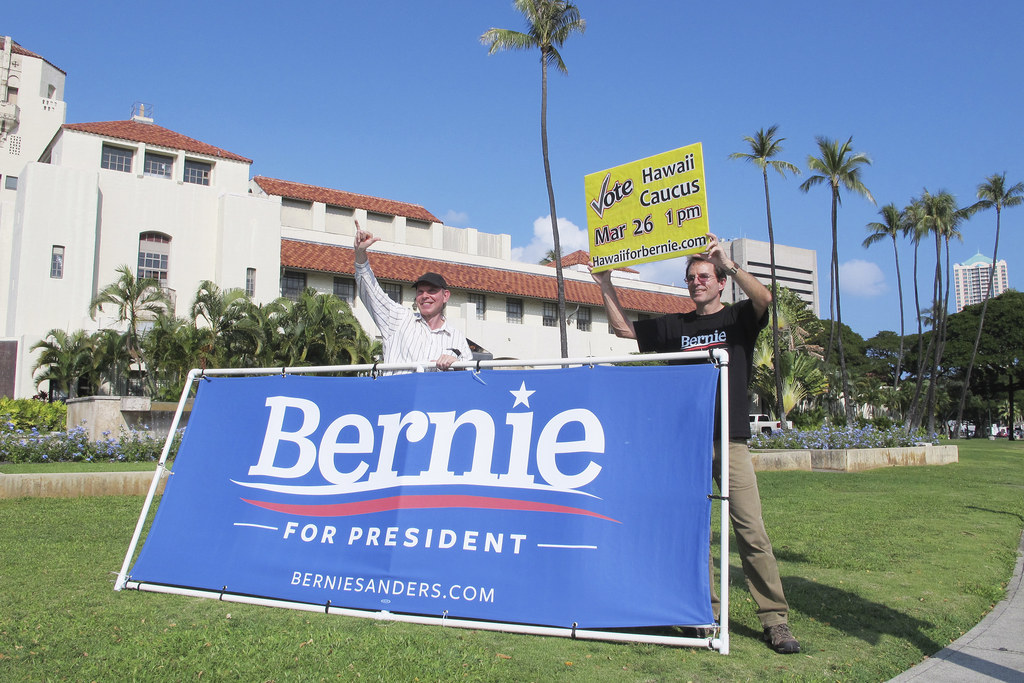 Bernie Sanders coasted to victory in Hawaii's caucus on Saturday, completing a clean sweep of the day's three electoral contests.
With 100% of results in on Sunday morning, official figures showed Sanders had won 69.8% of the vote, to Clinton's 30%.
Of the state's 25 delegates, Sanders' victory meant he walked away from Hawaii's caucus with 17 delegates, to Clinton's 8.
Excluding 'super delegates,' the win brings Sanders delegate total to 975, but Hilary Clinton is still ahead with 1,243 delegates.
Correction: a previous version of this post incorrectly stated Sanders had won all 25 delegates.
Bernie Sanders declares a "path to victory"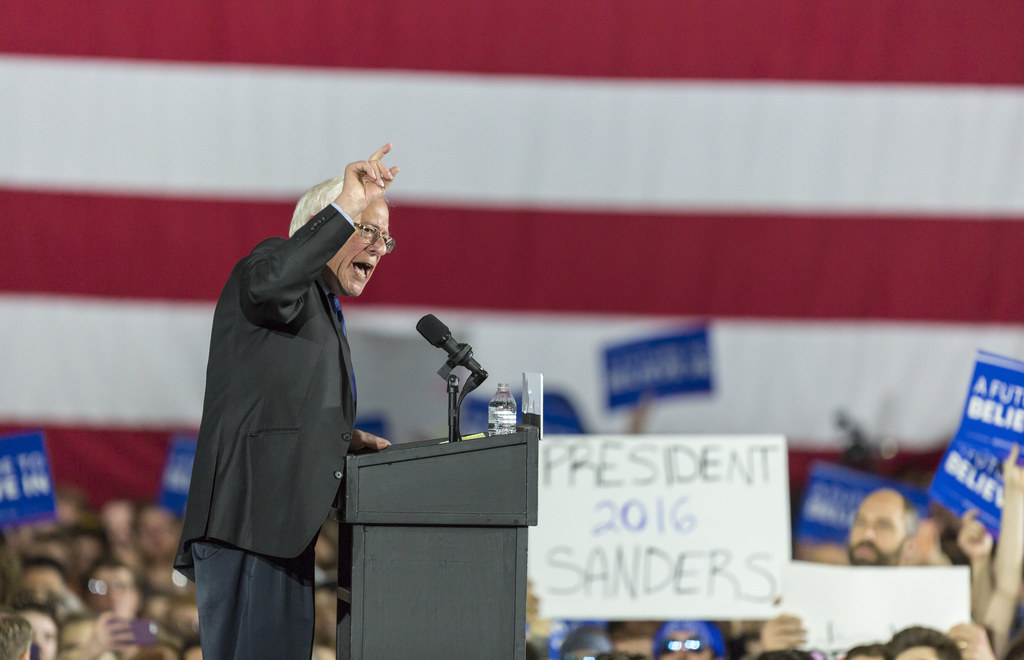 Saturday's wins in Washington and Alaska showed massive momentum that would take him to the White House, Bernie Sanders told supporters at a rally in Wisconsin.
Sanders pointed to the support of young people who had previously not participated in the political process.
"That is how we win, when working people and young people, when people who have given up on the political process get back in and demand a process that represents all of us, not the 1%," he said.
Speaking for about an hour, Sanders discussed his views on a wide range of issues, including healthcare, income inequality, and education. He said he and competitor Hillary Clinton agreed that November would see a Democrat in the White House; the current Republican field of candidates are an embarrassment, he added.
But unlike Clinton, he said, his campaign had succeeded in building a movement.
"Our campaign is the campaign of energy, of momentum, which will lead to a large voter turnout in November and victory," he said.
Bernie Sanders wins Washington caucus, giving him his second victory Saturday
Bernie Sanders defeated Democratic frontrunner Hillary Clinton Saturday, scoring his second victory of the weekend after he also won in Alaska. The victory in Washington is especially significant because there are 101 delegates at stake there.
With nearly 96% of precincts reporting late Saturday night, Sanders had a commanding lead with 72.6% of the vote to Clinton's 27.2%. Washington appoints delegates proportionally, meaning both Sanders and Clinton will walk away from the race with increased delegate tallies.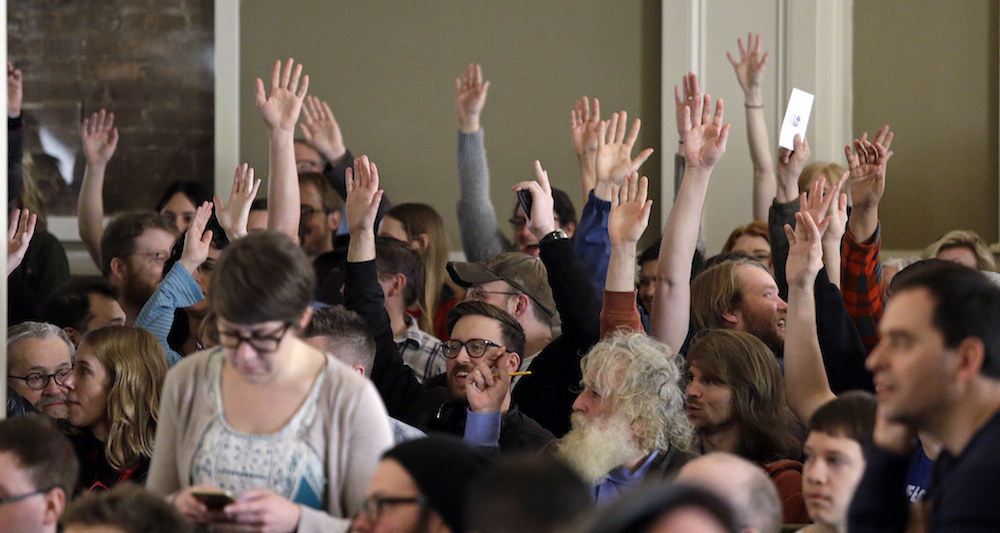 Sanders was speaking in Wisconsin as the Washington caucus was called. When he announced the results over the podium, the crowd erupted into cheers.
"That is what momentum is about," he said.
Bernie Sanders defeats Hillary Clinton in Alaska caucus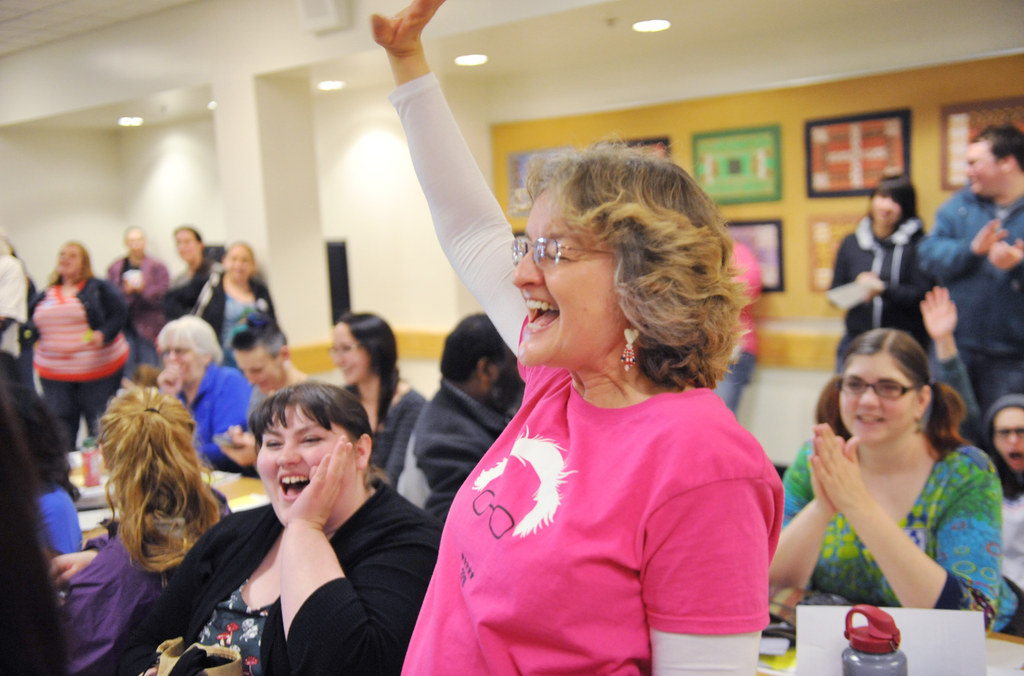 Bernie Sanders handily defeated Democratic presidential frontrunner Hillary Clinton Saturday in Alaska's caucus. Sanders, who trails significantly in overall delegates, took an early and commanding lead and ultimately garnered 82% of the vote to Clinton's 18%.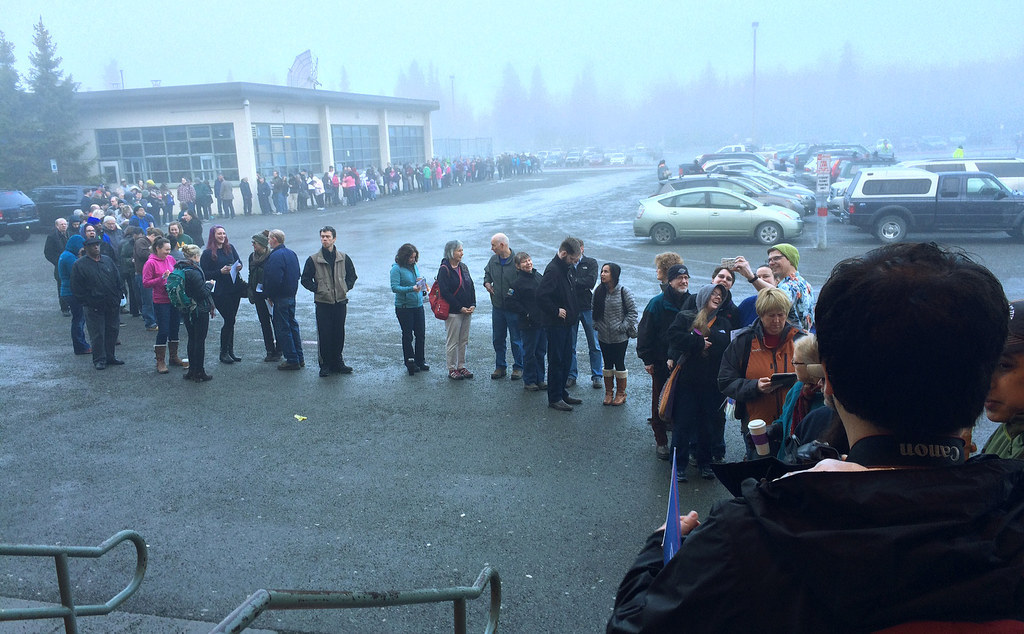 There are 16 delegates on the line in Alaska's Democratic caucus, and they are divided up proportionally according to votes.
The Alaska Democratic Party announced on Facebook Saturday that there was record turnout at the caucus.
Donald Trump explains his foreign policy in New York Times interview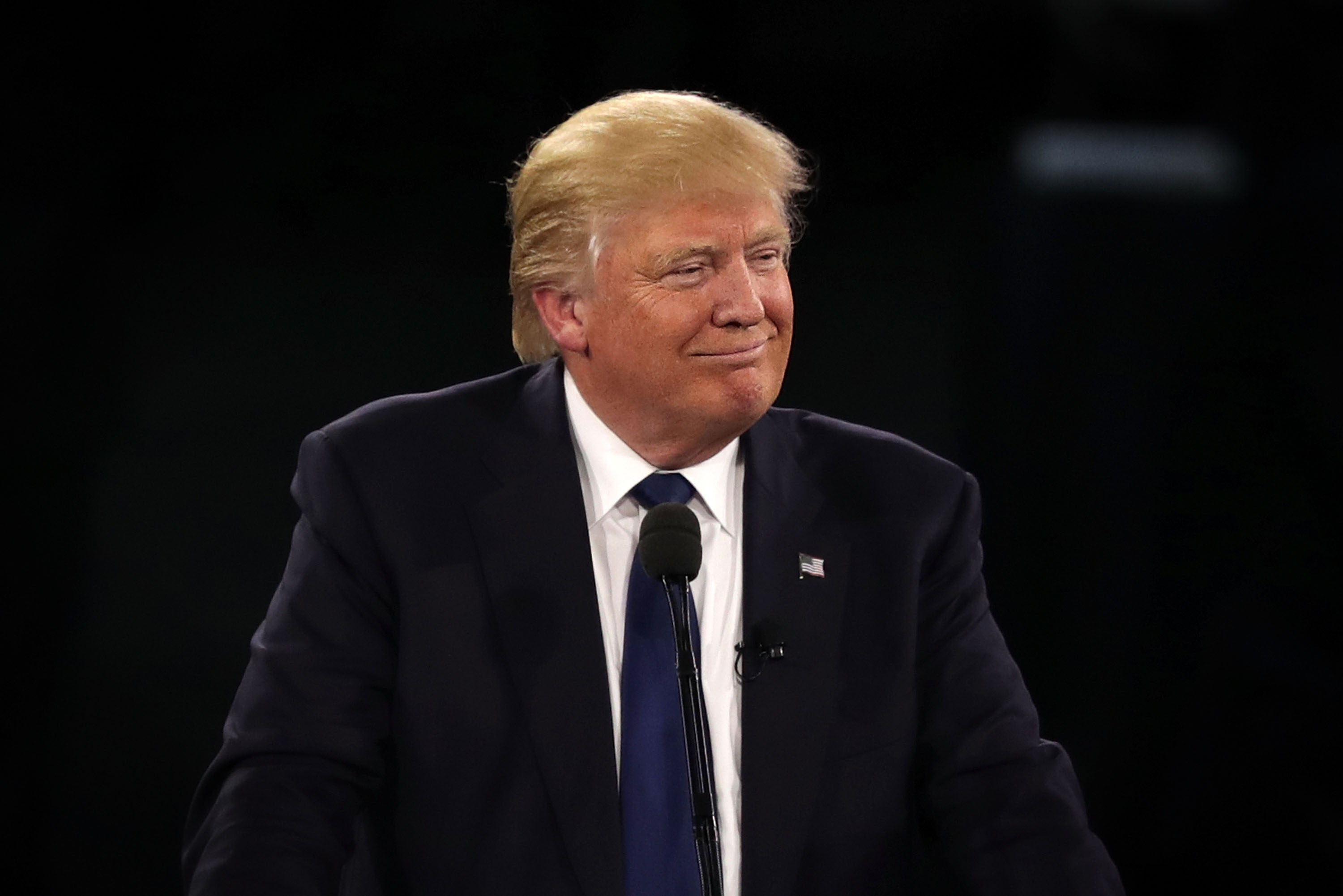 In an interview with the New York Times on Friday, the Republican presidential frontrunner discussed his views on foreign policy, explaining his position on the country's fight against ISIS.
"Well, I thought the approach of fighting Assad and ISIS simultaneously was madness, and idiocy," he told the Times. "They're fighting each other and yet we're fighting both of them. You know, we were fighting both of them. I think that our far bigger problem than Assad is ISIS ... Assad is, you know I'm not saying Assad is a good man, 'cause he's not, but our far greater problem is not Assad, it's ISIS."
The Times pressed Trump on his comments questioning the effectiveness of NATO.
"I'll tell you the problems I have with NATO. No. 1, we pay far too much," he said. "Because it really helps them more so than the United States, and we pay a disproportionate share."
Trump also defended himself from criticism that he is too vague on his foreign policy strategy saying "we need unpredictability."
"But I wouldn't want to say," Trump said. "I wouldn't want them to know what my real thinking is."
ICYMI: Birdie Sanders met Bernie Sanders
Seriously, this bird unexpectedly joined Bernie Sanders on stage, and the crowd loved it.
Caucuses underway in Washington and Alaska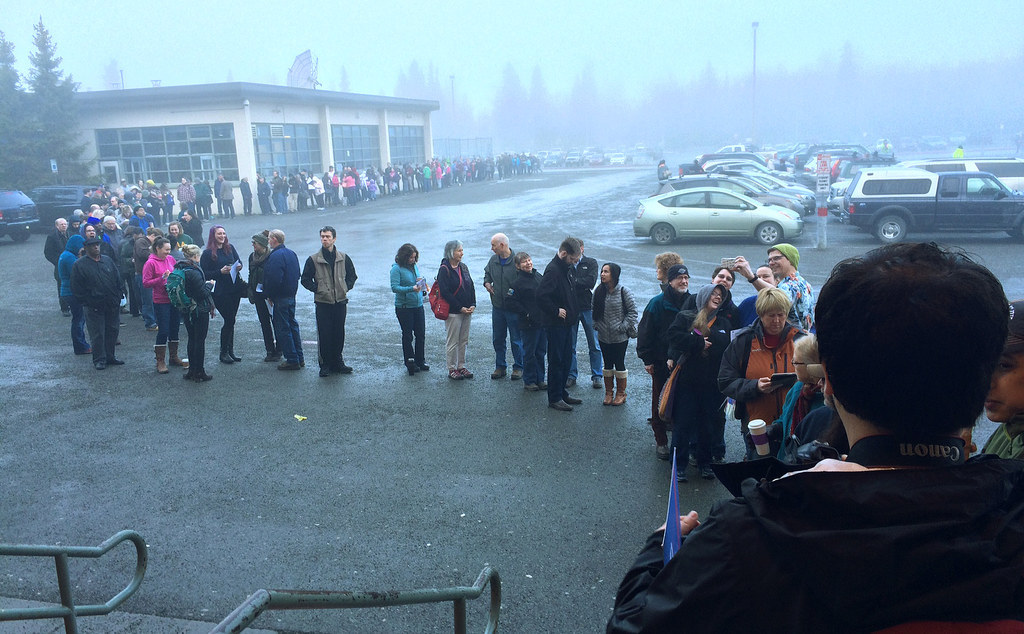 The Democratic caucuses are underway in Washington and Alaska — where long lines were reported outside a high school in Anchorage.
Meanwhile in Washington, people stood for the Pledge of Allegiance before the start of the caucus.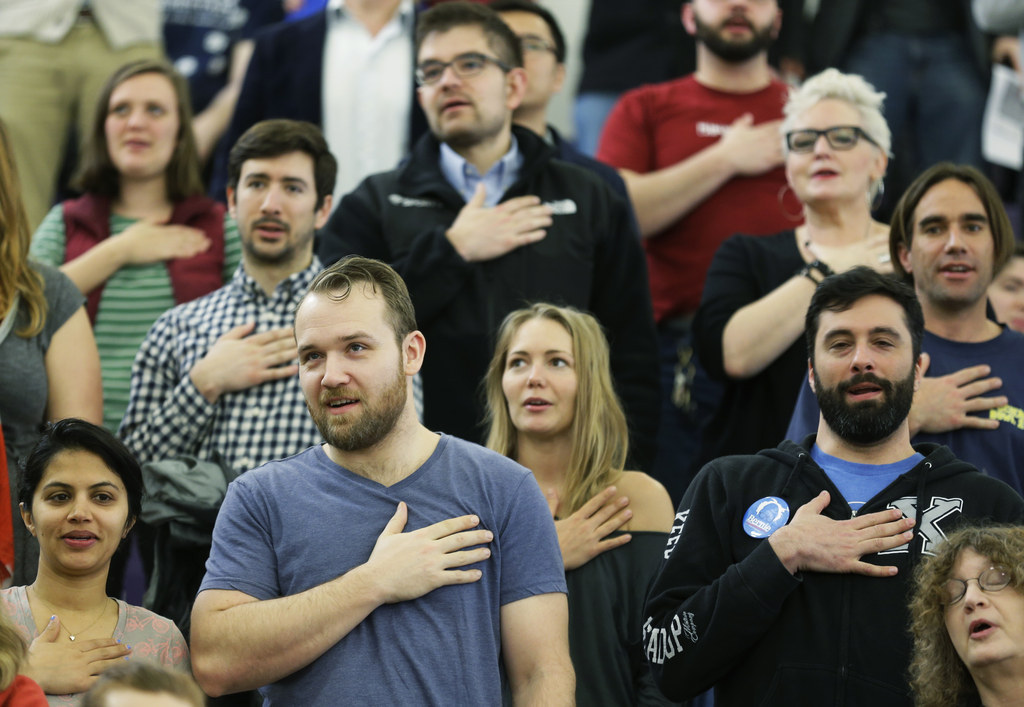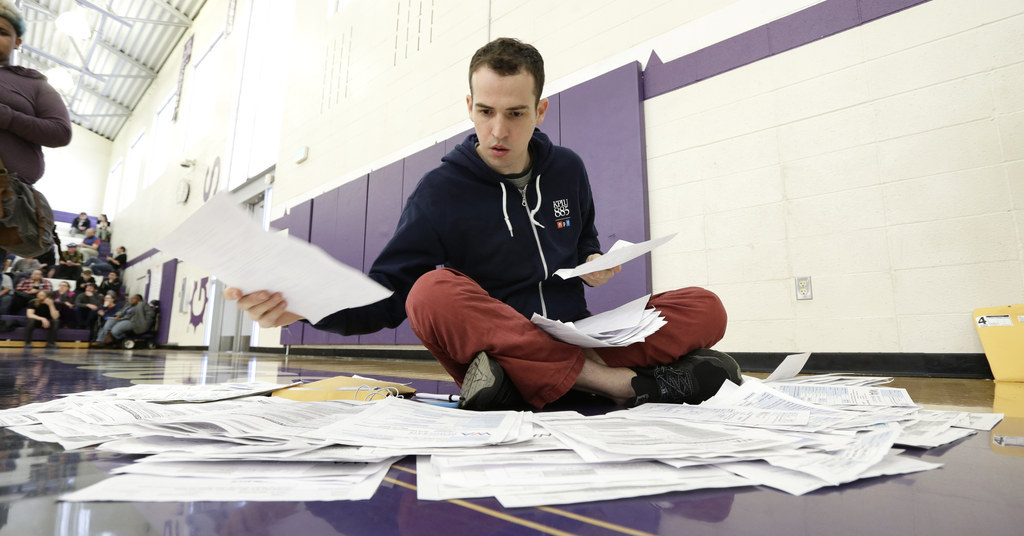 Democrats see promise and peril in efforts to mobilize Latinos against Trump
Is Donald Trump good for Democrats? Among Latino Democrats, there are concerns that the billionaire's anti-immigration rhetoric and unpopularity with Hispanics will actually cause the party to become complacent about reaching out to Latino voters.

In December, representatives for key immigration and Latino organizations made the trek to New York City, for a meeting with a group of liberal donors at George Soros' offices. The argument the donors heard was simple but direct, according to a meeting attendee: The Latino community is under attack by Donald Trump, and investing resources in actually turning these voters out could be the difference in the election.

Three months later, as first reported by the New York Times, the muscle arrived in the form of $15 million for a partisan immigration-focused effort that will seek to get Hispanics to the polls. For now, the campaign will be centered on Colorado, Nevada, and Florida — three traditional battleground states with large Latino populations.
—Adrian Carrasquillo
Hillary Clinton: Europe's surveillance techniques must be more aligned with those of U.S.
Hillary Clinton, in a radio interview on Tuesday, called on European nations to make changes in their laws to intensify their surveillance capabilities and bring them more in line with the techniques used by the United States.

"You know, for a long time, they ignored our recommendation, thinking that because we've had the terrible attack of 9/11, we were, you know, really overreacting," Clinton said on Arizona radio station KTAR. "Well, now, with Paris, with Brussels, with the potential for further attacks, the Europeans have to be much more aligned with our techniques for surveillance, for interception of information, for really cracking down on the travel and other activities of anybody associated with terrorism. And that's what I think we should be focused on."
—Christopher Massie
Bernie Sanders: President Obama both is and is not a member of the establishment
Bernie Sanders told a progressive internet show Wednesday that he considers President Obama both part of "the establishment" and one of the progressives who are trying to fight against it.

"Do you think President Obama is the establishment? Or is fighting against the establishment?" Cenk Uygur, host of the daily liberal talk show The Young Turks, asked Sanders during a long interview with the Democratic presidential candidate.

Sanders effectively said the answer to Uygur's question was yes.

"I think probably both," Sanders said. "Do I think he has real views and real concerns, deeply felt? I think he does, you know, unlike some people who will go with the wind all the time."
—Evan McMorris-Santoro