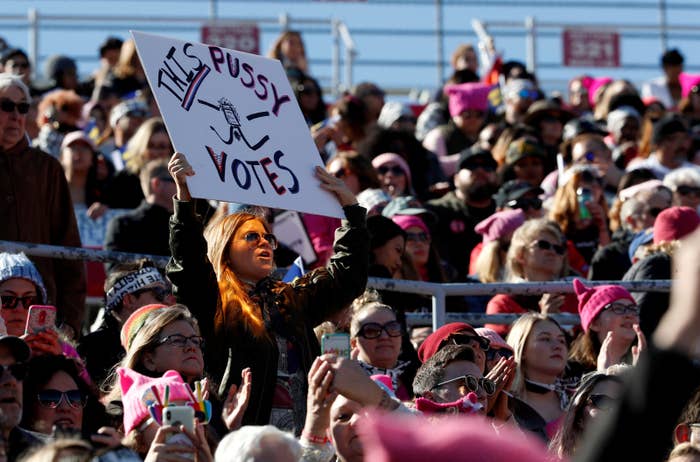 Here's What's Happening
It's been 12 months since President Donald Trump took the oath of office and entered the White House. That means it's also been 12 months since millions of women in Washington, DC, across the US, and around the world took part in Women's Marches against the new administration.
One year on, women and their allies hit the streets once again to protest against what they say are anti-women policies by Trump and other conservative governments.
Hundreds of thousands of women took part in protests across the US on Saturday and Sunday. Los Angeles Mayor Eric Garcetti tweeted that 600,000 people marched in LA alone, while New York City officials estimated that at least 200,000 took part in demonstrations there.
Demonstrations also took place in Chicago, Denver, Austin, Charlotte, Phoenix, Miami, London, Australia and elsewhere.
At a flagship rally in Las Vegas Sunday, US organizers kicked off a national voter drive aimed at registering one million people by this year's midterm elections, calling on female marchers to channel their energy and anger into political engagement.
But the movement is somewhat divided between those who advocate a more narrow focus on electoral politics, and those who would like to see women mobilize around issues of social and racial justice.
Marchers also helped to amplify the message of the #MeToo movement, which has called for an end to sexual harassment and abuse.
Here are some of the most clever signs from this year's march.
In final rally for the second annual Women's March, US organizers call on demonstrators to focus on the 2018 midterms
Following two days of marches across the globe this weekend, organizers closed out the second annual Women's March Sunday with a grand finale in Las Vegas, urging participants to focus their energy and anger toward making an impact on this year's congressional elections.
The flagship Women's March event, dubbed "Power to the Polls," was not actually a march but a rally, designed to kick off a national voter drive with the goal of registering one million people by the 2018 midterms.
"We have to march together, we have to organize together, we have to mobilize together, and we have to vote together — even when we don't like one another," Tamika Mallory, a co-chairwoman of the national Women's March organization, told attendees.
The remarks, echoed by a slate of female speakers Sunday, underscored a new, narrower focus on voting and political participation, at least among some factions of the women's march movement. A website for the event noted that the Vegas location was chosen because of Nevada's status as a crucial battleground state — one that Hillary Clinton won in the 2016 presidential election. Organizers said Sunday that they plan to hold similar rallies to mobilize female voters in other states with key congressional races this year.
In a conference call Sunday night, activists from the Women's March and other liberal groups urged women to channel momentum of the weekend's marches into political involvement, encouraging women to run for office, join campaigns, and volunteer for local candidates.
Nothing would make the current Republican administration more upset than a wave of progressive Democrats and people of color getting elected to public office this year.
Crystal Murillo — who at the age of 23 became the youngest city council member elected in Colorado after beating a 79-year-old pro-Trump incumbent in Aurora last year — hopped on the call to encourage more women and minorities to run.
Besides Nevada, activists said they planned to focus on elections in Arizona, Tennessee, Utah, Georgia, Idaho, and Michigan this year.
In the nearer term, some people on the call urged participants to speak out amid the current government shutdown, and urge elected officials not to accept a spending deal that does not include protections for undocumented immigrants.
Telling callers that "immigrant rights are human rights," Cristina Jimenez, a co-founder of United We Dream, suggested people contact their senators — she provided templates for both Democratic and Republican lawmakers — and host "Trump Shutdown" events in their communities early this week.
—Grace Wyler and Michelle Broder Van Dyke
Women's March activists gather in Las Vegas for a "Power to the Polls" themed rally
Women's March demonstrators gather at the Sam Boyd Stadium in Las Vegas on Sunday to celebrate the one-year anniversary of the historic women-led protests and to press for larger voter turnouts for issues affecting women and citizens alike.
The "Power to the Polls" event, which holds special significance in Nevada because of several close Senate and House races in the state, began at 10:00 am local time.
"Nevada has recent experience with some of the most pressing issues facing women in our nation today, from gun violence to politicians accused of sexual assault," the event's Facebook page stated. "As a swing-state that will shape the Senate in 2018 and as home to a strong activist network, Nevada is the perfect place to commemorate the Women's March and continue building our electoral power."
Notable speakers include Cecile Richards, president of Planned Parenthood, and U.S. Rep. John Lewis, a Democratic Congressman from Georgia and notable civil rights figure.
—Talal Ansari
Women take to streets of London for Time's Up march
In London, a Time's Up rally was held on the anniversary of the 2017 Women's March.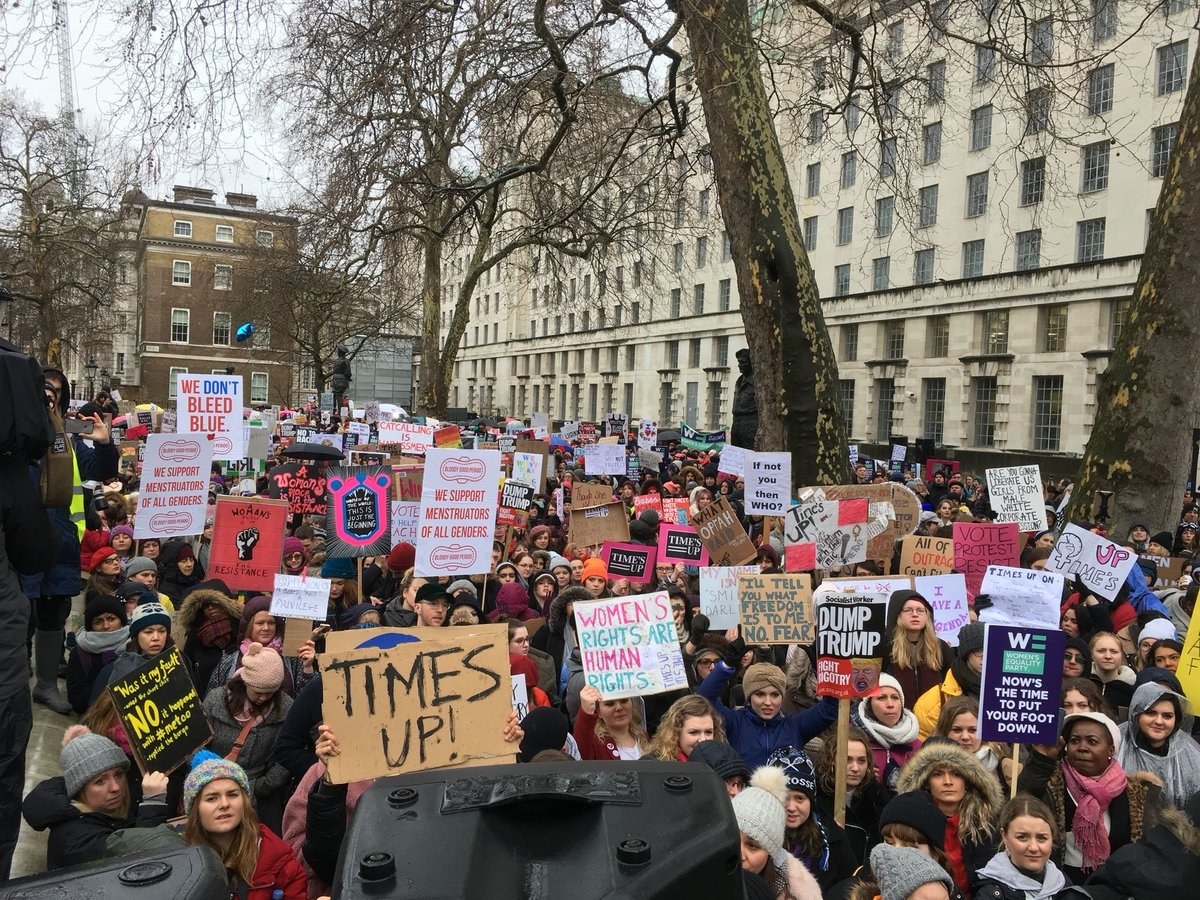 Addressing the crowd from a podium outside Downing Street, author Reni Eddo-Lodge said: "Today we've all come out to say what we've understood and accepted to be normal for years, and what our mothers and grandmothers have accepted to be normal. We are standing up and we're saying no. We're not having it anymore. We're doing that because we've had enough."
Among the protesters braving the rain was Ruth Francis, 39, who brought along her 13-month-old daughter, Phoebe. She told BuzzFeed News that they were at the London Women's March last year when Phoebe was just 3 weeks old.
"I just think it's really important even in the rain and in the snow that we come out and make a point today," Francis said.
American Courtney McNally also had her 5-year-old daughter Isla with her, holding a sign that said: "Don't nap, stay woke."
McNally told BuzzFeed News: "There's so much going on in the world, from Brexit and Trump and all things from the environment to women's rights. Having two daughters, I just wanted to teach them that their voices will be heard, and that they can make a difference."
– Ikran Dahir and Kassy Cho
Women showed up for marches in red states across the country - here's what they had to say: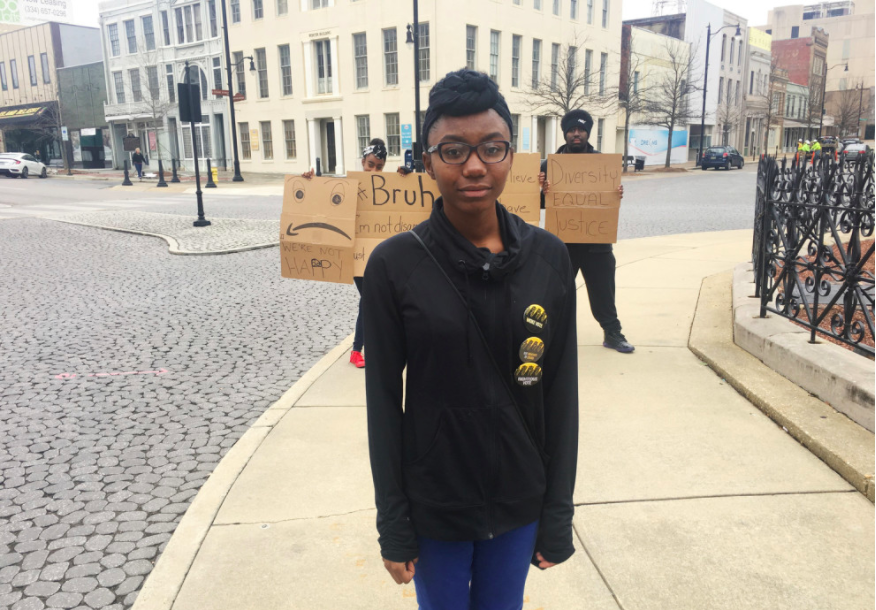 Spurred by the #metoo movement and in solidarity with other social justice movements, women around the country took to the streets Saturday in protest on the anniversary of President Donald Trump's inauguration. BuzzFeed News sent photographers to women's marches in Alabama, Indiana, Louisiana, North Carolina, South Dakota, Texas, and Utah — all states that Trump won in 2016 — to speak to women about what has mobilized them since the election.
Many of the women had gained a newfound sense of activism after the presidential race and were advocating for change in the 2018 midterms. Here's what they had to say.
And to hear the women speak for themselves and see additional viewpoints, check out our videos on Instagram.
—Kate Bubacz and Laura Geiser
18 little women told us why they marched
BuzzFeed News reporters spoke with some of the youngest women who took part in the demonstrations across the US Saturday about what inspired them to join in the march for women's rights and equality.
"We're here to support the equality of all women and people of color of all genders and sexualities," said Phoebe, 14, who marched with three other young women in New York Saturday.
"We're sick of being seen as princesses," said Ava, a 13-year-old in Los Angeles.
Here's what else the young protesters had to say.
—BuzzFeed News
Los Angeles marchers even more invigorated than last year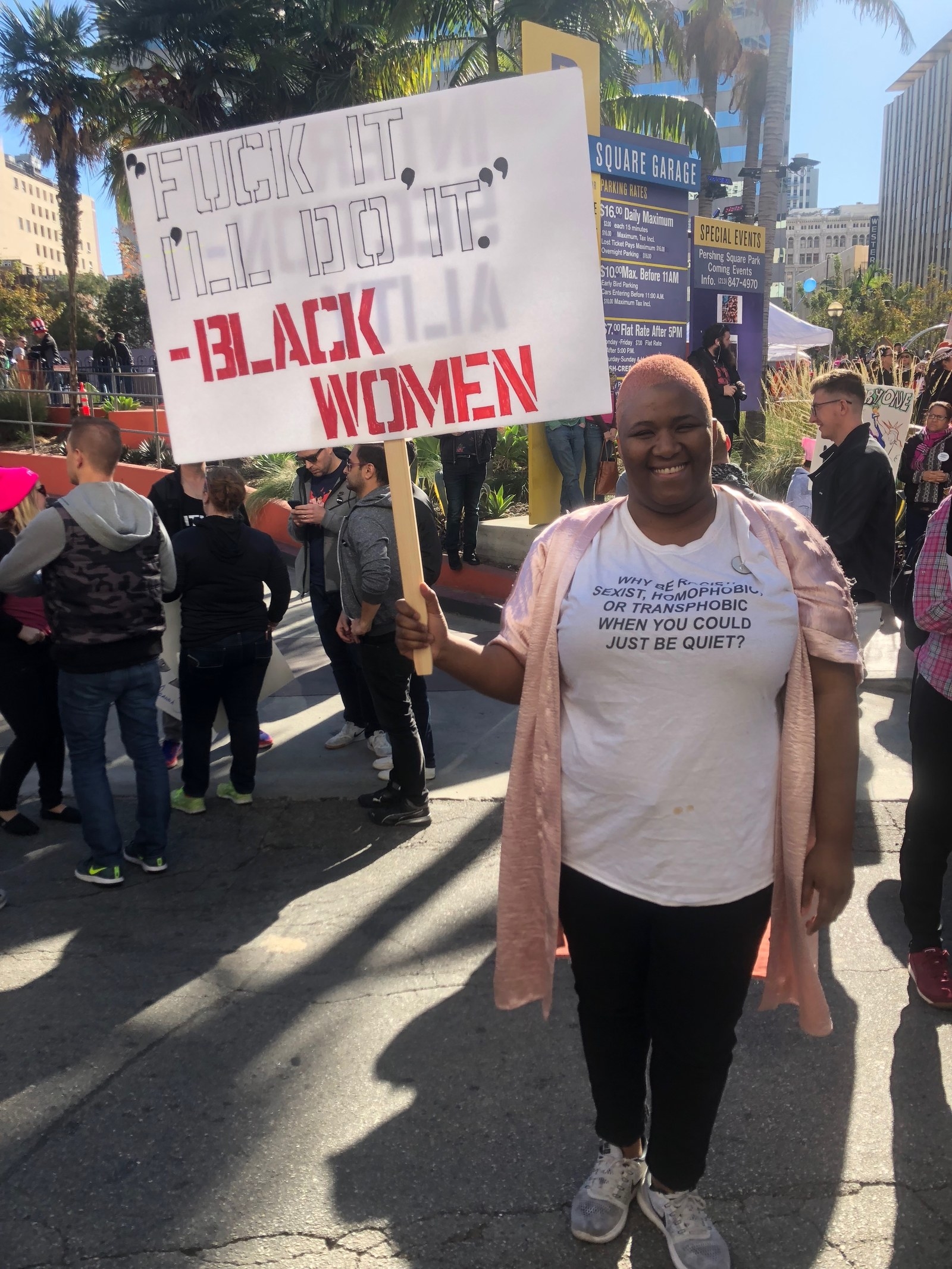 Incensed and angered by the turn the country has taken, many demonstrators in Los Angeles said Saturday they have become more active and involved in social issues since they first marched in the streets last year.
Dancing on Olive Street before the march kicked off, Melanie Hunter said she has become more involved in fighting to protect immigrants after seeing the ripple effects the Trump administration's crack down on illegal immigration has had on her friends and community.
"I regret that I wasn't as active as I am now," the 30-year-old publicist said. "But there's more work to be done now than ever before and we need to stay focused and stick together."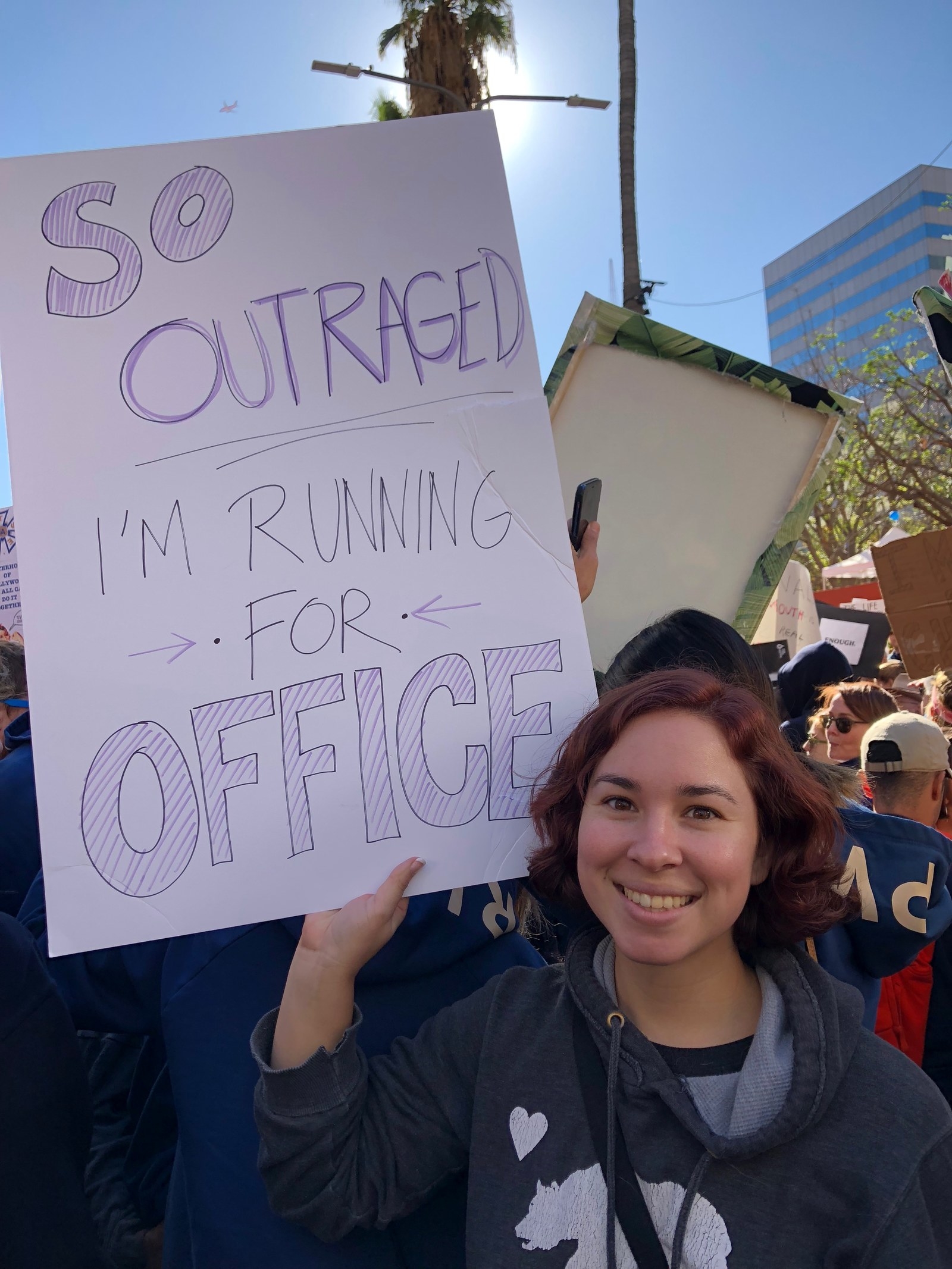 As a black woman, Hunter says issues like access to health care, jobs, and fighting for equality "affect me twice as much."
"But we've been through worse," she said. "I hope people don't just get caught up in the moment and keep pushing. We still need to show up and fight."
Christine Lee with Los Angeles office of the city clerk said several hundred people had registered to vote in just a few hours at the booths set up here.
After watching "the country go backwards," Rachel Martinez says she is now training to run for the House of Representatives in the next five years. The 22-year-old is working for California Sen. Diane Feinstein and has stacked her college course load with classes to prepare her to be in politics.
"I wanted to run for office in the next 10 years but now I'll be doing it in five because it's much more urgent," she explained. "I've become louder and I've learned I can't let my opinions fall by the wayside anymore."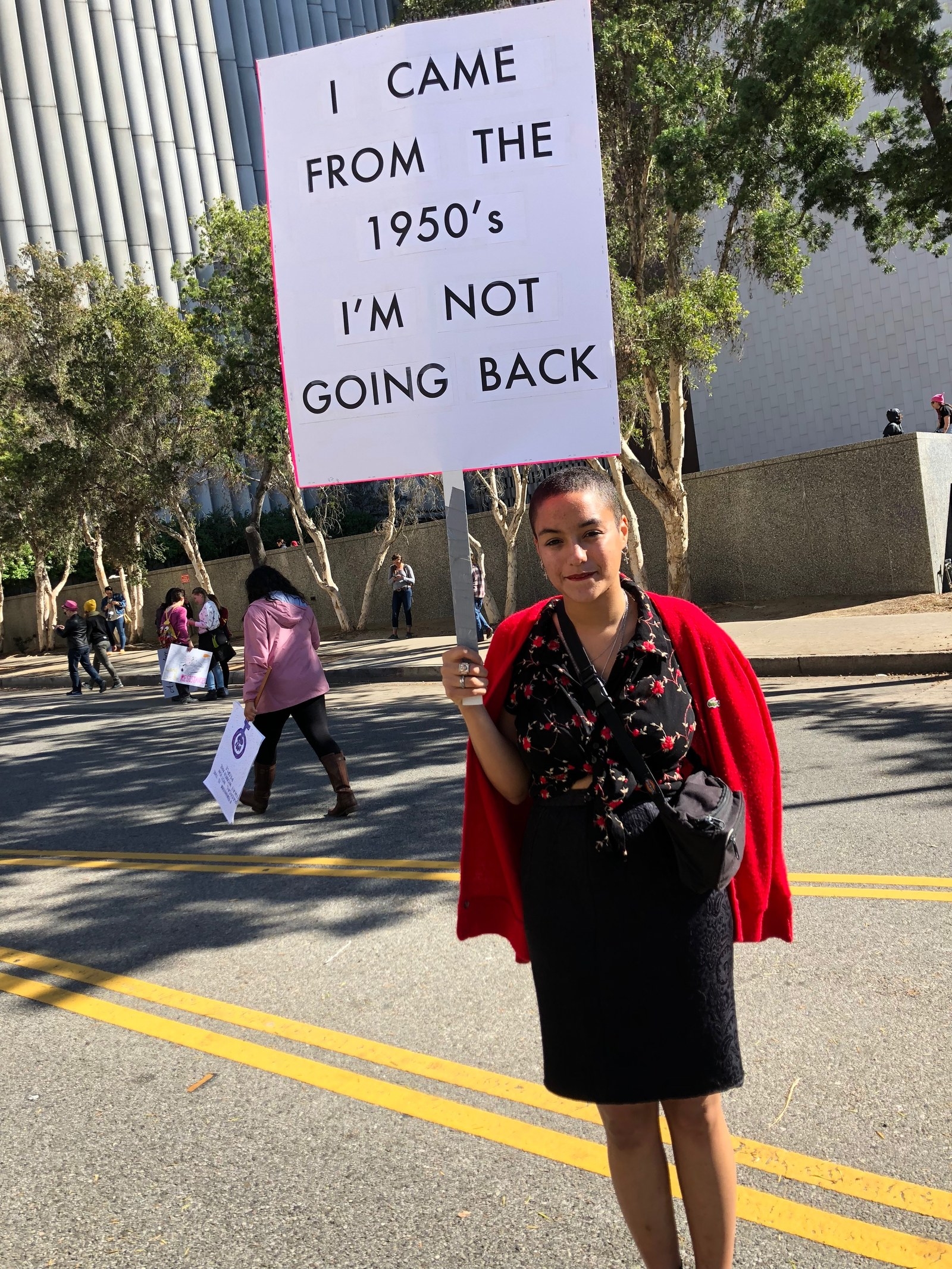 Watching how opinions and policies have changed toward "discriminating against [her] black, LGBT, and DREAMer friends" is propelling her to get in as fast as she can because she's "pissed off."
Marla Weiss, a high school teacher, says she has become more involved in environmental issues after the president pulled out of the Paris Climate Accord and down-sizing national monuments.
"It's not for us, but for our kids," she said. "These things affect their lifetimes and it's disheartening to think of the place they might grow up in."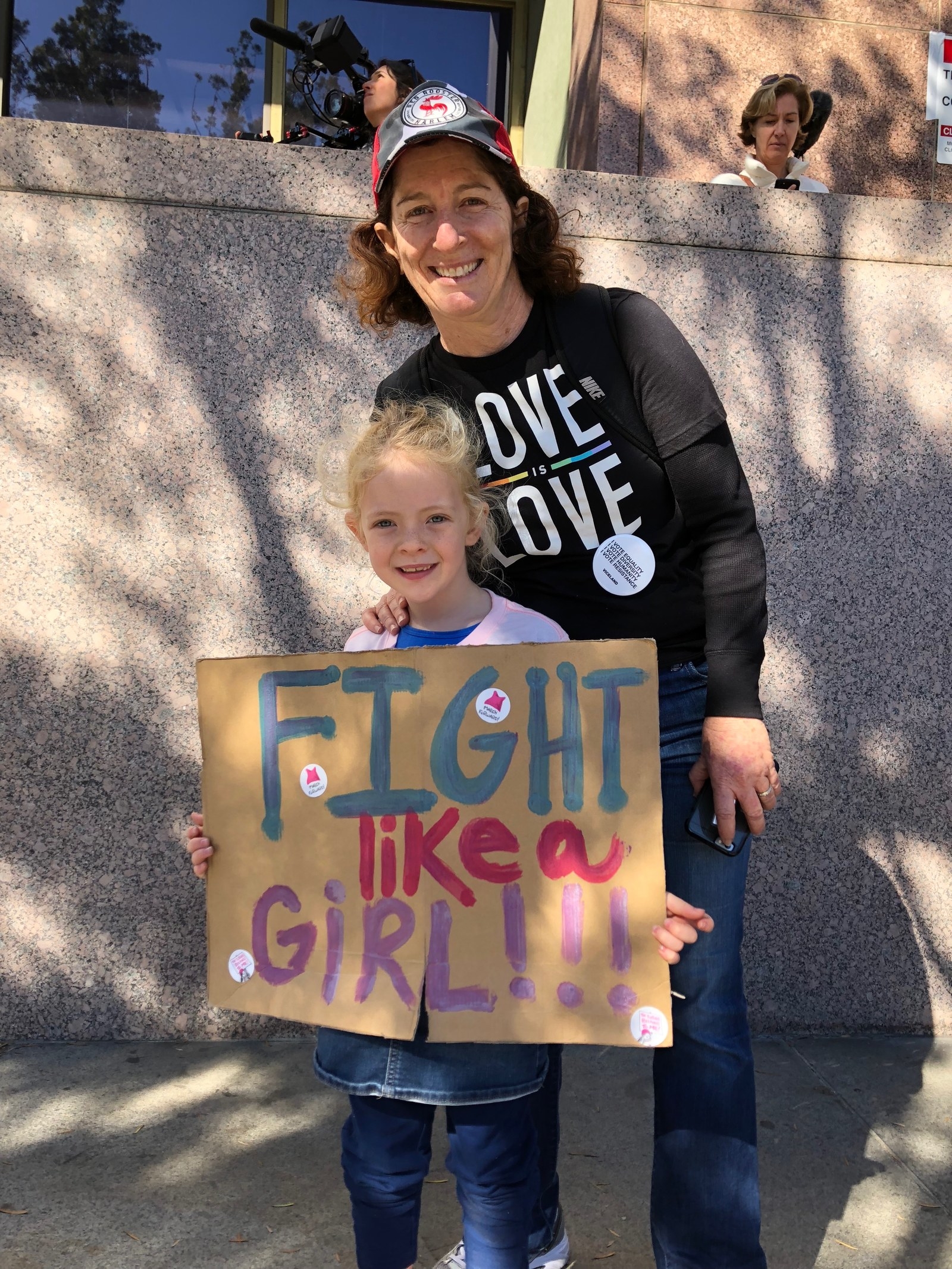 For high schoolers like Grace Green, losing access to resources like Planned Parenthood motivated her to get involved in the fight to save it.
"I am a survivor of sexual assault and so is my mom, so Planned Parenthood is very personal to me, especially as a woman of color," the 17-year-old said.
She says she also planned an event and march to support DREAMers with her high school, Larchmont Charter, friends, and other youth to raise awareness as to how many students would be affected.
"I grew up in the Obama era so this feeling of having to fight for acceptance and progress is new for me," she said. "It's fucked."
—Brianna Sacks
Some of the most clever signs from the March
At Women's March events across the country on Saturday, people carried signs bearing all sorts of messages.
Some were punny, some were powerful, and one even told the patriarchy to go eat a Tide Pod. Check out some of the most clever Women's March signs here.
—Julia Reinstein
Viola Davis: 'When I raise my hand, I am aware of all the women who are still in silence"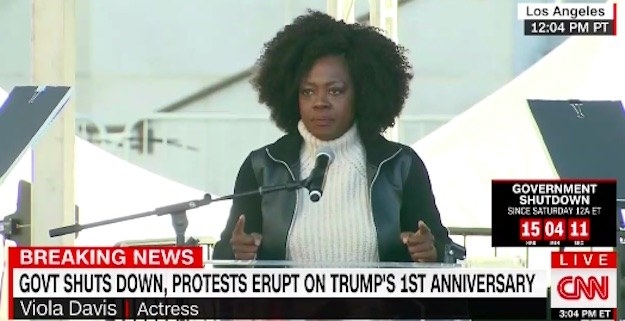 Academy Award-winning actor Viola Davis used her speech at Saturday's Los Angeles Women's March to draw attention to young people of color who are victims of sexual assault.
"I am speaking today not just for the Me Toos, because I was a Me Too, but when I raise my hand, I am aware of all the women who are still in silence," Davis said.
"The women who are faceless. The women who don't have the money and don't have the constitution and who don't have the confidence and who don't have the images in our media that gives them a sense of self-worth enough to break their silence that is rooted in the shame of assault, that's rooted in the stigma of assault," she said.
On the same day as the government shutdown, Davis also brought up the Statue of Liberty being a reminder to fight for the rights of all Americans.
"Written on the Statue of Liberty is, 'Come, come you tireless, poor yearning to breathe free, to breathe free,'" she said. "Every single day, your job as an American citizen is not just to fight for your rights. It's to fight for the right of every individual that is taking a breath, whose heart is pumping and breathing on this Earth."
—Krystie Lee Yandoli
Washington March: "This is what democracy looks like!"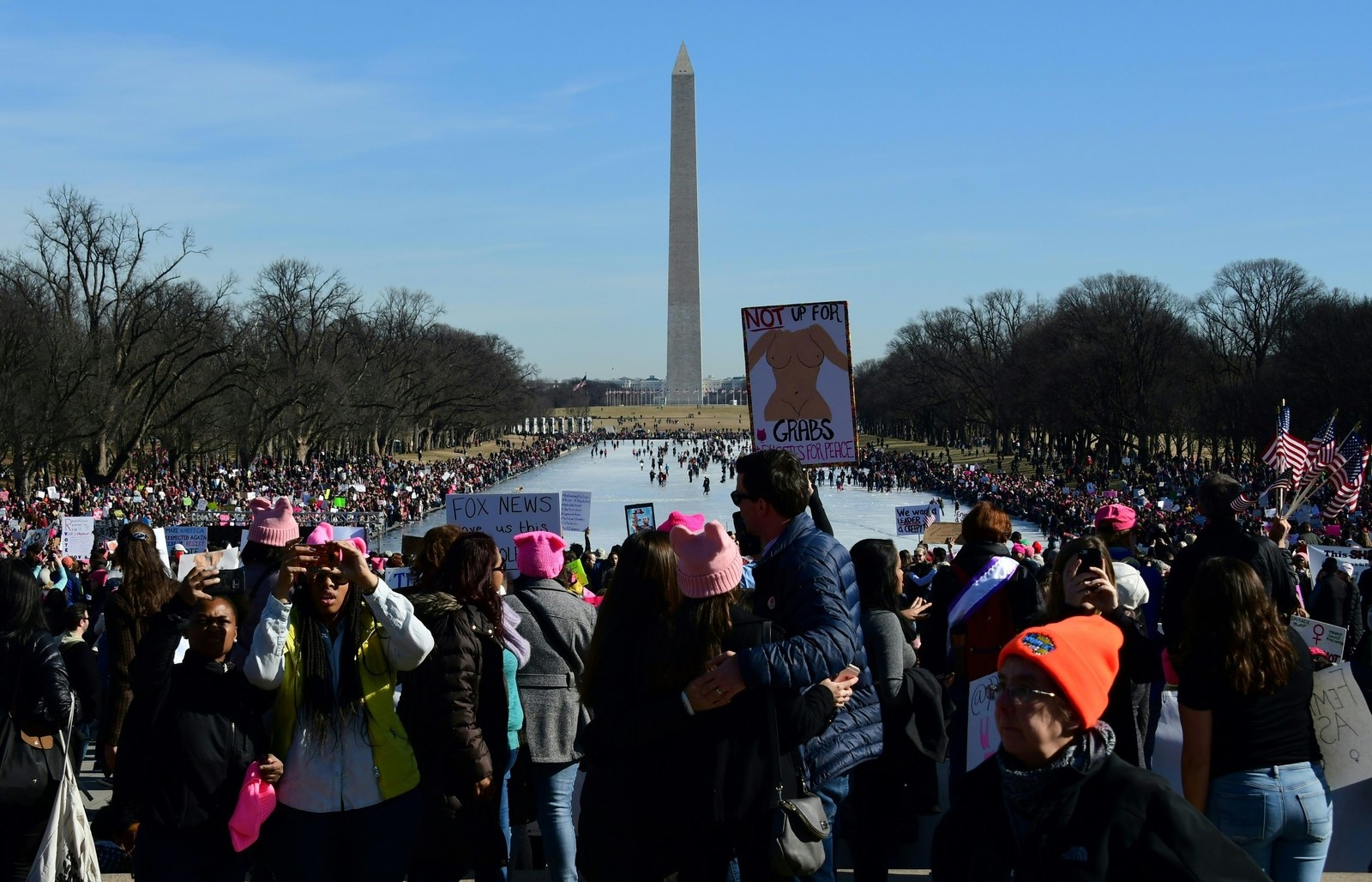 People crowded on the Lincoln Memorial steps and filled the paths by the Reflecting Pool ahead of Saturday's march in Washington, DC.
Some brought last year's hats and signs; other posters were fresh, made overnight.
The turnout was much smaller than the historic numbers that filled the city last year. And the marchers were local — several told BuzzFeed News that they had taken the subway over from Maryland or Virginia.
A diverse cast of speakers and performers addressed the crowd, as marchers, their kids, and their very good dogs skated and played on the frozen surface of the Reflecting Pool, screeching with joy as the ice gave way to a few inches of water.
The warm, bright Saturday morning had a carnival atmosphere, one punctuated by now familiar chants: "Show me what democracy looks like! This is what democracy looks like!"
But the calls, like the poster board signs, had evolved since last year to reference issues that became news in President Trump's first year. As the march began, one group chanted: "No hate, no fear, immigrants are welcome here."
"The March set off something that wasn't easily contained. Virginia is not purple any more. It's turning blue," said Jennifer Fredrick, a Virginia resident who was there with her daughter, Keegan.
Louise Levathes, who lives in DC, carried a poster that read, "Putin is not my president."
She said she brought it to last year's march but the issue had only grown in importance to her. "I think the Russian interference goes way beyond Trump," she told BuzzFeed News.
Tamika Clegg had brought her daughter Kennedy, 7, to soak in the atmosphere. They'd go home and talk about the importance of events like this one, Clegg said.
A group of Hillary Clinton supporters from Trump country in Shippensburg, Pennsylvania, who had travelled to the march last year were back again for this one.
"It was an amazing experience that made us feel less isolated," said Blake Hargrove.
He said he often feels marginalized and "out of step" within his community, and they attended this event because they shared its values.
Kris and Adam Desjardins, from Maryland, brought their toddlers, Mac, 4, and Jackson, almost 2.
Mac said that the president was a "meanie" and added that he needed to "be nicer." His parents plastered his comments on the sign he carried.
"You need to show your voice because silence can be consent," Kris said.
— Nidhi Subbaraman
Jane Fonda in Park City, Utah: "Everything is at stake"
"Everything is at stake," Jane Fonda told a crowd of hundreds of women at a rally in Park City, Utah, on Saturday.
While people around the world are marching in the name of women's rights, members of Hollywood gathered at the 2018 Sundance Film Festival with snow falling to hold what they called the Respect Rally. Other speakers at the event included Lena Waithe, Tessa Thompson, Gloria Allred, and Common.
"Disillusioned voters must be reached by a media they can trust to tell the truth," Fonda said. "We've gotta give it all we got and we can do it. Time is up."
Actor Lena Waithe also addressed the crowd. "Even though we still have a very long way to go, every now and then we need to hug ourselves because we really have come a long way," she said. "I think society is a lot further than some people want to give us credit for. But we still have to keep working. We still gotta keep marching."
Common also took the stage at the Respect Rally to perform his 2016 song, "The Day Women Took Over," rapping the lyrics, "This is the day women took over/No longer over your shoulder do you have to look over/Imagine, war is now over/Mothers get medals for being courageous soldiers/On dollars, it's Michelle Obama, Oprah, and Rosa."
—Krystie Lee Yandoli
Wendy Davis: "I believe in the power of our voices"
Wendy Davis, the former Texas state senator who gained national fame for a lengthy filibuster against an abortion bill in 2013, was among the Women's March demonstrators in Austin on Saturday.
"I believe in the power of our voices and that we will lead the future change," Davis told BuzzFeed News of her decision to march.
—David Mack
Trump trolls Women's March protesters
While the Women's March was underway Saturday afternoon, President Trump mocked the protesters on Twitter, suggesting they should be celebrating his "unprecedented economic success."
"Beautiful weather all over our great country, a perfect day for all Women to March," Trump tweeted. "Get out there now to celebrate the historic milestones and unprecedented economic success and wealth creation that has taken place over the last 12 months. Lowest female unemployment in 18 years!"
Following the inaugural Women's March last year, Trump also disparaged the protest efforts.
"Watched protests yesterday but was under the impression that we just had an election!" Trump tweeted last year. "Why didn't these people vote? Celebs hurt cause badly."
After Trump's tweet on Saturday, Democratic Minority leader Nancy Pelosi fired back.
Whoopi Goldberg to women: "You're part of the resistance whether you like it or not"
Whoopi Goldberg, speaking to BuzzFeed News at Saturday's Women's March in New York City, said women everywhere are part of the so-called anti-Trump resistance "whether you like it or not," and those who can't join the nationwide demonstrations still have an obligation to stay informed and vote.
"We don't always agree with each other, but as women we know that we have to make sure that all of the things we fought for don't move," the actor and host of The View said. "Listen, you're part of the resistance whether you like it or not. It's just the way it is."
"Not everybody can come out and do this, not everybody can march," Goldberg said. "But you can do little things.
"Make sure you vote. Whether you vote the way I think or you vote the way somebody else thinks, you vote what you believe and then you stand tall and you defend what you believe, and that's how we do this. That's how America is supposed to work."
Read more here. —Krystie Lee Yandoli
Marchers in Alabama protest a number of issues
As women-led protests swept the US on Saturday, Alabama women said they were demonstrating to stand up for a variety of issues important to them.
Lynda Black told BuzzFeed News she was in attendance at a Montgomery rally "because black lives matter."
Tylear Jefferson, a high schooler in attendance at the Montgomery march, told BuzzFeed News, "This day is important to me because even though I am young my voice matters."
Anne Leader said the march was important to her because "gun violence is a women's issue."
"Women are 16 times more likely to be shot and killed with a gun in America than in other industrialized nations," Leader said. "So we're here to demand common sense gun legislation."
Gilda Keesee said, "I'm here for justice."
In New York, Washington DC, and all across the country on Saturday, people gathered in droves for the Women's March. Protesters who spoke to BuzzFeed News shared a variety of reasons why they decided to march,
"The March set off something that wasn't easily contained," Jennifer Frederick, an 18-year-old from Virginia, told BuzzFeed News at the DC March. "Virginia is not purple anymore. It's turning blue."
At the March in New York, 37-year-old Eve Strickman, a 15-year-member of the International Alliance for Theatrical and Stage Employees, told BuzzFeed News she was there because she feels "we've gone backwards" when it comes to labor rights.
"They're trying to break unions and spreading false information," Strickman said.
"Instead of one nail, this year has been like a bed of nails," 18-year-old Erin Simpson told BuzzFeed News at the March in New York. "And we can't get used to it, can't get complacent.
—Julia Reinstein
Marchers begin to head to US protests:
Metro North commuter trains into New York City — which are normally packed on weekdays with people in suits on their way to work — were filled with women and men headed to the Women's March in Manhattan on Saturday.
There were so many people on the local train set to arrive at Grand Central Station around 9:45 a.m. that passengers were forced to stand.
Couples stood together and mothers held their daughters hands, lots of them donning pink pussy hats and holding signs that read, "Nasty women don't get complacent, we fight" and "I'm with her."
Demonstrators also began arriving on the National Mall in Washington, DC, for pre-march events.
—Krystie Lee Yandoli
Women's March comes one day after March for Life
Saturday's Women's March comes one day after anti–abortion rights campaigners demonstrated in Washington, DC.
Thousands of men and women from around the country marched in the nation's capital to protest the Supreme Court's landmark 1973 Roe v. Wade decision, which guaranteed a woman's constitutional right to an abortion.
President Trump addressed the March for Life rally via live satellite, making him the first sitting president ever to address the anti–abortion rights gathering in a live video capacity. Ronald Reagan, George Bush, and George W. Bush addressed the march via recorded remarks or live telephone calls.
In his live address from the Rose Garden, Trump announced a new proposal to protect the "conscious rights and religious freedoms" of medical professionals and new restrictions on abortion funding.
Trump said he was "honored and really proud" to address the March for Life event and said he and his administration were "with you all the way."
"Under my administration, we will always defend the very first right in the declaration of Independence, and that is the right to life," he said.
Before his address, Trump praised the March for Life participants in a proclamation declaring Monday to be "National Sanctity of Life Day."
Read more here. —Ema O'Connor
People march in Italy's capital under the banner "Rome Rises"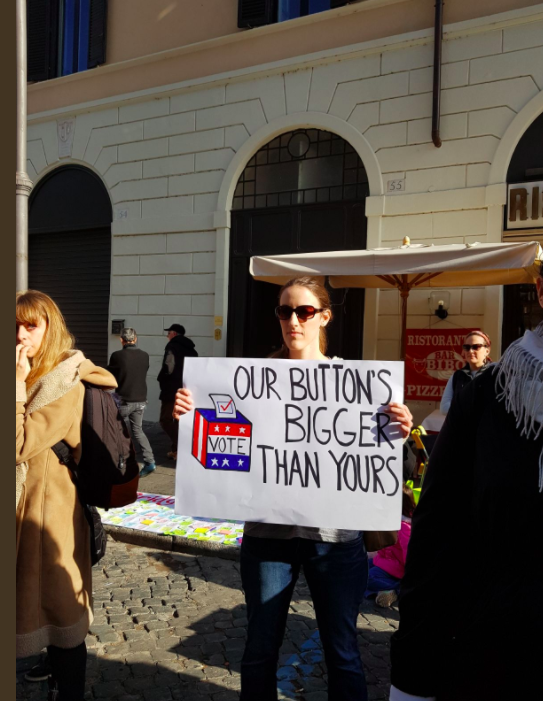 Waving signs reading "send Trump back to the golf course permanently" and "our button's bigger than yours," demonstrators gathered in front of Rome's iconic Pantheon on Saturday morning.
The Piazza della Rotonda began to fill as a series of speakers, including actress Asia Argento, one of dozens of women to have alleged Harvey Weinstein sexually assaulted or harassed them, took to the stage to condemn inequality.
Women take to the streets one year on
Women around the US — and the world — are taking to the streets on Saturday on the first anniversary of the massive global protest dubbed the Women's March.
12 months ago, millions of women demonstrated in Washington, DC — and in cities around the US and the world — on the day after Donald Trump was sworn in as president. The march was an enormous show of defiance against Trump's past disparaging comments about women, and policies seen as hostile to women.
Once again, demonstrations are scheduled on every continent and cities around the world, like Abuja, Nigeria, and Zurich, Switzerland.
The central event will be in Las Vegas, Nevada, a US swing state. The "Power to the Polls" event is aimed at launching a national voter registration effort ahead of the November midterm elections.
"In 2018, we must turn our work into action ahead of the midterms," said Women's March copresident Tamika D. Mallory. "This new initiative will address voter registration and voter suppression head on."
BuzzFeed News will be livestreaming the marches from major cities across the US. We also have a team of reporters embedded among the demonstrators who are tweeting and sharing clips on other social media platforms.
Stay with us for the day as the marchers take to the streets.
—David Mack