Wikileaks Claims To Release More Documents From CIA Director's Private Email Account
Some of the documents released Thursday appeared to be memos prepared for the Senate.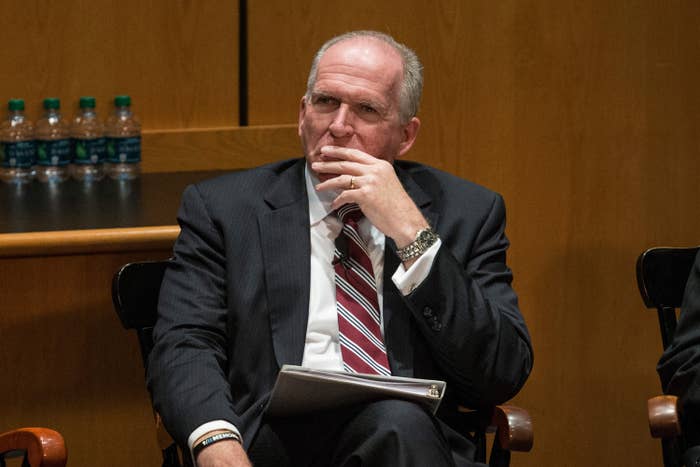 Wikileaks on Thursday released a second batch of documents it claims to have obtained from CIA chief John Brennan's private email account.
It was not immediately clear if the documents were in fact from an email account linked to Brennan. The documents, if authentic, appear to contain his home address and phone number, as well as his wife's social security number, his mother's address, and the address of former CIA Director George Tenet. The document also appears to contain the home addresses of Brennan's three children, as well as his siblings.
Other documents included memos that appear to have been prepared for the Senate and a list of email contacts that contained addresses for customer service at TiVo and florists.
Wikileaks released the following documents, which appear to date as far back as November 2007, when Brennan was an analyst at a defense contractor called The Analysis Corporation:
— The "'National Security Position' form for John Brennan. This form, filled out by Brennan himself before he assumed his current position, reveals a quite comprehensive social graph of the current Director of the CIA with a lot of additional non-govermental and professional/military career details." From November 2008.

— A fax "from the General Counsel of the CIA to the Goverment [sic] Accountability Office about a legal quarrel between the CIA and 'The Analysis Corporation.'" TAC seems to have lost a tender for a US watchlist-related software project to a competitor. Issues seem to revolve around 'growth of historical data' and 'real-time responsiveness' of the system." From February 2008.

— The draft of an intel position paper on "challenges for the US Intelligence Community in a post cold-war and post-9/11 world; a calling for inter-agency cooperation, a ten-year term for the Director of the CIA and the Director of National Intelligence." From July 2007.

— A November 2007 paper on how to handle Iran. (This appears to have already been published in a journal.)

— A letter from the Senate Select Committee on Intelligence chair "to his fellow board members with a proposal on how to make future interrogation methods 'compliant' and 'legal.'" From May 2008.

— The text of "a bill from July 2008 called 'Limitations on Interrogation Techniques Act of 2008'" that lists "forbidden interrogation techniques." From July 2008.

—A list of contacts that had been previously published by the hacker claiming to have gained access to Brennan's email.

—A "private memo" prepared for former Senator Kit Bond, then the vice chairman of the Senate Select Committee on Intelligence by Minority Staff Director Louis Tucker in 2008, detailing "recommendations regarding America's strategic interests in the Afghanistan-Pakistan region."

—An "Executive summary of key findings and recommendations on Afghanistan and Pakistan."
The draft of the intelligence position paper takes an apparently critical stance of intelligence gathering methods under former President George W. Bush.
"Unfortunately, there has been precious little progress since 9/11 related to defining and setting the legal and policy parameters of "domestic intelligence." Backroom discussions that result in Presidential directives of dubious legality are not in keeping with our Constitutional foundations," the paper said.
"In light of the seriousness of the transnational terrorist threat, we need to set the appropriate balance between conducting domestic intelligence operations and protecting the privacy rights and liberties of U.S. persons. The FBI, Department of Homeland Security, National Security Agency, CIA, and Department of Defense are ​'all engaged in intelligence activities on U.S. soil,' and these activities must be consistent with our laws and reflect the democratic principles and values of our Nation."
It's unclear which intelligence gathering activities the paper is referring to. It's against the CIA's charter to spy on citizens in America, except in limited circumstances. According to the CIA's website, "collection is allowed only for an authorized intelligence purpose; for example, if there is a reason to believe that an individual is involved in espionage or international terrorist activities."
The CIA and NSA didn't immediately respond to a request for comment.
Wikileaks' claim comes after a hacker, earlier this week, said he broke into Brennan's AOL email address.
On Monday, the purported hackers, tweeting under the now-defunct handles @_CWA_ and @phphax, released a spreadsheet list phone numbers and social security numbers of national security officials — including Homeland Security chief Jeh Johnson.
One account also published the alleged call logs of a current White House Deputy National Security Advisor and Brennan's email contacts list. None of the documents were authenticated by BuzzFeed News.
The FBI has since launched an investigation.
The hacker told the New York Post that he tricked workers at Verizon "into providing Brennan's personal information and duping AOL into resetting his password."
Some of Brennan's personal information was released in a previous hack several years ago.