HERE ARE THE TOP STORIES
House Republicans will vote to repeal and replace Obamacare Thursday.
Republicans believe they have the votes, or are at least close enough to risk it, after the most recent changes to the American Health Care Act. The bill now allows states to waive pre-existing condition protections, but it's based on the assumption that most will not do this.
Many Republicans remain opposed or undecided and the Congressional Budget Office has not released its estimate of how much the amended version of the bill will cost individuals or how many people it will cover.
The last time Republican leadership planned a vote on their health care bill, they had to pull it at the last minute to avoid an embarrassing failure. Since then, the bill has been amended twice, once to appeal to hardline conservatives and again this week to win over moderates.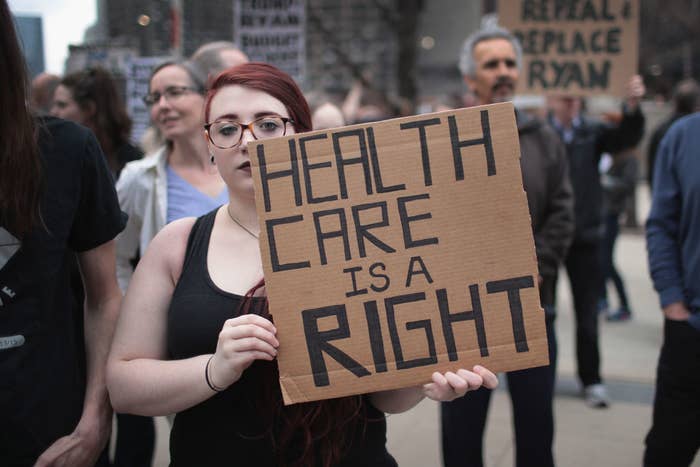 Trump's America

The president will sign an executive order Thursday that protects churches' political activities but won't allow for LGBT discrimination. A senior White House official said the order will address enforcement of tax rules for churches and contraception mandates under Obamacare — not exemptions that would allow LGBT discrimination, as many expected.
And someone in the Trump administration explained what "America First" means: In a speech to a wary State Department, Secretary of State Rex Tillerson told staffers that spreading American values can't come before ensuring US security.
WE'RE KEEPING AN EYE ON
How Sweden became the "most alt-right" country in Europe.
Alt-right activist Richard Spencer is building a global media company — a "more ideological Breitbart" — with partners from Sweden, a country with an alt-right of its own that's helped transform national politics. Spencer is going into business with the self-described "Bill Gates of the Swedish alt-right," while the other business partner features Nazis on his podcasts.
The new AltRight Corporation will have a budget of "six figures" and aim to make possible an "ethno state" for white people. This American-Swedish alliance makes a lot of sense, since Sweden has been a favorite target of immigration opponents worldwide who believe that it will be the first Western nation to collapse beneath the weight of Muslim immigration.
DID YOU HEAR ABOUT THIS?
This Chicago man was sentenced to life as a teenager on a faulty arson conviction. Now he's getting out.
Adam Gray, 39, was convicted of arson and murder and sentenced to life in prison after police used bad fire science. Now, more than 24 years later, the charges are being dropped and he's being freed.
Gray was the subject of a BuzzFeed News story last year, titled Making An Arsonist, that reported on the debunked fire science used to convict him.
Gray has always professed his innocence, saying the confession he gave the day of the fire was coerced by police who interrogated him for hours without a lawyer or his parents present. Alex Wroblewski for BuzzFeed News
QUICK THINGS TO KNOW
For the latest news and updates, download the BuzzFeed News app for iOS and Android (available in Canadian, UK, Australian, and US app stores).

This letter was edited and brought to you by BuzzFeed News. You can always reach us here.