HERE ARE THE TOP STORIES
UK police say it has become "very clear" that Manchester attacker Salman Abedi was part of a network.
In a press conference on Wednesday, Greater Manchester Police Chief Constable Ian Hopkins said, "It is very clear that this is a network we are investigating." A total of eight people have been arrested in relation to the attack, including one of Abedi's brothers. The suspect's father and another brother were also reportedly detained in Libya Wednesday.
Police in Manchester have stopped sharing information around the attack with their US counterparts after a series of damaging leaks by American officials, the BBC reported. British officials working on the case were appalled and apparently "furious" when photographs of debris from the arena appeared in the New York Times on Wednesday.
Ariana Grande has suspended her Dangerous Woman tour through June 5, so her team can "further assess the situation and pay our proper respects for those lost."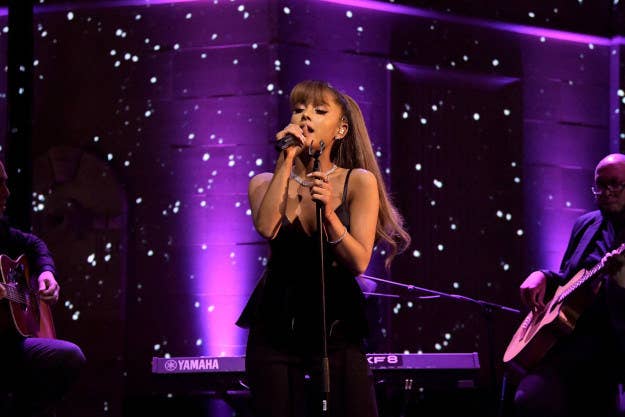 A reporter says Montana's Republican congressional candidate "body-slammed" him a day before the special election.
Guardian reporter Ben Jacobs said congressional candidate Greg Gianforte attacked him at a campaign meet-and-greet Wednesday night. (Afterward, The Guardian posted audio of the exchange between Gianforte and Jacobs.)
A Fox News reporter who was present during the incident later confirmed Jacobs' account.
"Gianforte grabbed Jacobs by the neck with both hands and slammed him into the ground behind him," reporter Alicia Acuna wrote in a post on Fox News' website.
Gianforte was charged with misdemeanor assault. Meanwhile, national Republican groups have stayed silent about the alleged altercation.
Republican congressional candidate Greg Gianforte. Justin Sullivan / Getty Images
WE'RE KEEPING AN EYE ON
The Republican health care bill will save $119 billion but leave 23 million more uninsured Americans over the next decade.
A new report from the Congressional Budget Office says that the American Health Care Act will lead to "extremely high premiums" for people with pre-existing conditions in states that waive Obamacare rules. The CBO projects that several states will use the bill's waivers to bypass rules that prevent insurers from raising prices on people due to their individual health circumstances.
Those becoming uninsured will be disproportionately older — particularly between 50 and 64 years old — and poorer. The bill passed the House earlier this month, but still needs to be approved by the Senate.
Americans spend big on health care, yet die young. Neither Obamacare nor Trumpcare can change that.
DID YOU HEAR ABOUT THIS?
Taiwan will likely become the first place in Asia to legalize same-sex marriage.
The lead lawyer in Taiwan's historic marriage equality court decision says same-sex marriage is not the sole domain of Western nations and that the Wednesday ruling is a "good start" for other Asian countries.
"We have waited for so long," Victoria Hsu, lead counsel for Chi Chia-wei and the CEO of the Taiwan Alliance to Promote Civil Partnership Rights, said. "It was not easy, but after all, we won."
The ruling, while hugely significant, didn't automatically legalize same-sex marriage. Rather, the court ordered the parliament to amend the law in keeping with the ruling within two years. If the parliament fails to do so, the ruling will still come into effect. BuzzFeed News' Lane Sainty has more.