HERE ARE THE TOP STORIES
The final death of the Arab Spring comes courtesy of Donald Trump.
After the 2011 uprising, Egyptians had huge dreams for the democracy their country was about to become. Those dreams have failed to materialize, and things have only gotten worse, with human rights seeming to dwindle more by the day. Borzou Daragahi reports from Cairo.
Supporters of Egypt's president were elated over the victory of Trump, who they believe will grant a freer hand to suppress dissent.
The US always played a double game in Egypt, working with tyrants while advocating democracy. Now advocacy may be ending. Trump appears to view Egypt solely through the prism of security and counterterrorism.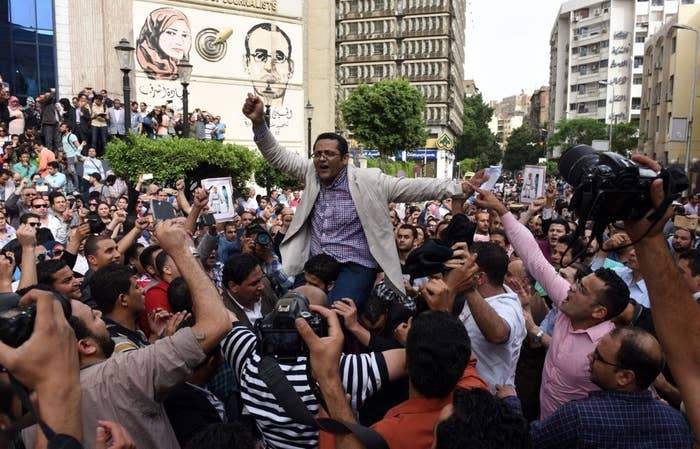 And a little extra Trump

Three protesters can proceed with their lawsuit against President Donald Trump and several of his supporters after a federal judge agreed that his rhetoric possibly incited violence at a campaign rally last year, rejecting the president's defense that it was free speech.
The Trump presidency has been good for ratings for cable news of all stripes, for comedy shows — for pretty much everything, except for Trump's own Celebrity Apprentice. Here's a list of winners of the so-called Trump bump.
In tweets and tirades, Trump has made clear his opinion of CNN: "fake news." But privately — to surrogates who boost his message across television networks — the president has an additional position: Get yourself some CNN airtime.
And on Friday, Trump proclaimed April as National Sexual Assault Awareness and Prevention Month. The president has been accused of sexual assault by multiple women and was once recorded discussing grabbing women "by the pussy." People were like "sorry, what?"
WE'RE KEEPING AN EYE ON
The Chechen government is reportedly kidnapping and murdering gay men.
Local authorities in Chechnya are behind the disappearance of more than 100 gay men from across the Muslim-majority republic, a Russian newspaper reported on Saturday. The Chechen government, however, denies that gay men even exist in Chechnya. "You cannot arrest or repress people who just don't exist in the republic," a spokesman told Interfax.
DID YOU HEAR ABOUT THIS?
You can now search Snapchat Stories for stuff like basketball games and puppies.
Prepare to spend more time on the app: You can now search by place and topic. The feature launches Monday in Miami and will roll out later in other cities, though Snap declined to specify exactly when and where.
In a blog post released Friday, Snap said that its curation team had become "overwhelmed" by the number of Stories people had produced and submitted to the collective, localized Our Story feature, so the company decided to allow users to search for them on their own.