What's Happening In The News Today?
A man was dragged off a United Airlines plane after the flight was overbooked, prompting massive outrage and a federal investigation. Secret videos show the dark side of Shadow Mountain, a psych facility for kids as young as 5. And how Oprah got her acting groove back.
HERE ARE THE TOP STORIES
A harrowing BuzzFeed News investigation, including a set of secret videos, reveals the dark side of Shadow Mountain, a psychiatric facility that treats adolescents and kids as young as 5.
Shadow Mountain's own footage show the director grabbing or lying on top of kids so they can't move. He looks on, chatting, while one kid bangs his head against a wall.
The Oklahoma facility's bare-bones staff can't begin to contain the violence. It has even boiled over into a riot. When police showed up they pepper-sprayed the kids.
Shadow Mountain is owned by UHS, the nation's largest chain of psychiatric hospitals, which says it "is proud of the care it provides patients at Shadow Mountain Behavioral Health." Previous BuzzFeed News articles raised grave questions about whether UHS earns its huge profits at the expense of its patients' well-being.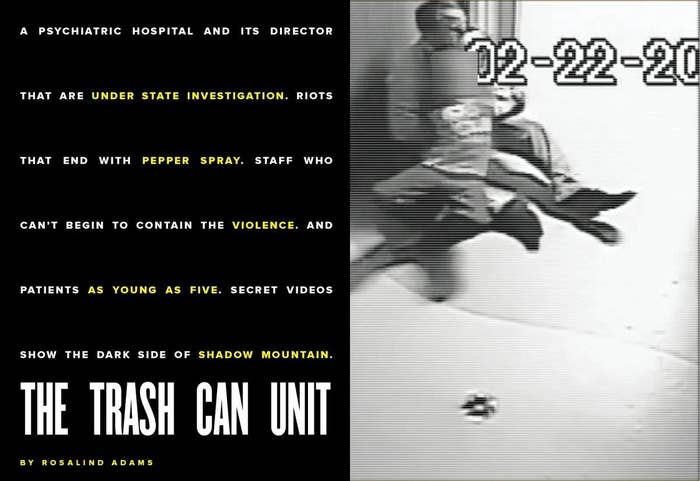 A man was dragged off a plane after United Airlines overbooked the flight.
Videos of the man being pulled out of his seat and down the aisle by three security officers went viral Monday. The incident occurred on Flight 3411, which was waiting to take off from Chicago O'Hare Airport for Louisville, Kentucky.

Passengers reportedly were allowed to board the flight but were later told four people would need to give up their seats for stand-by United employees who were needed in Louisville. When no passengers volunteered, a manager came onboard and said a computer would randomly select passengers to leave.
The CEO of the airline issued a statement apologizing for "having to re-accommodate" customers, adding that the airline is conducting its own detailed review of the incident.
Another passenger on the plane posted this on Twitter. Watch the video on Facebook.
Ever wonder why airlines seem to treat you badly? It's because they can. After a decade of mergers and takeovers, there's not much competition left in the US airline business.
WE'RE KEEPING AN EYE ON
How two "safe" Republican seats turned into the first big tests of Trump's party.
The special election in Kansas's 4th District Tuesday will fill the seat left empty when President Donald Trump appointed former Rep. Mike Pompeo to head the CIA. Ted Cruz had flown there for an afternoon to help get out the vote for the Republican candidate, state treasurer Ron Estes.
What's next?
Democrat James Thompson says he's riding a "perfect storm," while massive fundraising for another Democrat in Georgia has a huge field of Republicans worried. The rumblings in Kansas could be — Republicans fear, Democrats hope — a sign of a gathering wave.
DID YOU HEAR ABOUT THIS?
A man in San Bernardino, California, opened fire inside his wife's classroom, killing her and an 8-year-old boy before shooting himself dead.
Police said 53-year-old Cedric Anderson quickly opened fire, killing his estranged wife, Karen Smith. Jonathan Martinez, the student who died in the attack, and a 9-year-old student who was injured were standing behind Smith when they were struck by gunfire inside the North Park Elementary classroom.
Anderson had a criminal history that included weapons charges, domestic violence, and possible gun violations. He was also charged with battery, but not convicted.