HERE ARE THE TOP STORIES
At least 72 Syrians — including women and children — have died in a reported chemical attack.
Fighter jets bombed the town of Khan Sheikhoun in northern Syria Tuesday. Doctors who worked in hospitals near the site of the attack said they received scores of wounded patients, and many who were fainting, vomiting, and foaming at the mouth — symptoms they said were signs of a chemical attack.
The White House placed the blame for the attack on the Obama administration's "weakness."
While atrocities have occurred within Syria with devastating frequency over the course of its seven-year civil war, this most recent suspected chemical attack has drawn international attention for its severity. It would be the most people to have been killed by chemicals in Syria since a 2013 gas attack killed more than 1,000 people.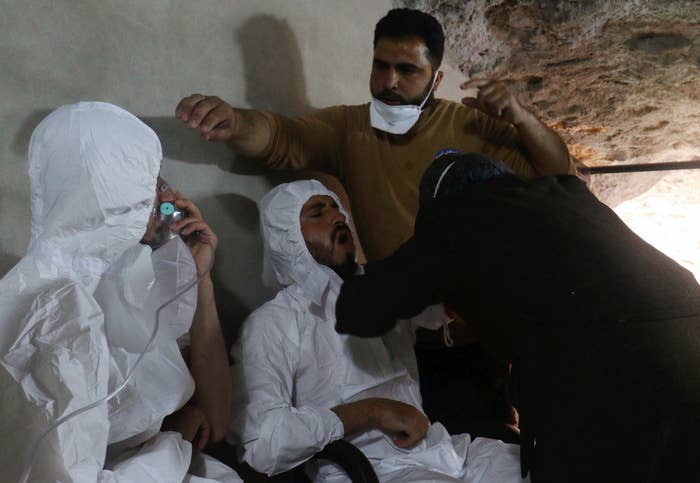 Advertisers are abandoning Fox News' The O'Reilly Factor over sexual harassment allegations against host Bill O'Reilly.
At least 20 advertisers have pulled their commercials from the show after several women claimed they were sexually harassed by O'Reilly.

Mercedes-Benz and Hyundai on Monday were the first to announce they were suspending advertising on the program after the New York Times reported that five women received a total of $13 million over the years to settle sexual harassment allegations against the host. O'Reilly denies the allegations.
Fox News addressed the backlash, saying the network is working with advertisers to address their "current concerns" about the show.
WE'RE KEEPING AN EYE ON
Republicans say they're on the brink of unveiling a new Obamacare replacement, but they can't agree on some details.
Just two weeks after their original Obamacare replacement failed, Republicans say they're on the brink of unveiling a new health care plan. The new bill could open the door to insurance companies charging higher rates to people with pre-existing conditions.
A cross section of Republicans representing the feuding factions of the party held a negotiating meeting attended by Vice President Mike Pence Tuesday evening, but emerged without reaching a deal. They plan to meet again Wednesday.
DID YOU HEAR ABOUT THIS?
Fake news, real ads.
There are more than 60 websites publishing fake news that are earning revenue from advertising networks, and most of them are working with major networks such as Revcontent, Google AdSense, and Content.ad, according to a review by BuzzFeed News.
Additional analysis found several cases where fake news sites that were kicked out of one network simply moved to another in order to continue earning money.
Never mind the Russians — meet the bot king who helps Trump win Twitter.
MicroChip has been described by one Republican strategist as the "Trumpbot overlord." He's helped build a Twitter army of true believers and bots that has been pushing pro-Trump hashtags to trend for a year and a half. Think everything from #TrumpTrain, to #CruzSexScandal, to, yesterday, #SusanRice.
In his first interview with a media outlet, MicroChip told BuzzFeed News that he's a software developer in his thirties who lives in Utah. He staunchly denied any connection with the Trump campaign or the Russian government.
QUICK THINGS TO KNOW