HERE ARE THE TOP STORIES
Trump said he was thinking about the investigation into his campaign's ties with Russia when he decided to fire the FBI director, who was leading the probe.
Trump — explaining his decision during an NBC interview — also said that regardless of the recommendations from the attorney general and his deputy he had already made up his mind about firing James Comey.
"I was going to fire Comey knowing there was no good time to do it," Trump said. "And in fact, when I decided to do it I said to myself, 'You know, this Russia thing with Trump and Russia is a made-up story. It's an excuse by the Democrats for having lost an election that they should have won.'"
The White House and Trump surrogates have repeatedly said the FBI's investigation into Russian involvement in the presidential election played no role in the president's decision to fire Comey, but Trump's own rundown of his decision contradicts that.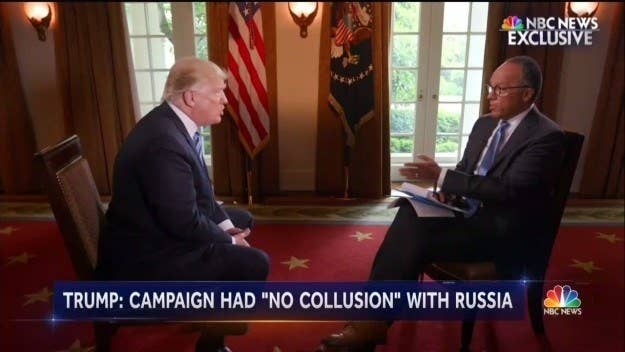 A little extra.

Press secretary Sean Spicer has drawn Trump's anger, sources have told BuzzFeed News. The White House, however, says that Spicer isn't being replaced. "Oh my god, for the billionth time no," an administration official told BuzzFeed News when asked about the swirling reports that the president was sounding out aides about removing Spicer.
Here are all the very different reasons the White House has given for Trump firing Comey. Trump has finally signed his long-awaited executive order on cybersecurity. And the president was proud of himself for coming up with a phrase he ~definitely~ didn't come up with.
DID YOU HEAR ABOUT THIS?
US-backed forces asked ISIS to hand over a Syrian city — and it worked.
The sudden collapse of ISIS's grip on the city of Tabqa and the dam supporting it was a result of a negotiated settlement between the militant group and US-backed forces. Defense officials described ISIS's surrender as "unconditional," saying the group agreed to remove explosives from around the dam and leave its heavy weapons behind as roughly 70 of its fighters left the city.
Withdrawal talks between ISIS and the Syrian Democratic Forces, a US-backed coalition of Arab and Kurdish fighters, began a week ago, collapsed, and resumed again earlier this week, leading to the end of a two-month battle for the city and the dam.