HERE ARE THE TOP STORIES
President Trump initially blamed Democrats for Friday's failed health care bill, but it took only two days for him to also start blaming Republicans.
"Democrats are smiling in D.C. that the Freedom Caucus, with the help of Club For Growth and Heritage, have saved Planned Parenthood & [Obamacare]!" Trump tweeted Sunday morning.
On Friday, Trump and House Speaker Paul Ryan announced they were giving up on repealing Obamacare after their health care plan failed to attract enough support from their fellow Republicans.
It was a stunning rebuke for President Trump — a self-styled deal closer — and Paul Ryan, who recently gave a PowerPoint-style presentation in shirtsleeves extolling the measure. (People on the internet, of course, started trolling the president for his "deal-making skills.")
Democrats were gleeful. "Today is a victory for the American people," Rep. Nancy Pelosi, the leading Democrat in the House, said. Hillary Clinton followed with a tweet, saying, "we are reminded today that there is no substitute for standing up and defending our values."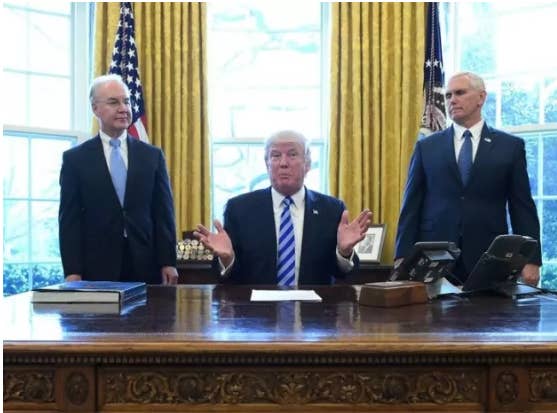 And a little extra.

America's online breakdown: Facebook and Twitter are a nightmare these days. Everything might seem so normal, but then you unlock your phone and — bam — everything gets LOUD. What happened? What has Trump done now?
The Trump administration was silent for hours after Russia arrested hundreds of protesters. Thousands of Russians took to the streets to protest corruption under President Vladimir Putin, and the police cracked down. The Trump administration had no comment for 12 hours.
And in a now-familiar ritual to White House watchers, President Trump on Friday reannounced a corporate hiring plan that was first revealed more than 18 months ago.
WE'RE KEEPING AN EYE ON
South Korean prosecutors reportedly want to arrest the former president.
Park Geun-hye, South Korea's first female president, was forced from office earlier this month after a corruption scandal. She's now facing charges of bribery, abuse of power, coercion and leaking government secrets, according to the country's Yonhap News Agency.
What's next?
An election to determine her successor is expected to be held in the next few months.
DID YOU HEAR ABOUT THIS?
United Airlines stopped three girls from flying because they were wearing leggings.
A United airline representative said they were not in compliance of a dress code required for "company benefit travel," which is available to United employees and their eligible dependents.
In a response to Watts's tweets, United tweeted that the airline has the "right to refuse passengers who are not properly clothed." The airline added that the implementation of this rule was left to the "discretion of the gate agents."

A United spokesperson confirmed that the individuals were wearing leggings, and said the leggings ban only applies to travelers on "company benefit travel."